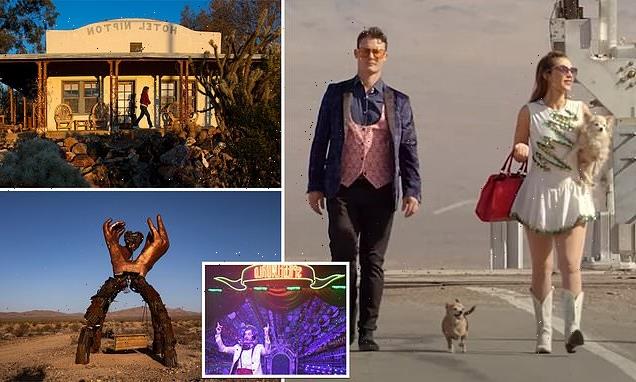 The REAL Schitt's Creek: Las Vegas Strip show producers Spiegelworld buys ENTIRE desert town in California for $2.5M to create world's first 'Circus Town' – after widow whose husband bought it on a whim struggled to sell it for years
Spiegelworld which puts on performances blurring the lines between acrobatic and burlesque performances town of Nipton, California, for $2.5million in 2022
The company intends to turn Nipton into a 'circus town' which will be filled with performance space, restaurants, and lodging for visitors
Since the purchase, Spiegelworld has set about overhauling the town and has carted off at least 250 tons of refuse in the process
Nipton sits on the northeast border of the Mojave Desert Preserve, and was first bought by a California on a whim in 1980 before going for sale again in 2016
A Las Vegas circus has purchased an entire town in the Mojave Desert with the aim of turning it into a 'circus town.'
Spiegelworld, which puts on performances blurring the lines between acrobatic and burlesque performances, purchased Nipton, California, for $2.5million cash in 2022.
Much like the show Schitt's Creek – which saw a formerly wealthy family trying to sell off a town they once bought on as a joke – the unincorporated town of Nipton sat for sale for years after it was bought on a whim in the 1980s by a couple for $200,000.
The parallels are not lost on Spiegelworld founder Ross Mollison, who told The Wall Street Journal 'Imagine it's 'Schitt's Creek' but owned by a circus.'
Mollison and his team have already started overhauling the unincorporated town and working with its 25 or so residents to ready it for the big top.
A hotel in the small town of Nipton, California, on the northeast border of the Mojave Desert Preserve
Acrobats perform at a Spiegelworld performance. The troupe recently bought a town which it hopes to outfit into a full circus
Spiegelworld bills itself as a 'raunchy' show, and an 'immersive adult playground'
Spiegelworld puts on a series of themed shows, including one billed as an 'immersive adult playground' that is 'unapologetically raunchy and undeniably hilarious' and 'holds a mirror to the yearnings and desires lurking deep within your soul.'
The show hopes to take that experience – which consists of scantily clad men and women performing acrobatics, dancing, singing, and telling bawdy stories and jokes – and spread it across the entire town of Nipton.
'What if an audacious circus company purchased a small town in the middle of the Mojave Desert?' Spiegelworld's website reads. 'A living town where performers and artisans can retreat to dream and create? A place to tell stories around the campfire? A place to dine under the stars and wake up to a panoramic view of the mountains?'
Mollison plans to fill the town with performance spaces, a large outdoor art park, lodging for visitors in an underground bunker, and a restaurant tucked away among the many Eucalyptus trees spread across the town's desert landscape.
'I don't want to build a resort. This is a very high-end circus. At the same time it's filled with character and personality.' Mollison told The Wall Street Journal. 'There could be an element of permanent Burning Man,' he added. The town already has a number of sculptures that were used in previous Burning Man festivals.
The desert landscape surrounding the town of Nipton, California
One of the few stores in the small desert town of Nipton, California
Old cars painted up as sculptures in the desert town of Nipton, California
The Spiegelworld team has set to work preparing the town for its eventual opening, and has hauled away at least 250 tons of refuse since the project began.
The company has been forced to grapple with damaged infrastructure in the town, including haywire old electrical systems, clogged septic tanks, a barn stacked with decaying old mattresses, discarded appliances, and even half buried old tankard railroad car which needs removal.
'There were a lot of Band-Aids we had to really fix,' said Frank Stebel, who along with his partner Alex has already moved into Nipton to spearhead the revival project.
'It felt so quaint and community-oriented,' Alex said. 'We could definitely see it needed a lot of work.'
A Spiegelworld acrobat performs atop a large sculpture previously used at a Burning Man festival
A former Burning Man sculpture that found its way to Nipton, california
Teepee frames stand in the desert outside of Nipton, California
Nipton sits right on the northeast border of the brutally hot Mojave Desert Preserve, a location which once sat at the crossroads of two wagon trails. The town was founded in 1905, after first being settled as a simple mining camp by gold seekers passing through the region.
Over the years a few stores and a small single-story hotel were erected, and little changed since then. The town was bought in 1980s Californian Jerry Freeman, who picked it up on a whim to surprise his wife Roxanne Lang.
They owned the town together until Jerry died in 2016, and a year later Roxanne sold it to the cannabis company American Green Inc., which aimed to turn Nipton into an oasis for marijuana-smoking social media influencers.
Spiegelworld performers walk into Nipton in a promotional video announcing the company's purchase of Nipton
Three Spiegelworld performers made a human tower in a raunchy performance
A roller skating performance at a Spiegelworld show
An acrobat performs at a Las Vegas Spiegelworld show in 2020. The company intends to turn Nipton into a circus town
But the company stopped paying Roxanne, and she foreclosed on them and reclaimed the town. It went back on the market in 2021, and she met with interested buyers from religious cults, tech investors, and 'some people from Brazil, one of whom was a dentist,' she told the Wall Street Journal.
Spiegelworld's purchase of Nipton came with a few caveats, including the remaining of Jim Eslinger, who has lived in the town for 14 years and long served as its defacto mayor. 
'I've met quite a few of the acrobats,' Eslinger said. 'They're awesome people and what I hear is they have some really good shows.'
Source: Read Full Article