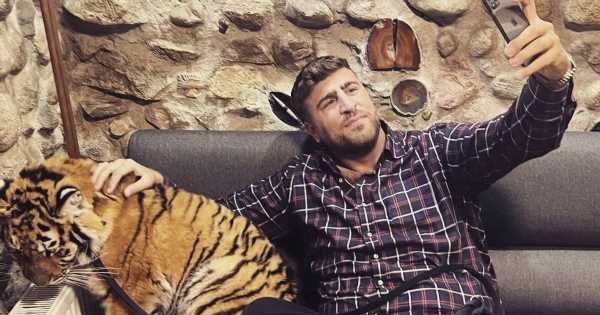 A big cat-loving son of a German mafia boss has offered his help in the search of the apparent missing lioness in Berlin, before "some idiot" shoots it.
Parts of southern Berlin and Brandenburg have been in lockdown since footage emerged that appeared to show a big cat "tearing down" a wild boar.
Since then, German authorities have been on overdrive to find the apex predator, with some 220 police officers in action and even an armoured car called 'Survivor'.
READ MORE: Boozed-up daredevils join search for missing lioness prowling through city
But for all the furore, no trace has since emerged of the phantom feline, with some experts claiming it is a boar itself in the video.
The BBC reported that the search has been called off because no paw-prints or DNA material, such as animal waste, was found in areas where the animal was spotted.
At a press conference earlier today (Friday, July 21), Kleinmachnow Mayor Michael Grubert said that "everything indicates it is not a lioness".
Even still, Firas Remmo, the son of a German crime boss had offered his help. He pleaded on social media for anyone that spots the big cat to "let him know first" so he can step in "before some idiot shoots her".
He shared news reports detailing his pleas on Instagram and repeated "don't shoot her!" He repeatedly called the animal 'Nala'.
Firas then shared a BILD newspaper piece that carried the headline 'Does the lion belong to the Remmos?'
Huge 30ft whale washes up on UK beach as people warned to steer clear
He then shared a message on his Instagram story, appearing to claim to have knowledge of 'Nala's' safety.
"Nala is safe, 1000 thanks to all. Unfortunately, I can't answer everyone," he said.
"It would be a great disaster if the poor animal in humanity had not survived the hyenas. The panza with the largest war equipment, etc.
"The most beautiful animal in the world which are threatened with extinction anyway had unlaid! Although it would have been cleared with a bit of good meat and organic milk. Thank God she wasn't cowardly shot."
He was investigated by police in December after he posted a video online of himself and a tiger cub with the caption "my new favourite pet".
DW in Germany calls the Remmo clan "one of Berlin's most notorious gangs, with a long record of violence, drug trafficking, money laundering and fraud."
Firas has been contacted for comment.
To stay up to date with all the latest news, make sure you sign up to one of our newsletters here.
Source: Read Full Article