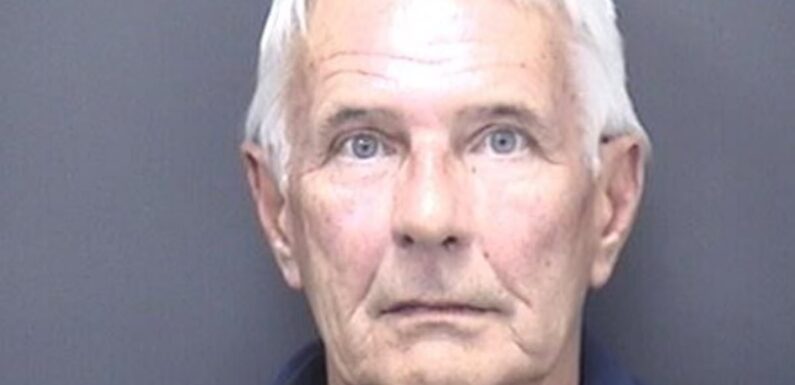 Man, 66, kidnapped and raped nurse making a home visit for his elderly mother in 'prolonged' attack that left her fearing she 'would die'
Gary Bridger brutally attacked and raped the nurse on July 7, 2022, in Dorset 
A man who kidnapped and raped a nurse who was visiting the home of his elderly mother has been jailed for 12 years.
Gary John Bridger, 66, subjected the woman, who cannot be named for legal reasons, to an attack that left her fearing she was going to die at a property in Sherborne, Dorset.
The victim had arrived at the property in July last year to assess whether it was safe for his elderly mother to return from hospital, despite Bridger's aggressive tone towards her on the phone.
But he set upon the victim after she had completed the assessment, physically stopping her from leaving before beginning the terrifying ordeal that lasted more than half-an-hour.
In court, the defendant shouted 'no' and shook his head during the judge's sentencing remarks, as he slammed Bridger as 'a lustful man, a selfish man' and jailed him for 12 years.
Gary John Bridger of Wincanton has been jailed for 12 years after raping a nurse who went to assess whether his mother would be safe to come home from hospital
Bournemouth Crown Court heard on November 14, that Bridger had forced his victim into the bedroom where he subjected her to a 'prolonged and sustained' attack.
Prosecutor Gemma White told the court: 'When she sought to leave, it was at that point that Mr Bridger physically manhandled and manoeuvred her back into the property for a violent and sustained sexual assault.
Bridger gleefully said afterwards 'F*****g hell, I haven't done that for years'. His victim meanwhile was 'in a state of shock' and feared she was going to die. 
Bridger directed his victim to 'get in the f*****g shower' and she prayed that she was going to be allowed to leave.
READ MORE: Man who 'frequently assaulted' and raped a woman in Cheshire is jailed for 11 years 
The court heard that Bridger had a shower after the rape and changed the bed sheets in a bid to cover up what happened. 
Prosecutor Ms White added there was an element of pre-planning. Bridger alluded to what he had planned with various remarks to the victim, including 'I forgot my blue pill'.
Her moving victim impact statement stunned the courtroom into silence, stating that Bridger had 'destroyed' her passion for her work. 
She struggled with her mental health for several months, unable to attend social events and constantly breaking down in front of her colleagues.
She said: 'My life will never be the same. I am always cautious and the enjoyment of my career is no longer there. I still take sleeping pills to help me sleep and I wake up with the last 15 months in my head.'
A jury was unable to reach a verdict in the first trial in January 2023, but Bridger, 66, of Dancing Lane in Wincanton, was found guilty of two counts of rape, two counts of sexual assault, kidnap and assault by penetration a re-trial in September.
Bridger also went missing for several days after he failed to arrive at Bournemouth Crown Court as the jury continued to reach their verdict on Tuesday, October 2. 
A judge at Bournemouth Crown Court (pictured) called Bridger a 'lustful man, a selfish man' during his sentencing hearing
Bridger had withdrawn £4,000, removed his electronic tag and thrown it into the water at Weymouth and abandoned his car near Nothe Fort on Monday, October 1.
Bridger's sudden disappearance sparked an extensive search by Dorset Police and RNLI with serious concerns for his welfare. 
He was tracked down to having moved to Devon with some activity in South Molton. 
Ms White remarked Mr Bridger said 'he was not at risk at himself but effectively indicated he was not going to return'.
Despite his defiance, Bridger surrendered himself to Bournemouth Crown Court on Tuesday, October 9. 
Defending, Mr Burton denied Bridger planned the attack on the nurse but accepted the awful impact on his victim. 
READ MORE:  Murderer and serial sex attacker dubbed the 'Clifton Rapist' who is Britain's longest serving prisoner is back behind bars after he sexually assaulted a woman while out on licence 
He added Bridger was experiencing a 'difficult time' around the incident as he separated from his wife and his telecoms business is likely to close down.
He told the court: 'What Mr Bridger tells me or says through me is that he was and remains shocked at the extent of the impact of this incident on the complainant. 
'He accepts what she says on the impact on her and says that he is genuinely remorseful and empathic even though given his stance he maintains.
'That may only go a little way at all to explain Mr Bridger's overall attitude he did maintain during his evidence that he had benefited from much of the advice he was given during a difficult time by the nurse on dementia that his mother was beginning to suffer at that stage.'
Judge Robert Pawson said Bridger posed a 'serious risk' to women and believed he showed no real remorse to his victim. 
He praised the bravery of Bridger's victim to return to court to give evidence and movingly spoke of the impact on her family, colleagues and friends.
Bridger shook his head and even shouted 'no' during his sentencing remarks. Judge Pawson said 'this is not a time for a debate' and threatened to have him ejected from the dock if he continued to interrupt his sentencing remarks.
He said: 'You didn't believe reasonably or otherwise that she was consenting. You simply didn't care Mr Bridger. You can shake your head as much as you like. I saw her give evidence and I saw you give evidence.
'The contradiction between your case and the crown's case was stunning. It wasn't a case where there's any room for misunderstanding Mr Bridger as you know full well you have decided that it was going to happen, and happen it did.
'Your behaviour and the way you gave evidence revealed to me a strange brew of a calculating man. A lustful man, a selfish man who engaged in bluff and bravado. A man who I am afraid to say is arrogant.'
Bridger was jailed for 12 years and will serve at least two-thirds of that sentence behind bars before he is considered for release. 
A restraining order not to directly or indirectly contact the victim was also placed and he was ordered to pay a victim surcharge.
Source: Read Full Article