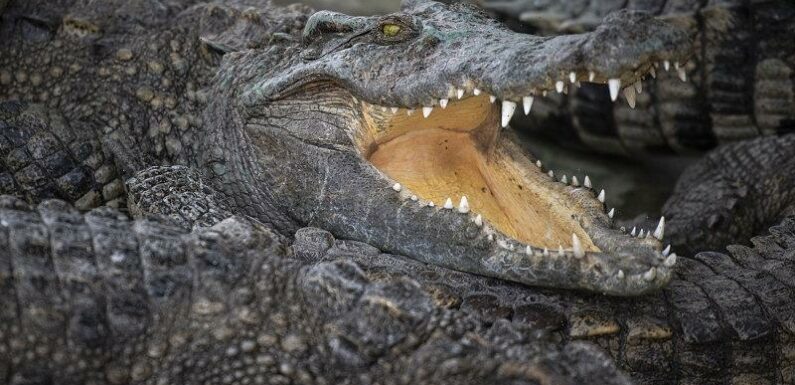 A 45-year-old man was rescued from a crocodile infested river in Western Australia's far north after he attempted to cross it in his car, clinging to the roof of his vehicle for about four hours until help arrived.
Police and State Emergency Service volunteers responded to the floodwater rescue emergency in the Pentecost River in Durack around 11.20pm on Friday night.
Footage from WA Police shows police and then SES volunteers arriving to rescue the man.Credit:WA Police
They were called by a truck driver who arrived at the crossing point along the river and saw the 45-year-old clinging to the top of his vehicle about 100 metres into the river.
The stranded man had been travelling in a vehicle towing a camper trailer when he became stranded about
7.00pm.
Kununurra Police were the first on the scene but realised it was too dangerous to enter the river, with the water flowing quite fast and the deeper parts of the river known to be infested with crocodiles.
The officers requested support from SES volunteers from Kununurra, who attended the scene with a flood boat and rescued the man from his submerged vehicle.
He was returned to the road edge around 3.15am and was then taken to Kununurra Hospital as a precaution, for a check-up.
A Department of Fire and Emergency Services spokesman said if residents encountered floodwaters, they should never walk or drive through, and that floods can take control of a four-wheel drive in just 30 centimetres of water.
"Never assume that you will be safe because you are familiar with the roads – nine out of 10 floodwater deaths on WA roads involve a local motorist," he said.
Further flood safety advice can be found at dfes.wa.gov.au/hazard-information/flood.
Most Viewed in National
Source: Read Full Article