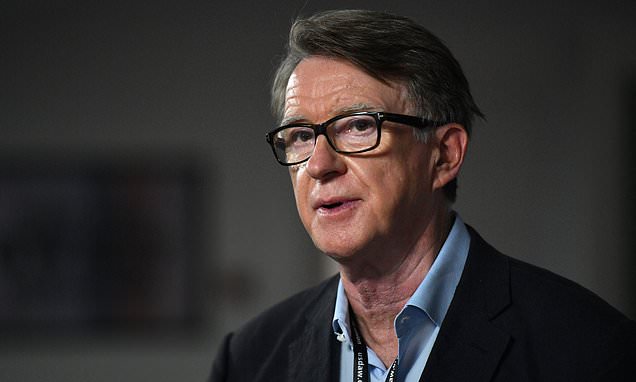 Lord Mandelson's public affairs firm advises China-backed site TikTok as governments around the world ban it over security fears
Peter Mandelson's company is reportedly helping TikTok with their messaging
Comes as governments worldwide clamp down on the app over security fears 
Lord Mandelson's public-affairs company is advising the Chinese-backed video-sharing site TikTok – at a time when governments around the world are banning it over security fears.
The Labour grandee, a key planner in Sir Keir Starmer's preparations for the next Election, chairs Global Counsel, which is understood to be helping TikTok to 'frame their messaging' as it battles to persuade governments that it is not an arm of the Chinese state. 
The use of TikTok on official UK Government and Parliament devices has been banned following a security review carried out by the National Cyber Security Centre, a division of GCHQ.
The United States Congress has ordered all of its officials to remove the app from their phones, while the European Union has banned the app for officials.
Global Counsel chair Peter Mandelson is understood to be helping TikTok with their messaging
The moves have been made in response to fears that the site, owned by the Chinese company ByteDance, could be harvesting data for intelligence gathering.
An industry source said that Global Counsel was 'telling TikTok how to interact with the various international regulators', adding: 'They're also telling them how to frame their messaging.'
Last night, Lord Mandelson told The Mail on Sunday he was 'not directly involved'.
The peer has been criticised before over his links to Beijing.
In 2021, this newspaper reported that he had assured Chinese officials that critics of Beijing's human rights record would be 'proved wrong'. 
During a meeting convened by Global Counsel and the China Council for the Promotion of International Trade, he said that the West was ready to 'call out China's foreign policies and adherence to international rules and norms', but added he was confident that China could overcome this.
Lord Mandelson played a pivotal role in bringing Tony Blair to power in the 1990s.
Source: Read Full Article