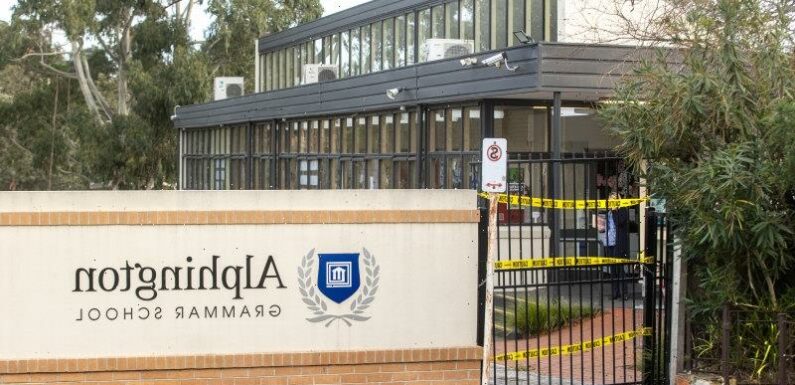 A former aged care home in Melbourne's inner north-east will be converted into a 32-bed mental health hospital, despite objections from a nearby grammar school.
Yarra City Council on Tuesday night approved the development of the facility, just off Heidelberg Road in Alphington, which would cater for up to 30 inpatients and provide services for day patients.
Alphington Grammar argued the proposed hospital presents clear risks to the school community.Credit:Simon Schluter
The council was flooded with almost 200 objections to the proposal, many submitted by the families of children enrolled at Alphington Grammar, which is located on Old Heidelberg Road. The proposal also received nine letters of support.
The hospital will be run by private provider Healthe Care, whose owner, Australian Unity, bought the Alphington site for $14.75 million in December. It plans to spend another $34 million repurposing the former aged care home into a sub-acute facility with 32 beds.
It would cater to patients with mild disorders such as depression, anxiety and post-traumatic stress disorder and would exclude those with a primary diagnosis of substance abuse.
Speaking at Tuesday night's planning decisions committee meeting, Alphington Grammar School principal Vivianne Nikou argued the facility had proposed inadequate reporting mechanisms if safety issues cropped up.
"Sub-acute patients can turn into acute patients very swiftly," she said.
"Students in primary school particularly are at a highly impressionable age, and interactions with strangers can be very detrimental to their own psychological development."
Nikou asked for the "redundant" part of Old Heidelberg Road behind the facility – which is used daily by students moving between buildings – to be taken off the roads register and sold to the owners of the land on which the grammar school sits.
There was standing room only in Richmond Town Hall, with many parents and Alphington Grammar students still in school uniform watching the proceedings.
A number of parents spoke against the proposal, including James Baker, who asked councillors why child safety was not considered "top of the list" in the planning application.
"You considered smoking and you considered bicycle access … So why would you not engage child safety experts and psychologist to provide you all with an educated decision in relation to this?"
Urbis director Andrea Pagliaro, who spoke on behalf of Healthe Care, said the facility would have a substantially positive impact on vulnerable members of the community.
"It is for voluntary inpatients with mild to moderate mental health issues … our report is very clear it will not deal with drug-addicted patients, sex offenders, or people under community treatment orders," he said.
Councillor Bridgid O'Brien added an amendment to the successful proposal for a 1.8-metre-high fence to be erected at the healthcare facility near the grammar school.
While some members in the packed public gallery yelled out that their children's safety hadn't been fairly considered, O'Brien said their concerns had been "discussed extensively".
Councillor Anab Mohamud acknowledged during the meeting that it was a complex issue that had attracted a lot of interest from the public.
"I do want to reiterate that we're talking about members of the community – that could be our kids, our parents, our loved ones, and these are sub-acute patients who do need services in our community."
Our Breaking News Alert will notify you of significant breaking news when it happens. Get it here.
Most Viewed in National
From our partners
Source: Read Full Article