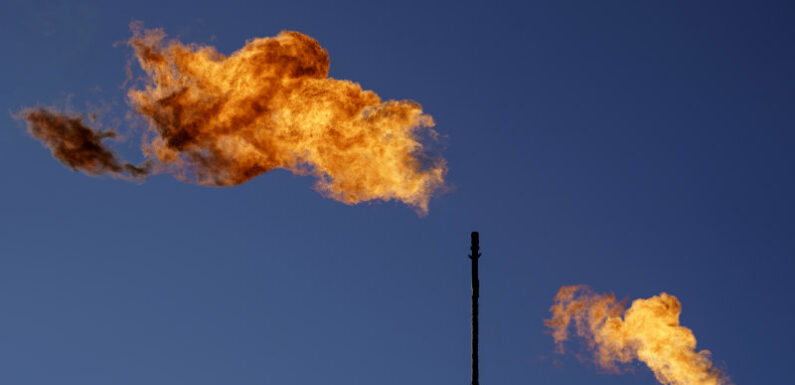 Oil and gas majors are lobbying the federal government to allow international carbon offsets to be used under the safeguard mechanism, which former strategists at major companies say will further discourage fossil fuel producers from changing business models.
The Greens have delivered their crucial support for the signature climate policy of the Albanese government, the safeguard mechanism, which requires the country's largest emitters to reduce emissions intensity (emissions relative to production) by 4.9 per cent a year.
Lobbying around the safeguard mechanism will continue even after it is passed. Credit:AP
The reduction can be achieved entirely through using offsets – environmental projects designed to remove carbon from the atmosphere, which have been plagued by claims of fraud, triggering a review of regulation.
Currently, the safeguard mechanism only allows for companies to buy Australian-produced offsets, but oil and gas majors – including Woodside, BP and industry association Australian Petroleum Production and Exploration Association (APPEA) – have pushed for the international market to be opened up.
Calls from the Greens and independents to limit the use of offsets have been consistently blocked by the government. Energy Minister Chris Bowen consultations will be held on widening the offsets market later in the year, marking the next phase of debate.
"International credits are not currently accepted as part of the safeguard mechanism or the proposed changes. The government may consider allowing access to high integrity international offsets at some future time and will consult later this year on the possibility of establishing the legislative framework for international units," a spokeswoman for Bowen said.
Alex Hillman, former Woodside strategist turned shareholder advocate at the Australasian Centre for Corporate Responsibility, said this would reduce the cost of offsets, and in turn, weaken the price penalty attached to opening new fossil fuel mines.
"Anything that gives more flexibility and options is preferable for industry," Hillman said. "That flexibility reduces the incentive to actually reduce emissions and makes it easier to develop fossil fuels. The government is going, 'We'll think about this later'."
In a submission last month, Woodside "strongly" encouraged the government to create an "urgent timeline" for accessing international credits – reflecting private submissions made to the government in recent years.
Woodside set up an office in Canberra in 2019, headed by government affairs vice president Graham Dodds, who identified this as one of Woodside's key proposals in private meetings with government ministers.
One email sent to former resources minister Keith Pitt in 2020, released under freedom of information requests by this masthead, identified international offset trading as a priority, alongside removing state bans on coal seam gas, approving LNG import terminals and tax reform.
Dodds does not feature on the government's register of lobbyists because he does not represent a third party therefore is not required to do so, but the documents show regular meetings and meals with key government officials.
A spokesperson for Woodside said the company has been transparent about its views and the government's proposal for the safeguard mechanism is "largely sound and addresses our previous feedback related to market stability, emissions reduction outcomes, economic growth and industry equity".
Hillman, who represented Woodside during consultations with the Abbott government in launching the safeguard mechanism in 2016, said Woodside has been a "key player" in shaping the policy to evade emissions reductions. "The safeguard mechanism hasn't reduced emissions, that's demonstrably true."
Former Chevron climate manager John Torkington, who was also involved in consultation for the safeguard mechanism under Abbott, said the former government had no desire for the policy to reduce emissions and allowed arbitrary baselines that failed to constrain industry.
"This was the government of the day, the Coalition, had policy of not doing much," Torkington said. "They would crawl through the data and say: 'We think this is the number [baseline], and tell us if we got it horribly wrong.'"
Torkington said offsets should be recognised as a way to reduce emissions in the pathway to net-zero by 2050 but only if they are "additional, credible and verifiable", which can be harder to control offshore.
"The Australian government has got to have confidence in the regulation of those international markets," he said.
The revamped safeguard mechanism is the "third-best option", Torkington said, behind a scheme that applies right across the economy, rather than only the country's largest emitters, or a price on carbon.
Pure play fossil fuel companies will not change their business models without policies that also target consumer demand, he said.
"Companies have to grow, make money for their shareholders. The question is, where do they get it from?" he said.
"They make a lot of money from oil and gas. Despite the rhetoric, there's still a lot of demand.
"If you look at the federal government's climate policy, what does it actually do to reduce emissions? The answer is nothing."
Cut through the noise of federal politics with news, views and expert analysis from Jacqueline Maley. Subscribers can sign up to our weekly Inside Politics newsletter here.
Most Viewed in National
From our partners
Source: Read Full Article