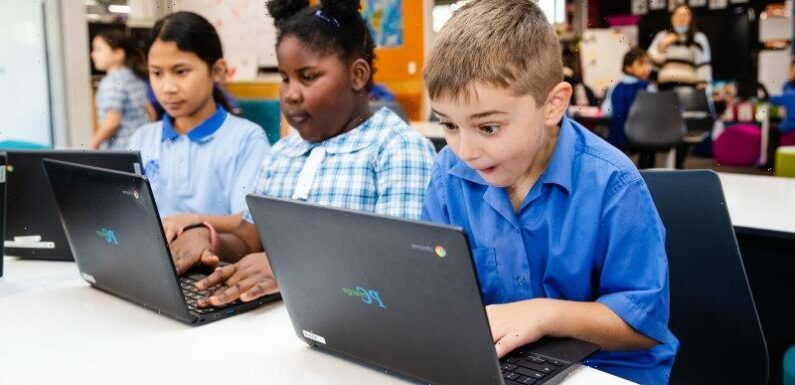 Victorian students' numeracy, spelling and grammar have worsened in some year levels, according to this year's NAPLAN results, while year 7 and 9 students have improved in writing.
The National Assessment Program – Literacy and Numeracy was disrupted in Victoria by outbreaks of flu and COVID this year, and results were either flat or lower than in 2021, except for in writing. But Victorian students led every jurisdiction apart from the ACT on the number of subjects in which they ranked first or second among the highest percentage of students above the national minimum standard.
This year's NAPLAN test was taken entirely online by about 1.2 million students across Australia.Credit:Edwina Pickles
The Grattan Institute's Jordana Hunter called the state's results a "mixed bag" and said there was no doubt Victorian schools and families bore the brunt of COVID disruptions. She said some students had experienced a tough couple of years, but she was hesitant to say lockdowns were the reason for the decline in results.
"With effective intervention including tutoring support, it should be possible to get children back on track," she said.
Victoria performed well at the primary level, ranking first or second in eight out of 10 subject "domains", including all five domains at year 3.
Australian Curriculum, Assessment and Reporting Authority chief executive David de Carvalho said, overall, the national results defied predictions of drastic falls related to the pandemic, with long-term trends mostly stable despite decreases in year 5 numeracy and year 9 spelling.
This was the first year the NAPLAN test was taken entirely online, by about 1.2 million students in 9315 campuses and schools across Australia.
In Victoria, year 9 spelling slipped compared with last year from an average NAPLAN score of 579.7 to 576.7, but showed little change compared with 2008 (576.9). Year 5 grammar had a "substantial decrease" from average scores of 502.6 to 498.8.
Nationally, year 9 students' reading levels slipped to the lowest on record, with 13.5 per cent not reaching the national minimum standard, up from 8.5 per cent in 2008. In Victoria since 2008, the percentage of students at or above the national minimum standard has dropped from 94.7 to 91.6.
"It is certainly concerning that we have so many students who are not demonstrating the capacity to read at this basic level only a few years before they leave school," de Carvalho said.
Year 9 boys were behind year 9 girls in reading levels.
Hunter said: "This trend of boys performing worse than girls has been around for a while but the gap is worrying, and we need to get to the bottom of it because strong proficiency in reading underpins all aspects of life."
Across the country, writing results in years 5, 7 and 9 are trending up, reversing a fall and flatlining of the curve that emerged in 2018.
Jennifer Buckingham, founder and director of community education initiative Five From Five, said from a national perspective, primary school reading was a good news story.
She attributes significant improvements in years 3 and 5 to shifts towards a more structured approach to literacy with evidence-based instruction and phonics. Primary school students' reading skills are ahead of where they were 14 years ago.
State Education Minister Natalie Hutchins said Victoria was one of the top-performing jurisdictions this year, with year 3 students achieving the "best reading results ever" and the same year level ranked first in Australia for reading and numeracy.
Nationally, the progress at primary level has not been repeated in secondary schools.
Buckingham said there was a dampening of recent improvements between 2019 and 2022 because of the pandemic and lockdowns.
Glenn Fahey from the Centre for Independent Studies said the area of the curriculum that needed the greatest attention was maths, "especially because of the changes in the economy and society that require [science, technology, engineering, and maths] and maths-based skills".
Nationally, year 5 students' scores for numeracy fell since last year from about 495.2 to 488.3. In Victoria, year 5 students' scores showed a "substantial decrease" from 504.3 to 493.5.
Buckingham said maths teaching was a few years behind reading in terms of understanding and applying cognitive science. "There needs to be a really explicit and structured approach that builds that automaticity and fluency, so kids have the cognition to focus on higher-order processes," she said.
Fahey said the decline in students and schools taking part in NAPLAN was also a concern and he urged all schools to take it seriously to ensure it worked as a national measuring tool.
De Carvalho said while participation rates had been falling since the start of NAPLAN, the decline this year was noticeable.
Federal Education Minister Jason Clare called the results "better than expected".
"NAPLAN doesn't measure everything though. It doesn't measure the mental health impact of the pandemic. That's been enormous and we are still seeing the impact of that," he said.
Clare said the results also showed the gap between children from poor families and wealthy families was getting bigger. "I have said a number of times, I don't want us to be a country where your chances in life depend on who your parents are, where you live or the colour of your skin."
The NAPLAN report provides nationally comparable data on 2022 national and state/territory results for each test domain and year level assessed, and for each level by gender, Indigenous status and language background other than English.
With Lucy Carroll
The Morning Edition newsletter is our guide to the day's most important and interesting stories, analysis and insights. Sign up here.
Most Viewed in National
From our partners
Source: Read Full Article