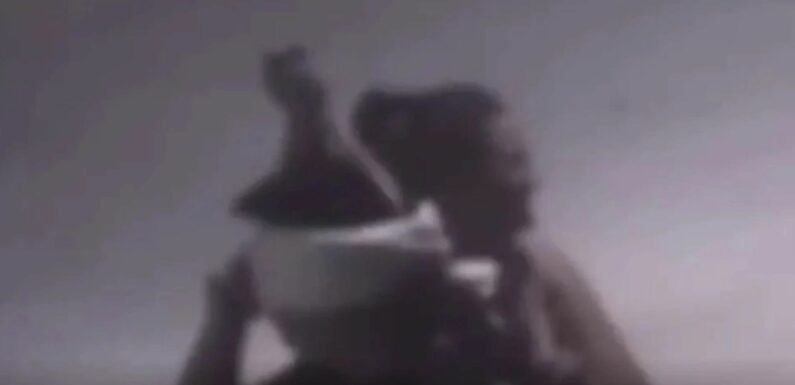 THIS is the moment a teenager blindfolded her boyfriend with the promise of a romantic surprise before allegedly luring him to be shot dead in a hail of bullets by her lover.
Footage shows the girl – understood to be a 17-year-old Venezuelan national – smiling playfully as she ties a zip-up top around Romer Campos Meza's head.
She then led the 30-year-old into a dark alleyway in Huaral, Peru, where a gunman was lurking.
The brute, thought to be the girl's lover, then allegedly killed the victim with a hail of gunfire before fleeing with the teen.
His body was found the next morning by passersby by who called the police.
Romer had 17 gunshot wounds, according to reports.
More world news
Two kids among 13 killed in horror Russian missile blitz on Ukraine flats
Creepy 'goblin' with claws terrifies builders after being found in warehouse
Officers reviewed CCTV footage and were able to locate and arrest the suspected shooter at his home in Chancay a few hours later.
He was identified as Venezuelan national Roger Manrique Moreno.
The 31-year-old is understood to have an extensive criminal record and is part of a criminal gang in Huaral called Los Monos de Quepepampa.
The girl was also arrested and told the police that the plan was hatched by her lover "because he was in love with her", according to local media.
Most read in The Sun
Inside Mel Sykes' love life – fromMatt Goss to Steve Coogan
Girl, 3, 'carried away to be raped & murdered after mum sold her for cocaine'
I'll answer call to be Minister for Abolishing Wokery with my 20-point plan
Body of fiancé accused of murdering pregnant teacher girlfriend found in lake
Manrique Moreno is now in custody and is charged with murder.
The teenage girl meanwhile is facing time in a juvenile detention centre.

Source: Read Full Article