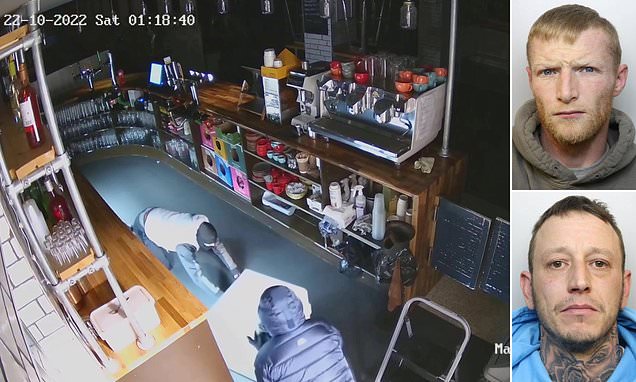 Moment two 'prolific and ruthless' burglars raid sports club and steal safe during weeks-long crime spree targeting pubs and restaurants
Connor Moore and Joseph Nash targeted businesses in Bristol and Somerset
Two 'prolific and ruthless' burglars who crawled across a sports club's floor before stealing its safe in full view of CCTV cameras have been jailed.
Connor Moore, 28, and Joseph Nash, 36, targeted businesses across Bristol and Somerset during a weeks-long crime spree that saw them take thousands of pounds from pubs, restaurants and even a bakery.
CCTV footage released by police shows the moment the pair, both clad in balaclavas, crept into a sports club and crawled along the floor in an effort to avoid being seen – all the time watched by a camera directly above them. 
The pair were both jailed at Bristol crown court on Friday after pleading guilty to one count of conspiracy to commit burglary, admitting involvement in eight burglaries and two further attempted burglaries between October and December 2022.
Video released by Avon and Somerset police shows their first successful raid in Bristol on October 22 last year, which took place just an hour after a failed attempt to force their way into a restaurant in Chew Stoke.
Connor Moore, 28, was jailed for two years and six months in Bristol on Friday
David Nash, 36, was jailed for two years and eight months following a series of burglaries across Bristol and Somerset
Moore and Nash can be seen crawling across the floor behind the bar and into a back room in the clip.
Upon finding the safe, they can be seen adjusting their balaclavas before sabotaging the CCTV camera.
The pair then make off with the safe, which is taken back the way they came in – with some effort – again in full view of the bar's security camera.
Moore and Nash then committed a burglary at a pub in Nailsea a week later, taking further cash.
They continued over the following weeks to target other pubs and restaurants in Bath, Pensford, Bedminster, Clifton and Hanham, as well as a bakery in Backwell.
Their final burglary, on December 1 at a hotel near Long Ashton, saw the pair disturbed and a physical altercation occurred, police say.
They managed to flee the scene but were identified using CCTV, forensics and public information and arrested within minutes of each other two weeks later.
The two men were caught on camera pushing the sport club's safe out of the site
They were seen sneaking into the club and crawling around to avoid being seen – but were caught on the bar's CCTV
Moore and Nash discovered the safe in a side room off the bar, and took it away with them
They destroyed a CCTV camera at the club in a bid to remain unidentifiable
Officers' bodycam footage shows both men being taken into custody on December 15 – Moore in the middle of the street and Nash inside a property.
The pair pleaded guilty after evidence was presented of them being involved in a series of break-ins and thefts targeting pubs and other companies to steal cash, police said.
Moore, of Hartcliffe, received a jail sentence of two-and-a-half years while Nash, of Bishopsworth, received two years and eight months.
Detective Inspector Keith Smith said: 'Two prolific and ruthless burglars have been jailed for their relentless targeting of pubs and restaurants across the force area.
'Our dedicated burglary team progressed the investigation over several weeks, attending scenes, reviewing hours of CCTV footage and following all possible lines of enquiry from information provided by the public.
'This work allowed officers to identify two possible suspects who were swiftly arrested. Searches were conducted at both of the suspects' home addresses, where crucial items of clothing were located matching what had been seen on CCTV.
Connor Moore is arrested by police officers in the middle of the street
'Officers were able to evidence a clear relationship between the pair and forensic evidence was used to place Moore at one of the crime scenes.
'This coupled with the distinctive and identifiable clothing worn by the suspects during the offences helped officers build a strong case, for which both offenders pleaded guilty.
'Many pubs and restaurants have struggled with financial issues following the Covid-19 pandemic. Moore and Nash made this situation much worse for our victims, who were left to deal with the damage and financial loss they caused.
'This result wouldn't have been possible without the help and support of all the victims, as well as the general public who provided crucial pieces of evidence.'
Source: Read Full Article