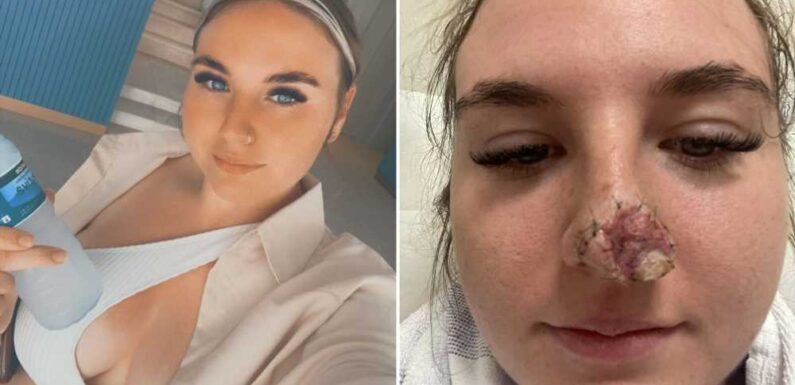 A MUM-to-be has opened up about the time her nose was ripped off after a bulldog-cross attacked her as she went to pat it.
Rebecca Scobie, 24, works as a carer and was just minutes into meeting a new patient at home when the horror unfolded.
As she spoke to the woman, Rebecca put her hand out to stroke a dog that had leapt up on the couch.
Without warning the hound pounced at her face, tearing off the rip of her nose and sending blood pouring into her hands.
The Scottish woman, who is expecting a baby boy in coming months, was raced to hospital and has since had to have surgery to reconstruct her nose.
She later discovered the dog was known to be "unpredictable and aggressive" – but she was never warned ahead of the visit.
Read more on UK news
My parents worried about having an XL Bully around my baby – but he's so gentle
Horrifying 999 call revealed as dad mauled to death by two XL Bullys
Rebecca has now shared the trauma she's endured, and how she's now wary of her own dogs.
In July the 24-year-old, who works as an in-home care assistant, showed up at a new patients house.
She recalled: "I had only just walked in and introduced myself and said 'Hi, I'm Rebecca'.
"One of the dogs had jumped onto the back of the couch so I reached out just to pet it, as I would any other dog.
Most read in The Sun
IN PLAIN SIGHT
Sara Pascoe warns of TWO well-known predators in comedy industry
double trouble
Star's lunge leaves TWO rivals in agony as fans demand 'life sentence'
BABY ON BOARD
Paris Fury welcomes baby number seven with husband Tyson
TRAGIC LOSS
This Morning star dies aged 53 after 'sudden illness' as tributes pour in
"I was stood at the back of the couch, so I went to touch it and it all just happened really quickly. I'd only been in the house for around two minutes.
"It snapped at my face and took away some of my nose."
Rebecca said initially her nose "just felt really numb", but assumed it may have been broken.
She continued: "The woman's son said 'Did she manage to get you there?'
"I moved my hand away and the blood just started pouring.
"Even at that point I didn't know it had bitten me, it just felt like it had knocked me.
"He [the woman's son] offered to call an ambulance and that's when I realised how serious it was.
"I opened my phone camera to have a look and saw a chunk had been taken out of nose. That's when I broke down."
Rebecca, who owns two dogs herself, said she frantically phoned her partner as her "nose is hanging off".
The pregnant woman said the "terrifying" experience saw her raced to A&E and later underwent surgery where they took a skin graft from the back of her head to reconstruct the tip of her nose.
Rebecca said she is now having to guide her way through the trauma, adding: "There's not a single day that goes past where I don't think about the situation or that moment. It isn't nice looking in the mirror. It's sort of a reminder of what happened."
She continued: "I'll be extra cautious because even family-friendly dogs can go at any time, it doesn't matter where you are or what kind of dog it is."
Despite the horror, the mum-to-be said she was heartbroken to hear the dog had been put down after the attack.
She recalled: "I've found out since then that the dog is quite unpredictable and aggressive around other people.
"It usually gets muzzled when it goes out on walks and things like that.
"I didn't know that as a new carer, nothing was said [to me] at the time.
READ MORE SUN STORIES
Holly Willoughby pays emotional tribute to This Morning doc after her sudden death
I spent £2k on my 13 'fake' babies, my dad says it's bizarre… who cares
"It was put to sleep the following day after it happened. I was really upset and distraught for them [the family] about that."
It comes as Prime Minister Rishi Sunak revealed his plans to ban XL Bully breeds, following a spate of fatal attacks on Brits.

Source: Read Full Article