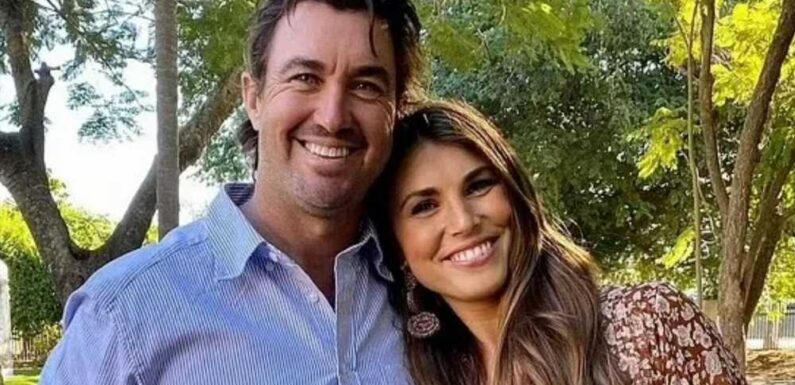 THE host of National Geographic's Outback Wrangler series Matt Wright has defended his family's prolific use of helicopters.
Matt, 44, and his Instagram influencer wife Kaia, 34, were banned from using their helicopter like a family car after neighbours complained about the constant noise coming from their property.
But the famous pair, who live 30km southeast of Darwin in the Northern Territory, insisted they were entitled to fly to and from their home as they pleased.
Matt said: "I have for many years utilised helicopters as a principal means of transport for myself, family, and friends.
"Not dissimilar to how people use motor vehicles, I will fly in and out of our home in the morning and back in the evening."
The Wrights were grounded by the NT Civil and Administrative Tribunal after their neighbours protested about the noise.
Read more on Matt Wright
'GO ON MATE'
Aussie bloke shoos huge 16ft crocodile off outback track with just his CAP
REAL-LIFE CROC DUNDEE
Croc wrangler loves to wrestle monster beasts with his bare hands
In 2021, two formal complaints were lodged with the NT Development Consent Authority accusing the couple of ramping up flight frequencies and using their home for their tourism business.
Matt and Kaia argued they were acting in accordance with their semi-rural Virginia property's "existing use" and said they didn't use their home like a "passenger terminal or heliport".
The NT Development Consent Authority sided with the Wrights' neighbours in May, stating: "There is no dispute Matthew Wright uses an area of the property as a place used for the landing or takeoff of helicopters.
"The applicants have contravened, are contravening and will contravene… the Planning Act," the NT News reported.
Most read in The Sun
THERE FOR HIM
Matthew Perry's devastated Friends cast mates seen at tragic star's funeral
BOILING OVER
Big Brother house on lockdown after brutal fight night
ringing in change
Matthew Wolfenden unfollows wife Charley Webb as she moves her ring
BIG BUST-UP
ITV reveals truth about Big Brother row so vicious it got taken off air
In their defence, the Aussie couple said they bought the property two years before a new law about landing sites came into effect so they believed they were allowed to continue using it for flights.
They said: "Because the helicopter use was not a separate use of the property, the existing use provisions of the Planning Act are not engaged as there has been no change in the use of the land from residential living."
This was refuted by the Development Consent Authority, who said the property's "existing use" was irrelevant as the planning laws needed to be observed.
The Outback Wrangler took the case to the NT Civil and Administrative Tribunal earlier this year and was found to have breached the laws last Friday, following eight months of hearings.
Tribunal president Mark O'Reilly said: "It is always open to a legislature to make illegal something that was previously legal."
The Netflix star helicopter pilot is a known crocodile wrangler.
In 2021, Matt was recorded calmly moving a gigantic 16ft beast off a walking track near Darwin with just his cap, saying "go on, mate" and "good boy".
Once dubbed the new Steve Irwin, he feels most at home leaping on the back of a crocodile and clamping its jaws shut with his hands.
Read More on The Sun
HOME HACKS
Cheap ways to dry your clothes without creating mould & why £6 gadget is key
PUSH IT
iPhone setting slashes battery life but there's a 'hidden' button to turn it off
He said in 2018: "I could never live in London – Hyde Park's not big enough for me, I need to land my chopper somewhere.
"I would take wrestling a crocodile over a desk job any day of the week."

Source: Read Full Article