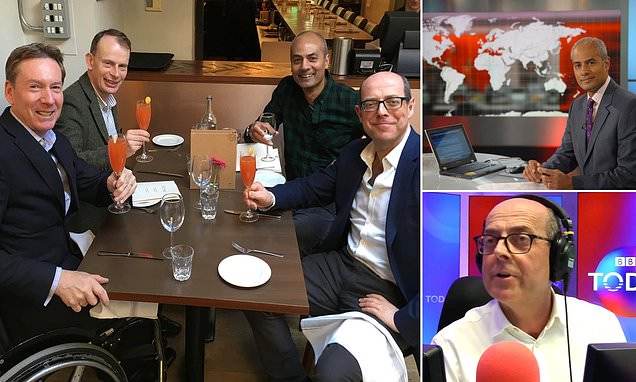 Nick Robinson recalls 'Survivors' Lunch' with George Alagiah as fellow BBC colleague John Simpson says the 'handsome and charming' news anchor 'lifted the room and made you feel better for having him there'
George Alagiah died 'peacefully' yesterday surrounded by family aged 67  
Nick Robinson poignantly recalled meeting his late friend George Alagiah at a 'Survivors' Lunch' as he paid tribute this morning to his 'happy, funny' colleague' who was 'always thinking about others'.  
The News at Six presenter died 'peacefully' surrounded by family yesterday aged 67, after first being diagnosed with bowel cancer in 2014. 
Tributes to the much-loved presenter, who joined the corporation in 1989, have flooded in following the announcement of his death.
The Radio 4 Today host reflected on the meeting between the late star, Andrew Marr, Frank Gardner and himself after all surviving life-threatening experiences, and spoke of his fondness for his colleague who was 'ever happy, funny and always thinking about other people'.
Meanwhile, veteran journalist John Simpson recalled how Alagiah 'lifted the room by coming in'. The BBC world affairs editor, Simpson hired him as a foreign correspondent in 1989, saying he knew he was right for the role as soon as he walked in. 
In a touching tribute, he told BBC Breakfast: 'There's always decision-makers on these boards and I was one of them, and the other chap was sitting sort of half opposite me and I just caught his eye and we both knew this was the one.
This morning, Nick Robinson poignantly reflected on a Survivors' Lunch he had attended with George Alagiah in 2016 with his colleagues Frank Gardner and Andrew Marr
Robinson paid tribute to his 'happy, funny' colleague' who was 'always thinking about others' after he died yesterday
Veteran journalist John Simpson recalled first hiring Alagiah telling of how he 'life up the room by coming in'
'He lifted the room by coming in, and made you feel – I don't know, maybe I'm being fanciful at this long distance – but made you feel better for having him there.'
'Nobody seemed to fit the bill and the last person in was a young, early 30s figure, very, very good looking, I have to say, very handsome, and very charming, but in a nice way, not a smooth, I'm-working-the-room, I-look-so-good way, just really sincere and decent and nice and incredibly knowledgeable,' Simpson added. 
READ HERE: BBC's George Alagiah said he wanted to hold his wife's hand 'until the end' and described his fear of her having to set the table and eat alone after his death
Meanwhile, Robinson candidly spoke of how he would meet up with the much-loved presenter along with Andrew Marr and Frank Gardner – fellow members of the 'Survivors' Lunch' who had also been through life-changing events during their careers at the BBC.
After playing a segment of Alagiah talking about cancer following the death of campaigner Dame Deborah James, who also had bowel cancer, the Today presenter said: 'Not an easy process. It was a classic George understatement. 
'I think back as I hear that, Chris, to a lunch I had with George, with Andrew Marr, with Frank Gardner.  A photograph that we originally planned to be private that ended up circulating, it seemed to millions of people really, of what we what we call the survivors' lunch. 
'It's a phrase we can't use anymore, but George knew that, knew that it would get him but he was as ever happy, funny and as you just heard always, always thinking about other people.'
Robinson was diagnosed with lung cancer in 2015, having the tumour removed before being given a course of chemotherapy. While he was given the all-clear the nerves leading to his vocal chords were damaged.
In 2013, Marr had a stroke that affected the movement in the left side of his body and when he returned to work just nine months later he said he was lucky to be alive.
The News at Six presenter died 'peacefully' surrounded by family yesterday aged 67, after first being diagnosed with bowel cancer in 2014
Sophie Raworth revealed George Alagiah co-presented the Six O'Clock News on the BBC together for years
Raworth paid tribute to her long-term colleague, calling him 'a man of great values and indomitable spirit, a big smile, a velvety laugh, a great friend'
Gardener, the BBC's Security Correspondent, was paralysed from the waist down after being shot six times by al-Qaida sympathisers while reporting from a suburb of Riyadh in Saudi Arabia.  
After 14 operations, almost a year in hospital and months of rehabilitation he returned to the corporation, where he still works today. 
In 2016, Robinson revealed in BBC blog that the four men had decided to meet up 'toasting' their survival.
He wrote: "I plan to cheer myself at the inaugural dinner of the Survivors' Club,' I wrote referring to an idea my esteemed BBC colleague Frank Gardner (shot) had proposed to Andrew Marr (stroke), George Alagiah (cancer) and myself (cancer).
I wasn't sure that we would ever get round to breaking bread or supping wine, but wrote that I proposed that rule one of the club should state: 'Talking about your medical condition is strictly prohibited."
Robinson went on to share a photo of the men holding up their glasses to a camera which was then shared by thousands on social media, with warm messages flooding in.
Alagiah was first diagnosed with bowel cancer in 2014, before finishing his treatment in October 2015 and returning to the screens a month later.
In 2020, his health hit the headlines again when he tested positive for Covid. He returned to his presenting duties in April 2022 before departing again in October after revealing the cancer had spread to his lungs and lymph nodes.
Alagiah and Raworth during a 'behind the scenes' look at how they put the programme together 
Alagiah with his co-presenter Natasha Kaplinsky on a News At Six bulletin in 2007 – the year he began presenting duties 
The journalist is seen at Buckingham Palace with his wife Frances Robathan and sons Adam and Matt, 17, after collecting his OBE from the Queen in 2008
Reflecting on Alagiah's career that spanned more than two decades in the BBC, he added: 'Eventually we sent him to South Africa to be the correspondent there. This was just after Nelson Mandela had won the election, apartheid was finished.
'It was a very exciting time, very hopeful time in South Africa. Sadly, the hope has largely faded. And George was the ideal person to be there, because this wasn't about George, this was about South Africa.
'Most of us, when we're based abroad somewhere, we do our job well perhaps and, you know, people take notice of us, but there are some people in some situations who kind of set themselves at the very heart of of the story.
'Nelson Mandela absolutely loved him, and so did Desmond Tutu, and even Robert Mugabe in Zimbabwe actually took a liking to him. You couldn't fail to like George.
'And it was all about southern Africa, it wasn't about 'how brave I am', 'how fantastic I am', 'how many people I know'. It was about the country that he was there to broadcast about.'
His touching praise of Alagiah comes as floods of tributes have poured in from BBC stars.
Yesterday evening's Six O'Clock bulletin, saw his long-standing co-presenter Sophie Raworth attribute much of the programme to him.
The journalist became one of the BBC's most renowned foreign correspondents. He is seen in 2009 during a visit to Kibera, Keyna – the largest slum in Africa 
Alagiah speaks to the audience during the 2009 reception at Clarence House, which brought together young people and policymakers 
Alagiah joined the BBC in 1989 and was one of the broadcaster's leading foreign correspondents
He was made an OBE in the 2008 New Year Honours list for services to journalism
The presenter revealed how Alagiah's final wish before his death had been to come back on air and bid farewell to BBC viewers – but he never had the chance to.
Instead in an emotional pre-recorded message he reached out to his faithful audience reassuring them he had 'gotten to a place to see life as a gift'.
He spoke of his life being divided into 'pre-cancer and post-cancer' recalling how he was 'at the top of his game at work and at home' when he was diagnosed. 
As a video montage played, he said:  'My life is divided into pre-cancer and post-cancer. The weird thing about a bowel cancer journey is that you don't know the beginning and you don't know the end.
'I know I was diagnosed with bowel cancer but I don't know when it started because I was at the top of my game, at work at home.
'Then suddenly you hear those words "I am sorry to have to tell you Mr Alagiah, you have bowel cancer".
READ MORE:  How fearless BBC stalwart George Alagiah became the reassuring voice of the nation: From dispatches on the frontline of Afghanistan and Rwanda to the first pictures out of Kosovo
The award-winning journalist added: 'I have got to a place where I see life as a gift and rather than worrying about when it's going to end and how it's going to end, I've gotten to a place where I see it for the gift it is. I feel that gift keenly every morning.'
Earlier on in the programme, Raworth had recalled launching the Six O'Clock News with Alagiah back in 2003, before reflecting on his long career.
She said: '20 years ago George and I launched the new Six O' Clock News together back in January 2003. He was a foreign correspondent at heart, that was his passion, but he felt enormously proud and privileged to be presenting the BBC's evening news and he loved it.'
'He loved being in the newsroom being part of the team, and he made a good cup of tea as well. We all adored him, he felt a real connection with the audience too,' she added.
'After he was diagnosed with cancer just over nine years ago, he received thousands of letters and messages from people who wrote to him as it they knew each other, strangers who spoke to him as a friend. He was really touched by your support.
'George was a man of great values and indomitable spirit, a big smile, a velvety laugh, a great friend.'
Alagiah, who died following an illness with bowel cancer, is survived by his wife of 40 years, Frances Robathan and his two children – Adam and Matt.
Speaking in one his final interview with the Sunday Telegraph, the veteran broadcaster said he hoped to hold his wife's hand until the very end, and spoke of his fear of her having to set the table and eat alone after his death. 
Source: Read Full Article