A group of English language teachers has won almost $200,000 in unpaid wages after taking on their college's decision to slash their pay in response to Melbourne's lockdown.
Staff at the Australian National College of English in Melbourne's CBD were also misclassified as casuals, in some cases working for years on a series of short-term contracts, without annual leave or sick pay.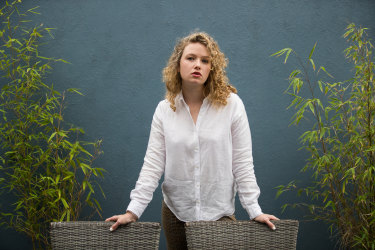 English language teacher Brianagh Curran successfully fought for thousands in back pay after being denied annual leave and being paid under the award.Credit:Jason South
Their boss, who conceded in conciliation that he had been underpaying his teachers, told The Age he is now considering shutting down the school.
It is the latest in a number of recent industrial disputes over underpayment in the troubled private English language teaching sector, which has been hit harder by Australia's border closure than any other part of the higher education industry.
Enrolments in English language intensive courses for international students fell 33 per cent last year, Commonwealth data shows, compared with a slump of 7.3 per cent in the higher education sector overall.
Some private colleges have closed their doors in response, while teaching staff in the heavily casualised sector have had to go to the Fair Work Commission to fight for unpaid wages.
In the latest case, nine teachers at the Australian National College of English (ANCE) in Melbourne's CBD have this month won a combined $194,000 in back pay after taking the school to the commission.
The matter was settled in conciliation, with the college agreeing to pay the teachers previously denied leave and redundancy payments.
The teachers also had their pay cut from $45 an hour to $35 an hour after the college transferred from face-to-face to remote learning in March, in most cases pushing their pay below award rates.
Jianming Chen, the chief executive of ANCE, declined to answer questions about the underpayment of his former teaching staff, other than to say the matter had been settled.
But he said enrolments at the college had declined from a peak of about 150 before the pandemic hit to 18 students now, putting its continued operation under a cloud.
"I think the school should be shut down, how can you keep it open with that number?" Mr Chen said.
He said teaching English to international students had become an unprofitable industry since COVID-19 hit.
"It's a loss-making business; it's not profitable at all."
One of his former employees, Brianagh Curran, said she and her colleagues at ANCE worked without management support to switch from face-to-face classes to remote learning when Melbourne went into lockdown.
"We paid for it out of our own pockets to get the online learning system in force and we did all the training and liaising ourselves," Ms Curran said.
"That was all off our own back, because to lose our job at that time would have been absolutely crippling."
Ms Curran received $12,907 in back pay following conciliation.
Her colleague, former primary school teacher Selena Long, received $20,912.
Ms Long said the teachers received no support from college management to switch to online learning, even paying for Google Meet subscriptions out of their own pockets.
"We were literally holding the business together without any help," she said.
Weeks later, they received new contracts that cut their hourly pay rate.
The teachers were supported in their fight for unpaid wages by the Independent Education Union.
Deb James, the union's Victoria and Tasmania branch president, said the English language sector had been hit especially hard in the pandemic, but that did not justify "the rampant exploitation we've seen from some employers as they seek to pass all of their costs onto a vulnerable workforce".
"Under-award pay rates, unpaid super, dodgy casual contracts and denial of redundancy pay and other basic entitlements are simply not acceptable ways to treat employees or run a business," Ms James said.
The union also supported staff at the Melbourne-based college Languages Across Borders, helping them to recover tens of thousands of dollars in unpaid super and leave after the school was closed down last year.
Start your day informed
Our Morning Edition newsletter is a curated guide to the most important and interesting stories, analysis and insights. Sign up here.
Most Viewed in National
From our partners
Source: Read Full Article