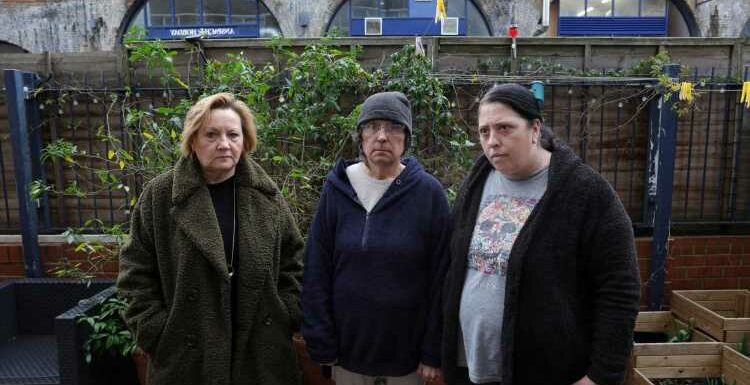 A GROUP of residents say they are terrified to leave their homes and compare their estate to Ibiza as it's full of rowdy drunks.
Locals of the Arnold Estate in Southwark, South London are overwhelmed by disruptive drinkers travelling the 'Bermondsey Beer Mile'.
Once occupied by businesses like mechanics or joiners, the railways arches running from Millwall FC's ground to London Bridge are now home to a string of craft brewer pubs.
The area has been transformed, almost overnight, into one of London's drinking hotspots, attracting people from miles around with its nightlife scene.
However, for those living there and having to deal with the influx of anti-social behaviour, it has become more of a nightmare than a night out.
Long-time resident Lauri Locatelli said: "It's like living beside the strip in Ibiza and we didn't ask for it.
READ MORE UK NEWS
Man 'naked and covered in blood' arrested before mum found 'murdered' at home
Moment man just misses being hit by 70mph train – and doesn't even look up
"I fell asleep on the sofa on the day of the Queen's funeral. I woke up and the noise was like a football match. 
"The amount of people there was unbelievable.
"I couldn't understand how that council could give all these licenses allowing people to drink outside."
Lauri heads up a group that has launched a petition calling on the local council to control the issue.
Most read in The Sun
Loose Women star lined up to be Strictly's first contestant in wheelchair
GMB's Kate Garraway reveals crippling cost of caring for her husband Derek
Stephen Bear 'broke behind bars' as his company is shut down before he's jailed
Mum identified after dead baby is found on heathland
They believe that the relentless disturbances on evenings and weekends are affecting the mental and physical health of those on the estate.
They also argue that if the Mile's clientele were not mostly middle class, action would have been taken much sooner.
Lauri added: "If teenagers on this estate went out onto that street and were drinking or being loud the police would come in and arrest them."
The businesses in the arches were allowed to make greater use of the space outside to enforce social distancing during the pandemic, but locals say this has not been reversed since lockdown eased.
Neighbour Lindsay McNamara fumed: " You're trying to relax on your day off and then you hear it.
"But it's not just the noise, it's the behaviour."
She explained that drunken revellers have urinated on doors and fences in the estate and often smash bottles or glasses there.
Even worse, Jane O'Brien, who has lived on the estate for 37 years, had drunks invade her home.
She recalled: "It was broad daylight and I saw two children looking into the bin room.
"I asked them what they were looking at then I saw there were two people having sex in the bin room.
"I told them: 'Get your clothes on, there are kids watching'. It was disgusting behaviour."
Jane, who is recovering from a brain tumour, has also had her car vandalised and wing mirrors smashed.
There are signs in place urging visitors to 'respect our neighbours' but people in the area say they are just ignored.
Councillor Dora Dixon-Fyle, the council cabinet member for community safety said: "Following a review of the licensing in this area in 2015, then later in 2018, the council has put in extensive resources, with regular observations and inspections, working alongside the police who pick up on anti-social behaviour.
"So far, any licensing condition breaches have been minor. The road is busy and there can be groups of noisy people using the street, although this is not associated with a particular business."
She added that the local authority had put in place an 11pm recommended closing time for the venues and have objected to applications for later closing.
A spokesperson for Arch Company, which own the arches, said that they have held meetings with locals over their concerns.
They said: "We expect all our business customers to comply with licensing law and act in a considerate way to their neighbours, whether commercial or residential, so they make a positive contribution to the neighbourhood.
"We have been working with local residents, our business customers on Druid Street and local councillors to tackle the issues that have been raised around noise and anti-social behaviour."
Meanwhile, the Metropolitan Police said that they were "aware" of the issue and would "always do our best to act".
Read More on The Sun
Shoppers are rushing to pick up Aldi hair dupe that leaves hair super smooth
I'm a size 3XL & did a £250 Shein haul to look on point for my cruise
They added that they regularly patrol the area and "welcome" input from residents.
The force also emphasised its commitment to "working with local people to ensure they can feel safe and secure".

Source: Read Full Article