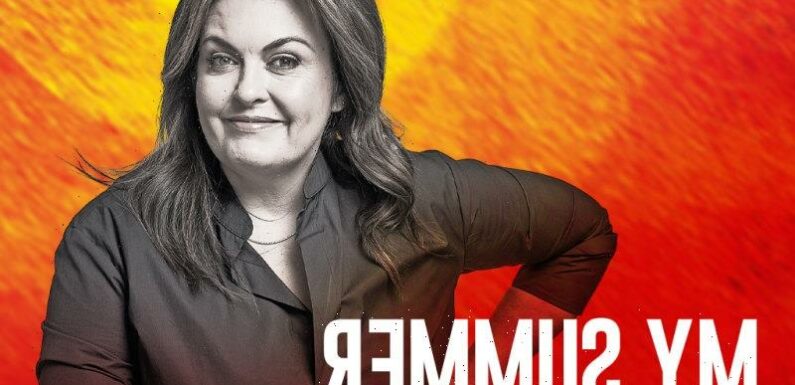 The Age has asked prominent Victorians to reveal their favourite places and activities of the summer holiday season.
Today's instalment comes from Karen Martini, chef, author and Good Weekend recipe columnist.
Karen Martini.
What does a Victorian summer mean to you?
Random weather. But in some ways I love it. You can be swimming at a beautiful beach at lunchtime and then, after a cool change, happily sit around a fire pit at dinner drinking pinot noir. The unpredictable weather dictates what I cook. If it's cool, I'll do a slow-braised joint of meat, like pork shoulder, which can be turned into pulled pork tacos for a crowd. If it's hot, I'll cook whole fish or steak on the barbecue and serve with lots of salads – our produce is fabulous at this time of year.
The first place you take visitors?
The Mornington Peninsula. Start at Alba Thermal Springs and Spa, which recently opened and has pools that are 100 per cent geothermal water. It's very high in magnesium and many other minerals, so it's really good for a recharge, especially if you've travelled a long distance to Melbourne. After soaking for half an hour, I feel like everything melts away.
If you're a bit peckish you can go to Thyme, the restaurant onsite where I wrote the menu. It's got indulgent healthy snacks, or heavier shared courses with a bit of a Japanese edge to them. After you've recharged, you'll be ready to visit some wineries and head back to Melbourne for dinner.
Alba Thermal Springs and Spa.
My favourite spots now are Marion in Fitzroy for a quick bite or Grossi Grill for a delicious pasta. Supernormal in the city is fantastic. I also love Aru for a more formal experience and its sibling Sunda is great too. The chef, Khanh Nguyen, has an intelligent way of articulating flavour, the presentation is beautiful, and his cooking is totally unique. Korean barbecue is also fabulous, if your guests have never had that experience.
The secret spot you escape to?
The Royal Botanic Gardens during summer. There's nobody around, it's really cool on a hot day, and you can have the whole garden basically to yourself. I picnic with the kids and have a walk around.
The best summer food is …
Cooked over fire or coals. Grilled calamari or prawns go hand-in-hand with summer for me.
I also love doing a super simple spaghetti dish with a fresh tomato sauce, garlic and basil. I look forward to tomatoes every summer; we shouldn't really be eating them all year round. It's a great dish to throw together when you're away and need to make something out of whatever is on hand.
On the drinks front, Americanos, very cold white wine or rosé and a juice in the morning. Coffee is still very much part of my summer ritual, too, because I find I'm a bit slower from being on the beach and being more active.
Barbecued prawns with chermoula.Credit:William Meppem. Styling by Hannah Meppem
I know it's summer when I smell …
Prawns cooking, sunscreen and rosé. You know you're about to have a really relaxing afternoon or evening.
My favourite summer song is …
It's too hard to narrow it down to one. There could be vintage Italian disco through to Nina Simone playing in our house. This summer, though, there's a riff of The Message by Grandmaster Flash that my daughter is playing on repeat. That looks like it's going to be our summer song this year.
The worst thing about summer is …
Flies.
Guilty pleasure?
Tom Hollander as Quentin and Jennifer Coolidge as Tanya in The White Lotus.
Sitting around doing nothing. When I'm finally on holiday, I would like to watch a bit more TV, be it The White Lotus season two or Yellowstone or Tokyo Vice. I'm just wishing my summer is all the good bits of the latest season of White Lotus, really.
-with Emma Breheny
Most Viewed in National
From our partners
Source: Read Full Article