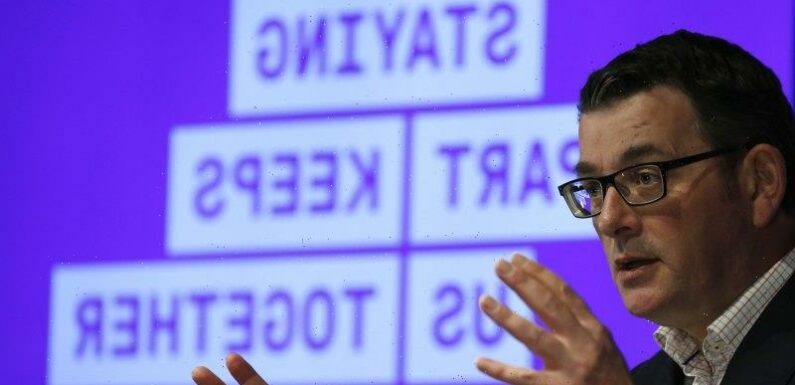 Key points
Daniel Andrews has defended the decision to close schools during the pandemic, despite a report saying schools should have remained open.
Andrews called the report "academic" and said there was "nothing academic" about the pandemic.
The Fault Lines report found schools should still have been accessible to vulnerable children and closures should have been targeted.
Premier Daniel Andrews has defended the government's decision to close Victorian schools during the pandemic after an independent report criticised the widespread and extended school closures.
The report into the government's COVID-19 response found it was wrong to close schools en masse, particularly when they weren't seen as high-transmission environments.
An independent review found that schools should not have been closed en masse during the pandemic.Credit:Eddie Jim
Instead, the Fault Lines report found specific schools should have been targeted for closure and that schools should still have been accessible to vulnerable children – not just those of essential workers. The same should have been applied to universities and vocational education and training schools, with a clear cost-benefit and risk-management framework established, the report said.
Melbourne became the most locked down place in the world, reaching 262 days between 2020 and 2021.
Teachers have reported learning loss and behavioural and mental health issues as effects of the lockdowns and school closures.
The review found that for children and parents, particularly women, states failed to get the balance right between protecting public health and imposing long-term costs on education, mental health, the economy and the workforce.
Government decision-making frameworks "faltered", the report said, and pre-pandemic plans stressed the need to keep schools and borders open but state governments took a different view of the Commonwealth's health advice.
It echoed research by Murdoch Children's Research Institute (MCRI) of COVID-19 school closures in 2020 that recommended a 'traffic light system' to allow schools to stay open in areas where community transmission was low.
MCRI director of population health Professor Sharon Goldfeld said school closures needed a more "nuanced approach" and that an Australian centre of disease control should be established with a focus on children, the long tail of COVID-19 and the impacts on vulnerable families.
Goldfeld said she didn't think the report was set out to point fingers but to provide insight for future crises.
Cleaning crews work to deep clean Keilor Views Primary school in 2020. Credit:Getty Images
She said time would tell the extent of the long-term effects on children.
A Royal Children's Hospital poll in 2020 found that 56 per cent of children in Victoria experienced negative mental health impacts from remote learning.
Andrews said he hadn't read the report but that the decision to close schools was not made lightly, adding he knew it would be "subject to debate and discussion".
He called the report "academic" and said there was "nothing academic" about the pandemic.
"It was a one-in-100-year event, and there's no rule book. You do not do what's popular, you do what's right, you follow advice, and you do the best you can," Andrews said.
"There are consequences and the challenge is to weigh up those consequences versus the death rates like they had in Italy, like they did in the United States, like they did in the United Kingdom," he said.
He said that since 2021, the government had begun putting thousands more tutors in every school to ensure children got the support they needed to catch up on what they missed during the school closures.
"Yes, there's work to be done there. But there is a sense of optimism."
Australian Principals Federation President Tina King said the pandemic had been an "evolving and unpredictable" situation and the federation followed the advice of the chief health officer and the government.
"You can apply this to the flood situation that's happening across northern Victoria. There's a sense of urgency to get kids back to school, but we have to remember we have staff who are impacted and still sandbagging and trying to save their homes," she said.
"It's a challenge to balance the needs and well-being of the community versus the responses to crises."
The Morning Edition newsletter is our guide to the day's most important and interesting stories, analysis and insights. Sign up here.
Most Viewed in National
From our partners
Source: Read Full Article