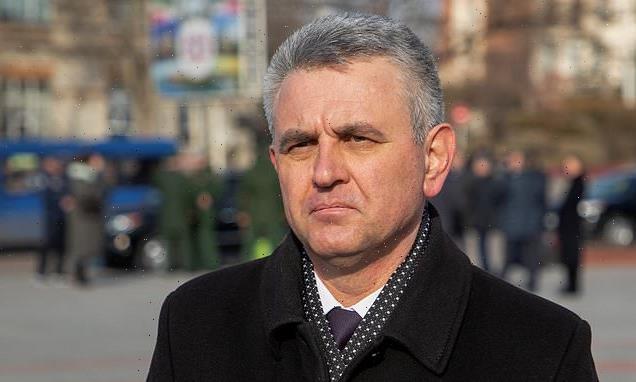 Russian false-flag fears as pro-Putin separatists in Moldova claim they have foiled Ukrainian 'terror attack' in breakaway region
The comments from security officials were published by Russian state-run news
Comes as Moldova adopted a declaration condemning Russia's war in Ukraine 
Pro-Moscow authorities in Moldova's separatist region of Transdniestria, which borders Ukraine, have claimed they prevented a terror attack organised by Kyiv against separatist officials.
Security officials said in a statement they had halted 'a terror attack… directed by Ukrainian security services, being prepared against a number of officials,' including Transdniestria's leader Vadim Krasnoselsky.
'The suspects have been detained. They have given confessions,' the report claimed, providing no further information.
The comments were published by Russian state-run news agency RIA Novosti and come on the same day that the Moldovan parliament adopted a declaration condemning Russia's invasion of Ukraine, prompting suspicions Moscow was orchestrating a false-flag operation as a pretext to increase its 1,700-strong troop presence in Transdniestria and justify further attacks on Ukraine.
Moldova, a pro-European republic of 2.6 million people located between Romania and Ukraine, has feared that it could be Putin's next target ever since the Kremlin launched its offensive on Kyiv a year ago. 
Head of Transdniestria Vadim Krasnoselsky takes part in a ceremony marking the Defender of the Fatherland Day in Tiraspol, Moldova's breakaway region of Transdniestria, February 23, 2023
Ukrainian refugees and Moldovan citizens protest against the war in Ukraine in front of the Russian Embassy in Chisinau, Moldova, 24 February 2023
Moldova has in recent weeks reported 'attempts at destabilisation', with its foreign ministry last month announcing it had expelled two foreign nationals of undisclosed origin from the country, believing they were gathering intelligence for a plot to undermine the government. 
Hell rains down on Ukraine: Putin unleashes largest missile strike for weeks, hitting numerous cities, killing civilians, leaving half of Kyiv with no heat and severing electrical power at nuclear energy plant 
A narrow majority of 55 lawmakers in the EU candidate nation's 101-seat assembly today voted for a declaration stating that Moscow's invasion of Ukraine began with the seizure of the Crimea peninsula in February 2014.
The declaration said Russia was waging an illegal, unprovoked and unfounded war of aggression in Ukraine that violated the principles of international law, and echoed calls by Kyiv for an international tribunal to prosecute war crimes.
In late February, Moscow claimed Ukraine was planning an invasion of Transdniestria – allegations that were quickly slapped down by Chisinau and Kyiv.
Moldovan Foreign Minister Nicu Popescu said Russia's 'provocative' comments about a possible Ukrainian attack were untrue.
'The Moldovan authorities have rejected these statements as unfounded, made to manipulate public opinion. The security situation in the region is stable,' he wrote on the Telegram messaging app.
And in Kyiv, Ukrainian President Volodymyr Zelensky rejected Moscow's assertion that Ukraine wanted to take over the region.
Zelensky told a news conference that Russia was engaging in constant provocations.
'They clearly understand that we respect the territorial integrity of Moldova and we believe the territory of Transdniestria is the territory of the independent state of Moldova,' he said.
Zelensky said it was 'obvious' Ukraine was not the last country in Moscow's sights and that the Kremlin was thinking about ways to 'strangle' Moldova.
Minister of Foreign Affairs and European Integration of Moldova Nicu Popescu delivers his speech during a press conference to mark one year from the submission of the EU accession application by Moldova, in Chisinau, Moldova, 03 March 2023
Supporters of the socialists party with placards 'peace and quiet', 'ensure peace', 'Moldovans are peaceful people', 'don't scare people' protest in front of Presidency Palace in Chisinau, Moldova, 25 February 2023, amid Russia's invasion of Ukraine
Tensions between Russia and Moldova, which borders Ukraine, have grown sharply since the war began.
The former Soviet republic has protested to Moscow that Russian missiles aimed at Ukraine have entered Moldovan airspace, and that missile debris has landed inside Moldova, and has accused Moscow of plotting to topple the pro-European government in Chisinau.
The country has also suffered energy blackouts after Ukraine electricity exports were interrupted because of Russian airstrikes on critical infrastructure.
Russia has denied the allegation and accused Ukraine and other countries of stoking instability in the Transdniestria region, where around 1,700 Russian troops are based. Chisinau and Kyiv have dismissed the accusation.
The rising tensions between Russia and Moldova amid the war in Ukraine recently led Hungarian airline Wizz Air to indefinitely suspend flights to Chisinau.
'Due to recent developments and the high, though not imminent, risk in the country's airspace, Wizz Air has taken the difficult but responsible decision to suspend all its flights to Chisinau as of March 14,' the group said in a statement. 
Source: Read Full Article