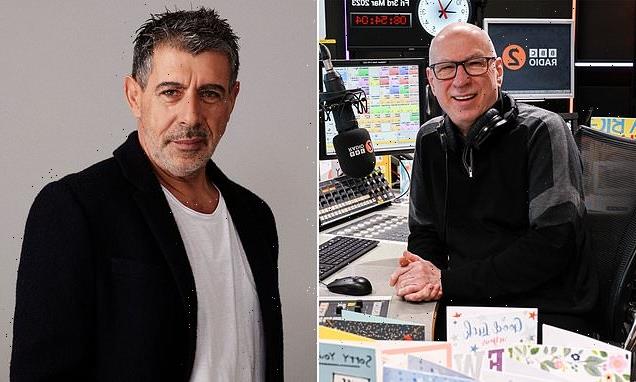 Radio 2 pop quiz scandal: Contestant on 'Poundland Popmaster' is accused of using her phone to look up answers days after Ken Bruce left the station
Contestant 'Sheila' is accused of cheating while appearing on 'Ten To The Top'
Her four-second pauses before correctly answering question were 'suspicious' 
Do you know music quiz 'cheat' Sheila? Email [email protected] 
Radio 2's 'Poundland' replacement for Ken Bruce's much-loved Popmaster has found itself in the middle of a 'cheat' row just days after launching. 
Do you know music quiz 'cheat' Sheila?  
Email [email protected]
Furious listeners have accused contestant 'Sheila' of secretly using her phone to help her answer questions while appearing on 'Ten To The Top' hosted by Gary Davies. 
The new music quiz was launched as a replacement for Popmaster following the departure of Ken Bruce, who left the radio station last week after more than three decades, moving over to rival Greatest Hits Radio. 
But those tuning into the morning quiz on Thursday branded Sheila an 'obvious and blatant' cheat because of her four-second pause before correctly answering questions.
One tweeted: 'Obvious, blatant and unconvincing cheating on #Radio2's #10totheTop. I wouldn't want Sheila on my pub-quiz team! What a shame.'
Social media users have accused contestant 'Sheila' of being a 'blatant cheat' during Thursday's installment of 'Ten To The Top' – the replacement for Ken Bruce's legendary Popmaster music quiz
Veteran DJ Ken Bruce stepped down from his popular BBC Radio 2 show last week and is set to be succeeded by Vernon Kay in April
Radio 2 presenter Gary Davies (pictured) is hosting the new 'Ten To The Top' quiz as he sits in on Ken's former mid-morning slot 
While another quipped:  'What a pity to hear such blatant cheating on 10 to the Top. I don't know how you stop it but it certainly spoils it for the listener. Sheila was no Popmaster.'
READ MORE: Furious Radio 2 listeners dub new quiz a 'Poundland Popmaster' after Ken Bruce left – and took his much-loved game with him
'There is no doubt at all that Sheila was cheating or she was a stooge given the answers in advance. Like she knew who the Psychedelic Furs were! It's an awful replacement for PopMaster,' added another user.
While one fan, referring to the recent Twitter storm caused by Gary Lineker, said: 'Another BBC Gary at the centre of a big row today. You'd think they could do without it.'
The BBC has insisted Sheila won the show fairly, with a spokesperson telling The Sun: 'Prior to going on air, all Ten To The Top contestants are asked to participate alone with no assistance, books or devices, and we're confident that all players just use their music-filled brains.'
The contest sees two competitors going head-to-head to answer 10 music questions. Winners can bag themselves a smart speaker. 
But the show has been rubbished by listeners for being a carbon copy of Ken Bruce's beloved Popmaster. 
One person tweeted: 'What is this garbage on Radio 2? Don't mind Gary Davies but absolutely no point in having a quiz which is like a Poundland Popmaster.'
Another added: 'It's a Popmaster Champions League carbon copy! Anyway, back to GHR.'
Other players insisted the scoring system was 'confusing' and made it harder to participate alongside. 
Social media users have lashed out and accused Sheila of cheating, saying her four-second pauses were 'suspicious' 
The quiz is slated to continue when Vernon Kay takes over Bruce's old slot in the schedule, having become a firm fan favourite. 
A BBC spokesman said: 'Radio 2 listeners have enjoyed a weekday music quiz at 10.30am for decades and this will continue with our brand new quiz, Ten To The Top, for our new mid-morning show.'
Radio 2 has been accused of ageism after a mass departure of some of its best-known hosts.
Steve Wright, 68, Paul O'Grady, 67, Vanessa Feltz, 60, and Simon Mayo, 64, have all bid adieu from the station in recent months.
A source told the Sun: 'Ken is Europe's most listened-to DJ and has nothing left to prove at the BBC.
'He's had an incredible time working there and is so grateful for the loyalty of all his listeners.
'But in recent years, there's been a noticeable shift in direction, with a drive to attract a younger audience.'
The Scottish DJ was a Radio 2 legend after hosting his show for over three decades, his exit follows a slew of similar departures from BBC DJs in an ongoing 'agesim' row
One person tweeted: 'What is this garbage on Radio 2? Don't mind Gary Davies but absolutely no point in having a quiz which is like a Poundland Popmaster'
Another added: 'It's a Popmaster Champions League carbon copy! Anyway, back to GHR'
Last month, it was reported Bruce quit Radio 2 because he felt 'unloved' by bosses – who failed to reassure him over a new contract even though they wanted to keep him, say BBC insiders.
One source claimed that despite the desire to hang on to the DJ – Britain's most popular radio host – a 'mix-up' meant he wasn't told. This is said to have helped convince him to join commercial rival Greatest Hits Radio. 
The unexpected announcement of the 71-year-old presenter's departure is now said to have sparked discord at the BBC, as many regard it as completely avoidable. 
One well-placed source said: 'They definitely wanted to renew his contract but because of a mix-up nobody told him. He is a proud man and did not want to ask. When he told them he was going they were all saying, 'but we were about to offer you a three-year deal'… Bit late.' 
But another source close to the station disputed the contract claims, saying: 'Ken was reassured on more than one occasion that his future on Radio 2 was safe.' 
The Scottish star is believed to have been unsettled by the way the corporation had axed presenter Steve Wright's long-running show last year amid a push to appeal to younger listeners. 
Bruce is also said to have asked bosses to stop making him play 'tuneless dance music' but had not received any proper responses to his pleas. 
The Radio 2 insider told the Mail: 'Ken felt unloved.' 
Bruce has been at the BBC for 45 years – 31 of them presenting his Radio 2 mid-morning show. But loyal listeners have become increasingly fed-up at what they see as a shift to a younger audience. 
Source: Read Full Article