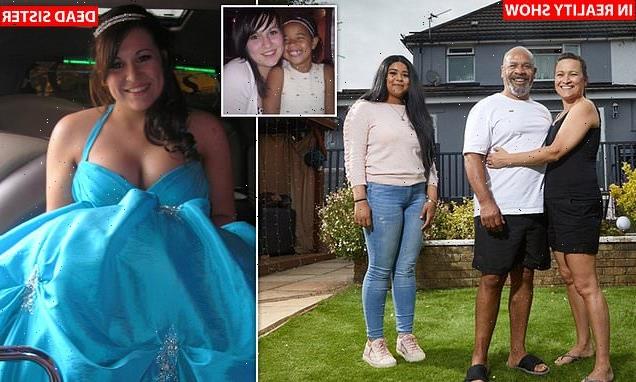 'I know you're safe up there with our beautiful sister': Sister of 21-year-old killed in crash shares heartbreaking tribute – eight years after their older sibling died in drug-drive smash
Sherridan Borg, 23, has lost two sisters in fatal car crashes 

Her sister Eve Smith, 21 was among the three dead in a weekend party tragedy

Eight years previously, her sister Xana Doyle, 19, was killed in a car collision
The sister of a young woman who died with her two friends in a car crash – eight years after she lost her older sibling in a fatal crash caused by a drug driver – has said she hopes they are is 'safe up there' together.  
Sherridan Borg, 23, lost sister Eve Smith, 21, among three dead in a weekend party tragedy – just eight years after her sister Xana Doyle, 19, was killed.
Eve's body was found inside a white Volkswagen Tiguan that was located in trees just yards off the A48 in Cardiff in the early hours of this morning. 
She died alongside Darcy Ross, 21, and Rafel Jeanne, 24. Bank worker Sophie Russon, 20, and Shane Loughlin, 32, were alive but badly injured – and may have gone undiscovered next to their dead friends for 48 hours. 
In a tribute, heartbroken Sherridan said: 'Eve, My beautiful little sister I've cried laughed and fought with you every week, but I've never been without you.
Eve Smith with mother Emma, stepfather Tony and her brother on the Sky TV show This is Our Family, which followed their lives after the death of her sister Xana in a car crash in 2015
Eve sister Xana Doyle was killed by a drunk and drugged up driver in 2015
'We always said, 'I got you always', but now I'm sat here feeling so empty because you're not here with me anymore, and I can't accept this.'
Eve had taken part in a Sky TV documentary after their other sister Xana Doyle was killed and the family campaigned for tougher sentences after the 2015 in a car crash.
Hairdresser Xana, 19, was killed instantly from head injuries in the crash when a friend stole a car to get to a party. She was a passenger when the car flipped
Sakhawat Ali, then 23, was high on cocaine and cannabis and twice the drink-drive limit. He was released after serving five years in jail.
Eve was 13 at the time of the tragedy while Sherridan was 15.
READ MORE: Three victims of horror Cardiff crash including  son of ex-QPR footballer
Sherridan said: 'There is no sister like you, you always made me feel so important, sending me messages to remind me how much you love me and I'd tell you just how much I loved you more!
'You saved me from so much Eve all the times I've been low it was you that I'd turn to, and now I'm feeling heavy because I couldn't save you.
'I loved seeing you grow into this beautiful young woman and you used to get so worried that we wouldn't be close as you grew up, but I'd remind you that sisters don't ever break a bond and ours well there isn't, no bond like ours my girl you'll always be my baby sister.
'I know you're safe up there with our beautiful sister Xana but I was never ready to let you go, my body is aching without you, please watch over me.
'I love you forever and always'
After the tragedy, Eve's family called for tougher sentences for killer drivers and appeared in a Sky documentary about their lives with a crew that followed them around for three years.
Following's Xana's death in 2015, Eve paid an emotional tribute to her saying she had 'tragically lost my beautiful big sister'. 
Eve, just 13 at the time, wrote on Facebook: 'I never ever thought I'd have to say that or even think about it but it's all I do. No-one will understand the agony and heartache I feel when I hear her name or see her picture. 
'It's so hard to understand or accept that she's gone and I'm never going to be able to see her again. A million times I've needed her and a million times I've cried. 
'If my love alone could have saved her she never would have died.'  
Their step-father is Tony Borg, a former boxer who trained Welsh Olympic medal winning boxers and world champion Lee Selby.     
After driver Sakhawat Ali was jailed for eight years, Xana's mother Emma revealed her grief in a personal statement which was read out in court. 
She said: 'Watching her brother, Zaine, and sisters, Lauren and Eve, trying to continue with life in so much pain is heartbreaking. '
'They not only lost their beloved sister that day but they also lost their mother, as I am not and can never be the same person again. 
Eve and Xana in a family photo taken when they were younger 
'Truthfully, if I didn't have my other children to care for I would not be here today as this pain is unbearable. 
'She is not here and she never will be again. This nightmare is real and is never going to end.' 
Emma added: 'I cannot accept that this is real, I am in a permanent daze, trying to carry on with the mundane tasks of life in an attempt to provide my children with some normality. 
'I will never see Xana get married, have children, and be successful in her chosen field of work. 
'There will always be an empty place at our table, a hole in our hearts that cannot be filled, and there won't be one day that we don't mourn her. 
'Each family celebration will be bitter sweet, knowing that she is not there to share the joy and be the life and soul of the party that she was.' 
Eve in a Sky documentary that charted how families deal with trauma after Xana's death
Rafel Jeanne (pictured) is believed to be the son of former Cardiff City and QPR footballer Leon Jeanne (right), who was once dubbed Wales' most promising footballer before being jailed in a drugs case
Darcy Ross, 21, died in the crash alongside Eve Smith, 21 and Rafel Jeanne, 24
Sophie Russon, 20, and Shane Loughlin, 32, were alive but badly injured – and may have gone undiscovered next to their dead friends for 48 hours
Today, Eve's family confirmed that she had died in Friday's crash, as have friends in several social media posts. 
One said on Facebook: 'Gutted and shocked to wake up to the news that Eve Smith and 2 others have passed away.
'Such a kind hearted strong women, it don't seem real, such a young age. So, so, so sad. Taken way too soon. RIP Eve.'
Another said: 'One of the kindest girls with a heart of gold. rest in peace girl and i'm so annoyed that you got taken away from us so soon.
'It should have never happened, but one thing for sure you will never be forgotten.'   
Darcy Ross and Rafel shared a Snapchat post of themselves together on Friday night – just hours before the crash in the early hours of Saturday.
A private ambulance at the scene of an accident on the A48 to carry away the dead
Friend Alessia Scaccia wrote 'Rip Raf, Darcy and Eve. Hoping Shane and Sophie have a fast and full recovery with the support from the hospital.'
Rea Smith said: 'I don't really have the words right now. Darcy Ross i'm going to miss you little gypsy girl. You were a real ray of sunshine especially on my bad days.
'Eve Smith you were truly a beautiful young girl, who's heart was made of gold just like your sister's, give her a big hug for me and hold each other tight until the day we all have our turn and reunite'.
Sophie Russon's mother Anna Certowicz has revealed that her daughter was 'conscious some of the time' in the car after it ran off the A48 in Cardiff and had 'called out but no one was close enough to hear her.' 
Specialist officers are supporting the families of those involved and inquiries are ongoing.   
The five crash victims were returning from a night out in Cardiff when their white VW Tiguan left the road at speed and flew into trees and undergrowth. Three have died, two are seriously injured and in hospital. Police have not revealed the names of the deceased
A group of people lay floral tributes left near the scene in the St Mellons area of Cardiff today
South Wales Police has said they are continuing to piece together what happened and have deployed specialist officers. 
A spokesman said: 'South Wales Police is continuing to investigate a fatal road traffic collision on the A48 in the St Mellons area of Cardiff.
'Emergency services discovered a Volkswagen Tiguan vehicle at 12.15am on Monday 6th March after the police helicopter, police and fire officers were deployed to the scene.
'Formal identification has taken place this afternoon and three people who died in the collision have been confirmed as being Rafel Jeanne, aged 24, from Cardiff, Eve Smith, 21, from Newport, and Darcy Ross, 21, from Newport.
'Two further people were taken to the University Hospital of Wales in Cardiff where they remain in a critical condition.
'Investigations are ongoing to determine the circumstances of the incident, including when the collision took place. 
'The five individuals were the subject of enquiries by Gwent Police following a missing person report made during the evening of Saturday 4th March.
'A subsequent missing person report in respect of one of the individuals was made to South Wales Police on Sunday 5th March. Referrals have been made by Gwent Police and South Wales Police to the Independent Office for Police Conduct.
'The last confirmed sighting of the five was during the early hours of Saturday morning.'
Road traffic experts from South Wales Police were seen marking an area by a kerb this morning. Drivers said the car was found in trees just off the A48
Family of the missing friends shared this CCTV of the car before it was found close to a busy A-road in South Wales this morning
Assistant Chief Constable Jason Davies of South Wales Police said: 'Our thoughts are with the families of all those affected by this tragic incident. 
'Specialist officers are carrying out an investigation to piece together what has happened. 
'Family liaison officers are supporting the families involved at what must be a hugely difficult time for them.
'To ensure independent oversight, South Wales Police has referred the matter to the Independent Office for Police Conduct, as is usual in these circumstances.'
Source: Read Full Article