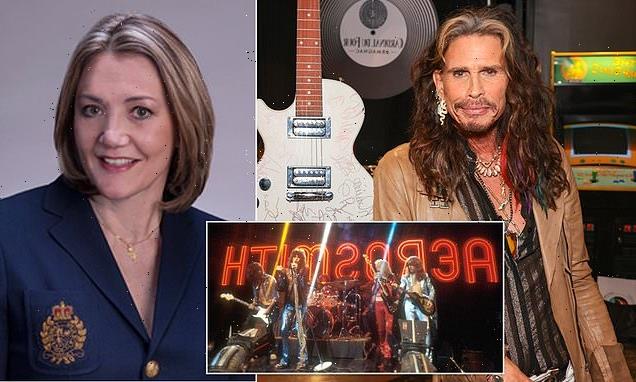 Steven Tyler is formally named in lawsuit where woman, now 65, claimed the 74-year-old star used his fame and status to 'groom, manipulate, and sexually assault her' when she was 16
Aerosmith frontman officially named in Los Angeles County Superior Court
Victim Julia Misley claims star plied her with drugs during their relationship and pressured her into an abortion
Tyler had previously written about nearly taking a 'teen bride' in his memoir 
Aerosmith front man Steven Tyler has been formally named in a lawsuit alleging he sexually abused a minor and coerced her into having an abortion when he was 25.
Tyler, now 74, is accused of assaulting victim Julia Misley – formerly known as Holcomb – over a period of three years starting when she was 16.
In initial court documents Tyler's identity was kept anonymous and named him only as 'Defendant Doe' – but journalists were able to verify it was him as the suit quoted directly from his 2011 memoir in which he describes a relationship with a teenager. 
The case first came to light in December but on Wednesday Tyler was formally named in court documents seen by Entertainment Weekly.
Misley alleges the music legend used his fame and status to 'groom, manipulate, exploit and sexually assault' her.
The suit, first reported by Rolling Stone, did not initially name Tyler, identifying him as 'Defendant Doe', but it quotes directly from Tyler's 2011 memoir describing the relationship
Julia Holcomb filed a lawsuit accusing Steven Tyler of abusing her as a teen
She also claims he plied her with drugs after gaining guardianship from her mother so he could take her on tour with him.
Misley, now 65, is seeking an unspecified amount of compensation and a trial. 
In his memoir 'Does the Noise in My Head Bother You?' Tyler wrote he 'almost took a teen bride' after falling in love with a woman Holcomb alleges is her.
'She was sixteen, she knew how to nasty, and there wasn't a hair on it,' he wrote in the book, which names the girl as 'Diana'. 
Another extract reads: 'I went and slept at her parents' house for a couple of nights and her parents fell in love with me, signed papers over for me to have custody, so I wouldn't get arrested if I took her out of state. I took her on tour with me.'
Misley said the publication 'retraumatized' her and her family. 
'I am grateful for this new opportunity to take action and be heard,' Misley said in a statement.
The complaint states that Misley met Tyler in 1973 after attending an Aerosmith concert in Oregon.
She was then invited backstage and later to Tyler's hotel room where she accuses the musician of sexually abusing her. 
Tyler described a relationship with a 16-year-old girl in his memoir
He is alleged to have then flown her out to an Aerosmith concert in Seattle where he sexually assaulted her again.    
The following year, Tyler met with Misley's mother and 'convinced her to sign over the guardianship of her daughter to him.' 
While on the road, he is accused of plying the teenager with alcohol and drugs. 
He is also accused of impregnating Misley and coercing her to get an abortion. 
Misley said she has suffered emotional harm as a result of Tyler discussing the relationship so publicly.
She was named in a 1976 Rolling Stone profile of Aerosmith. 
She alleges the memoir framed the abuse as a 'romantic, loving relationship,' states the complaint.   
'I want this action to expose an industry that protects celebrity offenders, to cleanse and hold accountable an industry that both exploited and allowed me to be exploited for years, along with so many other naïve and vulnerable kids and adults,' she wrote in a statement. 
Misley's attorney Jeff Anderson added: 'This industry, and these defendants have permitted, protected, and profited from severe violence for decades. It's time to face the music.'
Steven Tyler of Aerosmith performs live on stage at RFK Stadium in Washington DC in 1976. The suit says Holcomb's relationship with him lasted from 1973 to 1976
The complaint has been filed in Los Angeles County Superior Court under the California Child Victims Act.
Dailymail.com has reached out to representatives for Tyler for comment.  
Source: Read Full Article