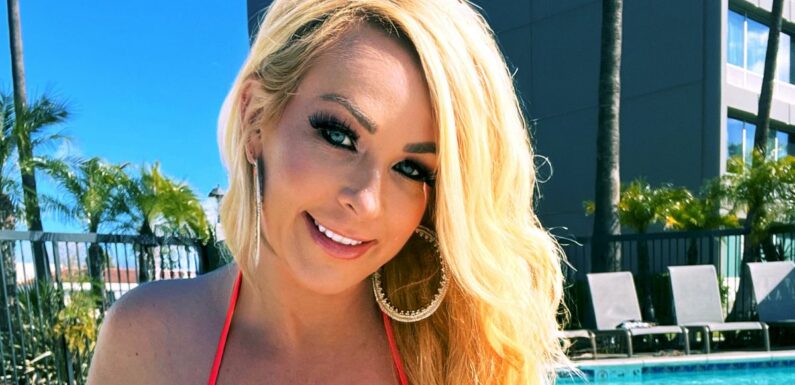 A science teacher who lost her job after a blogger exposed her OnlyFans account is determined to monetise the "little bit of fame" she's gained as crossdressers flock to her for makeovers.
Sarah Juree from Notre Dame, Indiana, US taught primary school-aged children science as part of Starbase – a collaboration between schools and the US Defence Department.
The 41-year-old mum of one launched her OnlyFans account and began posting racy content in hope of earning enough to escape the "poverty loop".
READ MORE: Ex-WWE star CJ 'Lana' Perry's fans beg her to join Onlyfans after sexy lingerie post
After losing her teaching job, a career she worked towards for two decades, she pursued adult content full-time.
Sarah, who has been single for five years, has also recently joined a sugar daddy dating website in hope of connecting with millionaires to mentor and finance her.
She also launched her own date-for-hire service, 'Notre Date', where businessmen who come to her town can hire her company for the evening.
Speaking to the Daily Star, the mum revealed one of the other business ideas she has considered is a makeover service for men who crossdress.
Sarah said: "You know what is interesting, and who has reached out to me a lot that I would be very open-minded with? Men who crossdress.
"I actually have a friend and he crossdresses and does it in private, in secret.
Singer who let cat suck nipples on OnlyFans given oral sex by naked fan on stage
"He has said 'I would love an evening with you where you could come over, we could get dressed up in lingerie, we could look cute, you could help me with my hair and makeup, put wigs on'.
"I was like 'that sounds fun as hell to me, man I could monetise this'.
"I love it because I am very open-minded, I am not judgemental, I'm a very kind person and I was thinking okay what are other creative things I can do to monetise the fame I have and make it mutually beneficial? "
World's strongest boy 'Little Hercules' forced to eat lettuce as strict dad downed pizza
The model previously made headlines after revealing that in six months on OnlyFans she made more than her annual teaching salary.
As a teacher, she would make $55,000 (£45,000) but in her first six months on the subscription-based platform she raked in $58,000 (£48,000).
Adding that men love that she is the teacher fired for being on OnlyFans and even indulges blokes' kinky "hot for teacher" dreams by reviewing their penises in the form of a classroom report card, for an undisclosed fee.
To get more stories from Daily Star delivered straight to your inbox sign up to one of our free newsletters here.
READ MORE:
For more of the latest news from the world of the Daily Star, check out our homepage
UK public told to 'avoid dead birds' as deadly bird flu claims human victim
New pandemic fears as girl, 11, dies as deadly bird flu jumps from mammals to humans
Killjoy councils to ruin coronation bank holiday with odd rules including 'balloon ban'
Woman claiming to be Madeleine McCann sends message to mum over 'suspicious' behaviour
Source: Read Full Article