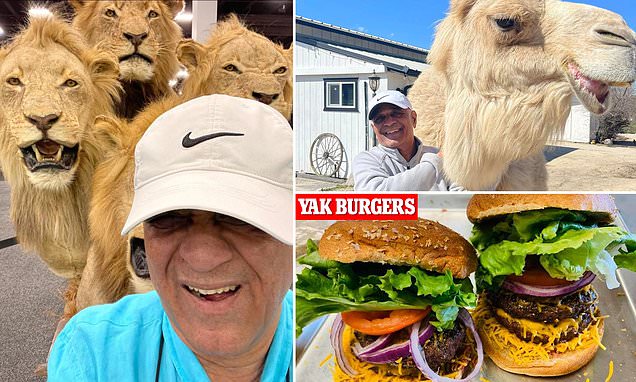 The man who sells you LION for dinner: Exotic meat vendor who offers everything from 'A to Zebra' insists customers love his offerings – but won't say who they are for their safety
Anshu Pathak is selling lion meat for $50,000/lb through his Exotic Meat Market
Pathak, 66, is a former vegetarian turned exotic meat enthusiast who claims to sell everything from 'A to Zebra'
It comes more than 10 years after restaurants came under fire for selling lion burgers and tacos 
An exotic meat producer who prides himself on selling everything from 'A to Zebra' is offering lion meat for $50,000 per lb – a decade after restaurants came under fire for serving up the vulnerable species.
Anshu Pathak who runs the Exotic Meat Market in Perris, California, sells a range of gut-churning products including bear tenderloins for $1,000, boneless turtle meat for $1,250 per 25lbs and $99 for a python gallbladder. 
And the 66-year-old – who was raised a vegetarian but now claims to have tasted every kind of meat he sells – continues to list lion on his site, with 1lb setting customers back $49,999. 
He insists customers in the US love his lion meat – though Pathak refuses to name his customers for their safety. 
'Lion meat is like Donald Trump – it will always be popular,' he told Dailymail.com. 
Anshu Pathak runs the Exotic Meat Market in Perris, California, which claims to sell everything from 'A to Zebra'
Lion meat is still listed on the Exotic Meat Market website – though a pound of it currently costs $49,999
'All meats I offer are popular because immigrants come from all over the world to the US and the US has all the meats available as most of the exotic animals are raised by ranchers and hunting outlets.'
It comes more than 10 years after a small Arizona restaurant found itself at the center of a global backlash after it offered lion burgers as part of its 2010 world cup promotion.  
Other restaurants have faced a similar wrath for advertising lion-meat tacos.
Astonishingly lion meat is still legal to sell in the US. 
The US Food and Drug Association states all game meat – including lions – is legal to sell so long as it is not classified as an 'endangered' species. 
The creatures are currently listed as 'vulnerable' by the African Wildlife Foundation.
But authorities keep a close eye on the trade – especially following the global interest in Tiger King star Joe Exotic who shed light on the dark underbelly of big cat keeping. 
Pathak's Exotic Meat Market in Perris, California, sells a range of gut-churning products including bear tenderloins for $1000, boneless turtle meat for $1,250 and $99 python gallbladder
Pathak's farm 13-acre farm is home to allegator, rattlesnake, squirrel and water buffalo among dozens of other species 
Pathak was raised a vegetarian but fell in love with meat after tasting lamb at his aunt's house in the UK
In 2001, Pathak was subject to an FBI investigation amid concerns he was substituting his lion meat for tiger. 
Tigers are listed as endangered – meaning they are not legal for consumption. 
But Pathak fiercely defended himself, claiming: 'I will eat and sell anything and everything which is legal as per the Laws of the United States.'
But while he raises most of his animals himself, he sources the lion meat from elsewhere and has always remained vague about its origins.
He told Dailymail.com it is sourced from farms within the US. 
'I can't talk about my customers and suppliers for their safety and reputation,' he said.
Pathak is not the only lion meat vendor in the US.  
Richard Czimer, who owns Czimer's Game and Seafood, also continues to offer lion meat in his stores. 
Czimer was imprisoned in 2003 for selling endangered tiger and leopard meat in his stores. 
Born in India and raised a Hindu-Brahmin, Pathak says he started eating meat when he was around seven years old after tasting lamb made by his aunt in the UK.
From there he has tried all kinds of meat cuts – though he draws the line at dogs.
He said: 'I love dogs. Dogs are domesticated pets and there is a difference between eating them and wild animals. My dogs are my family.'
The Exotic Meat Market was founded in 1989 and Pathak also owns Gourmet Meat and Seafood of San Bernardino Inc which ships the products all over the world.
He frequently uploads videos of himself enjoying his own produce, including one video showing him swilling alligator blood – something he said was a 'perfect breakfast for a diabetic.'
Though not all his family approves as his daughter Madhvi remains a vegetarian.
Pathak frequently shares photos of the meat after it has been cooked up. Here is pictured a pair of Yak burgers 
The 66-year-old sells a whole of exotic meats including ostriches which he rears himself on his California farm 
Workers are pictured preparing the exotic meat in a shot uploaded to their Facebook page 
He has previously said that she sometimes stands at the gates of his market and 'tells people not to work for me.'
His daughter is not Pathak's only critic. For years he has been targeted by animal rights activists who do not condone his work.
In 2020, thieves snuck into Pathak's riverside country farm and stole 30 llamas, 160 ostriches and a number of emus, lambs, goats, alpacas and geese. 
The next day an emu was found wandering near Highway 74. 
But Pathak insists his business is totally moral.
'No meat should be wasted when animals give their life for our food. I'm very ethical,' he said.
'I don't harvest old, sick and female animales. My message is very simple: I sponsor exotic meats.
'But I'm not in business to support killing endangered species.'
He added: 'I follow God and Mother Nature. That's it.' 
Source: Read Full Article