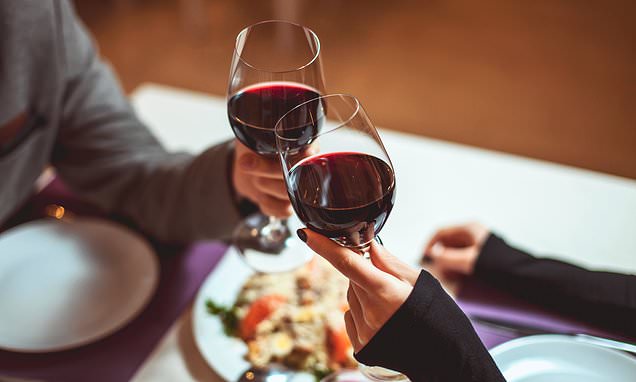 The ultimate supermarket wine guide: How to pick a corking bottle of vino if you're baffled by choices and stumped by jargon
Many stick to buying what they know or base decisions on things they've heard 
With hundreds of bottles to choose from, it's little wonder the supermarket wine aisle can be an overwhelming place.
In fact, a study this month found that a quarter of shoppers spend more than ten minutes dithering over which bottle to buy. And a third admitted to feeling bemused by the vast choice — while more than half confessed to not even knowing which wines they liked.
So much so that the amount of time we collectively spend pondering which bottles to buy adds up to more than 50 million wasted hours in the supermarket wine sections each year, according to Marks & Spencer.
But choice is not the only obstacle: there's often little signage to help us make an informed choice, and what there is can be couched in jargon, leaving the hapless shopper feeling bewildered, and even bamboozled, by the world of wine.
No wonder, then, that many people stick to buying what they know or base their decisions on things they've heard, such as 'You can't go wrong with French wine' or 'Screw tops mean a wine is cheap'.
With hundreds of bottles to choose from, it's little wonder the supermarket wine aisle can be an overwhelming place (file image)
But it doesn't have to be this way. As a wine writer and broadcaster, there's little I haven't tasted. For this reason, I am able to share my insider knowledge in this exclusive guide to navigating the wine aisle.
Wine is such a huge subject, it helps to generalise at first with some rules of thumb. These include the so-called 'sunshine rule' — whereby the climate of a country offers a clue to the taste of the grapes produced there.
If you prefer bolder, juicier styles, choose a wine from a hot country or region (such as Australia, Chile or California).
Grapes grown in lots of warm sunshine will be fuller-bodied, more alcoholic and more fruity than the same variety grown somewhere cooler (such as northern France, Germany or Austria) where they are usually more acidic, light-bodied and often more savoury.
Compare a Pinot Noir from Burgundy or England to a Chilean version, for instance.
That said, each grape variety, be it Pinot Noir, Malbec or Chardonnay, has its own characteristics, no matter where in the world it is grown. So getting to know the grape types will give you an immediate hint about the style of the wine. You can then apply the 'sunshine rule'.
A further point of confusion arises because 'New World' countries such as Australia and Chile tend to label by grape varieties, while wines from 'Old World' countries (Europe) have traditionally been labelled by region rather than grape, though that is starting to change.
And while key regions are synonymous with certain grapes, they are not the same thing. Knowing this will help you avoid falling into the ABC (Anything But Chardonnay) trap — someone who says they love Chablis but hates Chardonnay. In fact, Chablis is the place, and its wine is made with solely Chardonnay grapes.
But all this knowledge takes time to accumulate. So, to help you, I have distilled my decades of expertise to bring you this indispensable guide to supermarket wines to make sure you take home a bottle that perfectly fits the bill. Cheers!
Great wines for less
The best wines can be expensive, but there are cheaper, quality alternatives.
Chablis? Try Verdicchio
The Italian Verdicchio grape makes affordable wines that are bone dry, often with a saline chalkiness and subtle, yeasty character, like Chablis.
Try: Verdicchio dei Castelli di Jesi, £6.75, Sainsbury's
St Emilion? Try local Merlot
Merlot-dominated claret such as St Emilion can be costly. Alternatively, try a local Merlot-dominant blend from grapes planted in Bordeaux.
Try: Pierre Jaurant, Bordeaux Merlot-Cabernet Sauvignon, £5.29, Aldi
Champagne? Try Cremant
Cremant sparkling wines offer amazing value because they are made in the same way as Champagne, but from French regions other than Champagne so they can't use the name.
Try: M&S Classics Cremant de Bourgogne Brut, £12.50, M&S and Ocado.
If you like Chablis, Verdicchio dei Castelli di Jesi from Sainsburys (left). If you like Champagne, try M&S Classics Cremant de Bourgogne Brut (right)
Chateauneuf? Try a Cotes-du-Rhone
Chateauneuf-du-Pape is an exclusive wine made in the Southern Rhone near Avignon. Cotes-du-Rhone is produced from the same grape varieties in the region.
Try: Classic Cotes du Rhone, £6.99, Waitrose
Sancerre? Try a Touraine
Sancerre fans pick Touraine Sauvignon Blanc because they prefer its delicate style to bombastic New World styles.
Try: Extra Special Touraine Sauvignon Blanc, on offer for £9, Asda
Five bottles for just over a fiver
Monte Plogar Gran Reserva
Lidl, £5.49
This wine was clearly a bin end and it's a real bargain. For those who like aged Rioja with its leathery, wild strawberry spice, this Spanish red provides epic bang for buck.
Animus Portugal Red
Aldi, £5.99
Portugal is a great place to go for bargains because there are often blends of grapes no one has heard of, nor can pronounce. This red is packed full of smoky liquorice and concentrated blackcurrant.
Left: Monte Plogar Gran Reserva, Lidl, £5.49. Right: Animus Portugal Red, Aldi, £5.99
Co-op Fairtrade Irresistible Sauvignon Blanc
Co-op, £6.15
For the very low price, this South African Savvy B knocks it out of the park for fleshy, tropical fruit mixed with a zesty freshness. A rounder style of Sauvignon than a Kiwi or a Loire.
Sainsbury's House Soave
Sainsbury's, £5
While this white gets zero points for packaging, the wine inside is 10/10 for the price. A classic Italian Soave which is golden, cool, dry and yeasty. Understated and totally gluggable.
Pecorino Terre di Chieti IGP
Waitrose, on offer for £5.99
Waitrose is known for its high-quality wines and this one has 25 per cent off until September 26 so grab it now. Crisp and dry with subtle tropical fruit and a nose of white flowers, it's light and pretty, and just a bit different.
Left: Sainsbury's House Soave, Sainsbury's, £5. Right: Pecorino Terre di Chieti IGP, Waitrose, on offer for £5.99
Ask the expert: Is boxed wine any good? Do awards mean anything? The answers TEN vintage dilemmas…
Is £8 the magic minimum to get good wine?
Received wisdom is that if you spend at least £8 on a bottle, you will get something decent. There is truth in this, particularly when you consider the packaging and transportation costs, retailer's mark-up and duty (which jumped last month) and 20 per cent VAT . . . anything less makes you wonder how much actually is spent on the wine. Duty alone on still wine under 15 per cent ABV in the UK is now £2.67 per bottle. Ouch!
What do those award stickers mean?
Brits love an award sticker, even if they don't recognise the competition. In supermarkets, some stickers are more impressive than others, such as those for the Decanter Awards or the IWSC (International Wine & Spirit Challenge). Having been a judge for both, I can confirm that wines are tasted blind by professionals and competition is fierce. If you're interested, Google the competition to see how legit it is.
Ask the expert: Is boxed wine any good? Do awards mean anything? The answers TEN vintage dilemmas (file image)
Is a cork closure better than a screw cap?
Not any more. A cork in perfect condition is still considered the ideal closure for laying down wine in a cellar, yet fine wine can still be corked. But you can also get gloriously fine wine under screw tops now. The caps are convenient and perfect for off-the-shelf wines that will be drunk within a year.
What is 'vintage wine' and does it matter?
Vintage refers to the year the grapes for that bottle of wine were grown. The term is associated with fine wine as it sounds poetic, but even the cheapest wines are technically 'vintage' if they specify the year they were produced. Where it matters most is in areas with more variable climates, often in the Old World.
Hailstorms or too much or too little rain can affect fine wine regions such as Bordeaux, the Rhone Valley and Burgundy. Elsewhere, conditions tend to be more consistent, year on year. For Champagne, though, it is the norm to use reserve wines to make up the blend. These are Non-Vintage (NV) wines.
Vintage champagnes really are special as conditions were so good in one year that they are made with that vintage alone.
Search vintage charts online for regions you are interested in.
Bag-in-box: Always a bulk buy and bad?
Definitely not, though some are better than others. Technology has advanced so much that producers are happier putting better wines in boxes. Consumers also appreciate the cost savings from this kind of packaging. Most boxes require less Co2 to produce than glass so have good 'green' credentials, too. Wine professionals carry out regular taste tests and the results are often surprising. Check wine writers' reviews.
Which supermarket own-labels are best?
I am usually pleasantly surprised by supermarkets' own-label offerings. After all, they are constantly competing with rivals, so these 'house wines' need to be good. They're often made by hard-hitters in the wine industry but don't have the price tag to match.
Some supermarkets also have quality ranges. I have been blown away by the new M&S top tier 'Collection' wines (think £12-£25). And, Tesco Finest is knocking it out of the park at the more accessible end, at around £10. Sainsbury's Taste the Difference range is pretty reliable, too.
Champagne, Cava and Prosecco: what's the difference?
There are two key methods of making sparkling wine — the traditional way is more labour-intensive and therefore expensive.
Prosecco is an easy-drinking, pear-scented, frothy fizz with low-ish alcohol (often 11 per cent) and its bubbles are formed in large tanks. It's not trying to taste like Champagne with its complex flavours that come with age. Prosecco is drunk young so is cheaper to produce.
Cava is made in the same 'traditional' method as Champagne, i.e. by individual bottle. This is why it has complex, savoury toasty notes too as the juice sits on its lees (dead yeast cells) after fermentation. It's cheaper than Champagne though because there's far more of it, coming as it does from four Spanish regions. It uses less expensive, Spanish grapes than typical 'Champagne grapes' and production costs are less.
Cava also doesn't have the marketing campaigns of big Champagne houses to pay for either . . .
Is a cork closure better than a screw cap? Not any more. A cork in perfect condition is still considered the ideal closure for laying down wine in a cellar, yet fine wine can still be corked (file image)
Are supermarket deals worth it?
We Brits love a bargain but often, wines consistently on promotion are being sold at the 'correct' price when discounted, then occasionally hiked to make the savings look impressive.
Certain Cava producers are very good at this tactic. Wines on one-off promotions in the supermarkets are more reliable, especially if it's wine you often buy and can buy elsewhere.
These discounts are designed to lure you in to buy more at a time and put other things in your trolley, too. Often, there will be a deal between the supplier and the supermarket to take their more expensive wines in exchange for making very little — or even a small loss — on cheaper ones.
Is Provencal rosé really the best?
Not necessarily, but it's the most consistent. Rosé wine is white wine that gets its colour from having a very short period of time soaking (hours not days) with the skins of the red grapes that go into it after pressing.
It can be made anywhere. Before Provence successfully convinced the world that pale, dry and saline rose from Provence was the finest however, buying pink wine was a minefield.
Colour meant nothing as pink wines of all shades could be dry or very sweet. You never knew what you were going to get. Provence gave us a consistent style that we could rely on: pale and elegant-looking, inherently premium, always dry and with a moreish, saline tang. It became the sophisticate's choice. A wine that goes with everything.
Winemakers worldwide have changed how they make pinks to appeal to Provence-lovers but it's still just one style of rosé. Other lesser-known styles that offer consistency include Tavel — another, much smaller French appellation that makes savoury, wild strawberry-scented, almost light red, gastronomic wines.
Why are some wines so costly?
This is the most frequently asked question, especially where French wines are concerned. The short answer is that price is determined by global demand and supply.
World-famous regions such as Bordeaux, Burgundy, Champagne and latterly, Tuscany and the Rhone Valley have had centuries to build up their reputation for fine wines. Plus, these old regions can't keep expanding so demand is high and production is low, therefore prices will climb.
'Fine Wines' do need more work though, which costs money. Think about hand harvesting rather than machine harvesting.
Specific pruning of vines; expensive oak barrels and steel, concrete and clay tanks; chilled cellars for ageing; vineyard maintenance and middlemen all add up, affecting the cost.
The good news is that lesser-known areas in top wine regions have upped their game — so you can get great wines in similar styles based just down the road from the famous Chateaux. (See 'Great Wines For Less' on the cover of this pull-out.)
Why are some wines so costly? This is the most frequently asked question, especially where French wines are concerned (file image)
P.S. Why fine wine needn't be off-limits
Look out for lesser-known wine-producing areas in the fine wines aisles of the supermarket, such as 'Brunello di Montalcino' (like an upscale, bolder Chianti) and 'Hermitage' (a top Rhone Syrah).
Producers to look out for include Trimbach (legendary white wine producer from Alsace), Dr Loosen (epic German white wines) and higher-end Penfolds wines (they make fantastic Australian classics, largely red).
Try some of these:
The Chocolate Block, South Africa
£23.99, Waitrose
This South African red has a cult following due to its rich, full-bodied, plummy and cocoa notes.
Errazuriz, The Blend 2016
£23, Ocado
Errazuriz gives Chateauneuf-du-Pape a run for its money with this brilliant, ballsy red blend.
Moueix Saint-Emilion
£17, Ocado
Unbelievably good value. Made by Christian Moueix, the man behind Petrus in Pomerol, this is a phenomenal, classy, complex, cedary and voluptuous red.
Rock Angel by Whispering Angel
£26.50 at Ocado, £26.99 at Waitrose
ChAteau D'Esclans makers of Whispering Angel pioneered the gastronomic Provencal pink that's more creamy and complex. Rock Angel is my go-to for food.
Laurent Miquel Verite Viognier
£19.49, Waitrose
Harvested at dawn to keep the freshness, this Viognier combines the coconut, acacia and apricot notes the grape is famous for with a crisp, citrussy freshness. A great festive white.
Helena Nicklin is an award-winning drinks writer, broadcaster and judge for international drinks competitions. 
Source: Read Full Article