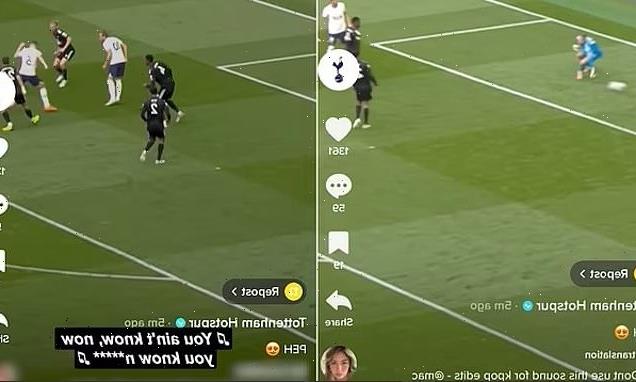 Tottenham DELETE TikTok featuring song using the N-word THREE TIMES in short clip marking Pierre-Emile Hojbjerg's goal against Fulham earlier this season ahead of tonight's rematch
Spurs play Fulham for a second time this season Monday at Craven Cottage
And the team's official TikTok account posted a goal from the reverse fixture
But the clip featured a snippet of a song that used the n-word three times
The official Tottenham account deleted the video before Monday's match 
Spurs' have deleted a video from their official TikTok account that featured a song using the N-word three times.
The short clip, of Pierre-Emile Hojbjerg scoring in September during the team's 2-1 win vs. Fulham, was posted before the reverse fixture at Craven Cottage Monday night.
And as Hojberg is seen converting from close range and running off to celebrate, the explicit song plays over the video.
The sound is a slowed-down snippet from the song 'NBAYOUNGBOAT' by Lil Yachty featuring YoungBoy Never Broke Again.
The video includes the following lyrics:  
'[Always held my own since I] jumped up off the porch, n****
'You ain't know, now you know, n****, Hi-Tech pour a four, n****'
Pierre-Emile Hojbjerg celebrates scoring the opening goal versus Fulham on September 3
Spurs, led by manager Antonio Conte, have won just one of their last five league games
The video, deleted ahead of Spurs' short trip to face Fulham, had at least 1,361 likes before it was taken down.
Spurs have just one win in their last five league matches and are currently six points off of the top four. 
Source: Read Full Article