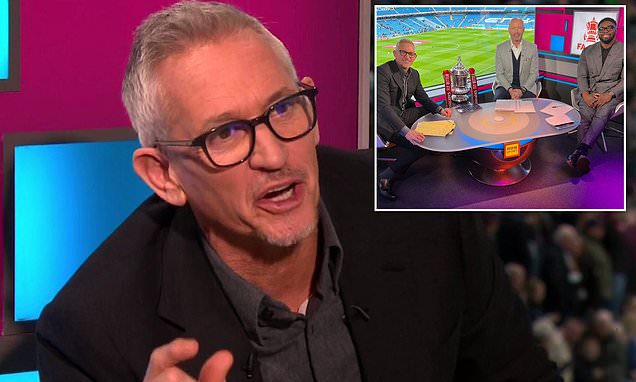 Two million viewers tune in to watch Match Of The Day Live after Gary Lineker's return, BBC reveals – a drop of 400,000 from last week's limited programme
Audience for the programme peaked at 2.8 million on BBC One last night
 It is after an impartiality row in which Lineker was asked to step back from MOTD
But Lineker will not appear on tonight's programme due to losing his voice
Two million viewers tuned in to watch Match Of The Day (MOTD) Live after Gary Lineker's return to the BBC, the corporation has said, marking a significant decrease compared to last week's meagre evening offering.
The coverage of the FA Cup quarter-final on Saturday, which was hosted by the 62-year-old presenter, saw an average of 2.1 million viewers based on overnight figures.
Lineker was returning to BBC screens for the first time since a presenter boycott of the corporation's football coverage, caused by the pundit being asked to step back from MOTD during an impartiality row.
The return to scheduled programming saw 400,000 fewer people watching yesterday's match than those tuning in to last week's evening MOTD slot, when just 20 minutes of footage was aired – with no commentary, punditry or theme tune.
It comes after Lineker thanked fans for their support after he was temporarily taken off air due to a tweet in which he compared the language used by the government to talk about refugees and migrants to that used in 1930s Nazi Germany.
Gary Lineker returned to television screens on BBC One on Saturday for MOTD Live
He told fellow England footballers-turned-pundits Alan Shearer (centre) and Micah Richards (right) that it was 'great to be here'
Members of full-time staff have to sign up to a strict social media code to remain impartial, but the row descended into chaos after other presenters refused to continue with scheduled programming in solidarity.
The row ended when the BBC finished discussions with Lineker and confirmed in a statement it is now re-examining its social media policies for freelancers.
An audience peak of 2.8 million people watched MOTD Live, which featured analysis from pundits Alan Shearer and Micah Richards.
The replacement MOTD while Lineker was off air had an average audience of 2.6 million last Saturday when it aired for only 20 minutes – and did not include presenters or even its famous theme tune – instead broadcasting only short highlight clips of the day's matches.
A total of 2.1 million viewers tuned in on Saturday March 4, before Lineker was asked to step down, according to overnight figures.
Manchester City beat Burnley 6-0 as the programme aired on BBC One from 5.25pm to 7.55pm.
The coverage aired at a similar time as the Six Nations Championship on ITV1 from 4.30pm to 7.15pm.
According to ITV, an average of 4.3 million people watched Ireland beat England to clinch the Grand Slam win with a 29-16 victory.
The audience also peaked at 5.3 million viewers, based on overnight figures.
Later in the evening, football highlights programme MOTD at 10.30pm, hosted by Mark Chapman on BBC One, averaged two million viewers across its 75 minutes on-air with a peak of 2.5 million, according to the BBC.
Lineker posted a selfie on Twitter to his fans to celebrate his return to the programme
On Sunday, BBC Sport announced that Lineker will not host the coverage of FA Cup quarter-final between Brighton & Hove Albion and Grimsby Town following the former England striker's voice having 'deteriorated overnight'.
Instead, former England player and presenter Alex Scott will step up to present MOTD Live on BBC One from 1.50pm instead.
In a statement the corporation said: 'Due to illness, we've got a line-up change for today's live FA Cup coverage of Brighton v Grimsby on BBC One.
'As viewers will have noticed yesterday, Gary Lineker was struggling with his voice and unfortunately it has deteriorated overnight.
'Alex Scott will be hosting instead.'
Following the announcement, Lineker wrote on Twitter: 'I've been silenced… literally, by a nasty cold so, annoyingly, won't be working at @OfficialBHAFC this afternoon.'
As he returned on-air on Saturday, he had told fellow England footballers-turned-pundits Alan Shearer and Micah Richards that it was 'great to be here'.
He also posted a photo of himself at the Etihad Stadium in Manchester and told his Twitter followers: 'Ah the joys of being allowed to stick to football.'
On Monday, Mr Davie said in a statement the corporation has commissioned an independent review of its social media guidelines, particularly for freelancers.
He also apologised for what he acknowledged had been 'a difficult period' after BBC Sport staff and commentators walked out in support of Lineker, with highlight shows significantly shorter than usual and aired without presentation or commentary last weekend.
Source: Read Full Article