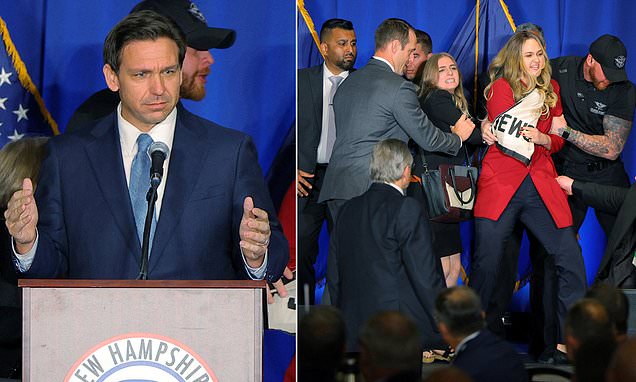 Security steps in as Ron DeSantis is rushed by protestors who leap on stage during his New Hampshire speech
Two women rushed Ron DeSantis during a speech in New Hampshire
'Jews Against DeSantis,' they yelled
DeSantis garnering national attention amid speculation he'll run for president 
Two protesters ran on stage Friday night when Ron DeSantis was addressing a fundraiser for New Hampshire's Republican Party, causing security to rush in after them. 
The Florida governor looked startled when the two young women ran up and started to unfurl a banner. They made it all the way to the podium where he was speaking before security intercepted them.
'Jews Against DeSantis,' they yelled. 'Jews Against DeSantis.'
Several security guards ran to the stage to remove them, pulling them out of the room as the governor resumed his remarks. DeSantis watched with quiet bemusement at the spectacle around him as the women were drug behind him and taken away.
He shrugged it off: 'Got to have a little spice in the speech, right?'
Security pulls two women off stage who rushed Ron DeSantis
'You have to have a little fun,' he continued. 
He added that he didn't know why people would pay the ticket price for the fundraiser to pull such a move – tickets were $150 each – but added 'different strokes for different folks.'
The crowd cheered him on. The protest happened in the first five minutes of his remarks. 
Last year, DeSantis was criticized when he refused to condemn Nazi demonstrations that happened near Orlando. He accused his political opponents of trying to 'smear me as if I had something to do with it.'
Many Republicans in the state slammed the protests but DeSantis had stayed silent.  He claimed his political opponents were trying to 'use this as some type of political issue,' adding: 'We're not playing their game.'
The protesters on stage weren't the only ones targeting the Florida governor on Friday night. There were also demonstrators outside the venue in Manchester, waving Donald Trump signs.
DeSantis has garnered national attention amid speculation he'll run for president next year. 
He's had a controversial tenure in Florida. He kept the state open during the COVID pandemic, winning cheers from conservatives and criticism from medical experts. He's also stopped Florida schools from teaching gender issues.
On Thursday night he signed a controversial abortion bill into law, which outlaws the procedure after six weeks, long before most women know they are pregnant. 
Democrats have threatened to hound him on the issue. 
'Signing an abortion ban is the latest mark in DeSantis' long record of cruelty — and Planned Parenthood advocacy and political organizations will be sure it's a record the public does not forget,' said Jenny Lawson, executive director of Planned Parenthood Votes in a statement. 
New Hampshire is one of the few states were DeSantis has led Trump in polls on the 2024 presidential race. The former president has seen a rebound in his numbers, however, as he faces a New York court date for charges tied to a hush-money payment to porn star Stormy Daniels. 
The Florida governor has not formally announced he's running for president in 2024. But he's on a book tour that many see as a precursor to such a campaign. It's taking him to important early voting states like Iowa, Michigan and New Hampshire.
DeSantis heads to South Carolina next week – another important stop in the Republican presidential primary process.  
Ron DeSantis was addressing a Republican Party fundraiser in New Hampshire
The demonstrators were quickly removed
The Florida governor spent most of his remarks praising New Hampshire for its 'Live Free or Die' motto, reminding Granite State voters that the people of Florida also valued freedom.
And he talked about what he had done to preserve it, highlighting how he kept the state open during the pandemic and how he took on Walt Disney company.
'We're proud to have stood up for freedom over these last few years, especially when it wasn't easy. We did it our own way and we're proud of that. But I must admit we draw inspiration from the people here in New Hampshire,' he said.
'We're Americans right? Isn't freedom in our DNA?'
After the speech, he was given a gift basket of maple syrup products.
'I've got three kids that love waffles and pancakes,' he said in thanks. 
DeSantis headlined the most successful state Republican Party fundraiser in its history, according to New Hampshire Republican Party chairman Chris Ager. 
'We have raised over $382,000,' Ager said at the Amos Tuck dinner. 'Largest ever.' 
He also said that $132,000 of that came in because DeSantis asked his supporters to contribute. 
The ballroom was filled to capacity with slightly more than 500 people, according to the party's count.
After his remarks, DeSantis spent nearly an hour working the ballroom, shaking hands, taking selfies and signing copies of his book.
'This is so exciting,' one woman squealed after she got a picture with the governor. 
DeSantis will overnight in New Hampshire and hold private meetings on Saturday. The state is famous for its first-in-the-nation presidential primary and often gives winners the momentum they need to keep going in the race for the GOP nomination. 
Florida Gov. Ron DeSantis, left, waves to the audience while arriving with Chris Ager, chairman of the New Hampshire Republican Party, at the Amos Tuck fundraising dinner
Tickets were sold for $150 a pop or $500 for a VIP ticket. DeSantis joined the VIP reception ahead of his speech to take photos with the high-level donors. 
The dinner was named after Amos Tuck, who is considered by many to have founded the Republican Party in the 1850s in Exeter, New Hampshire. 
Source: Read Full Article