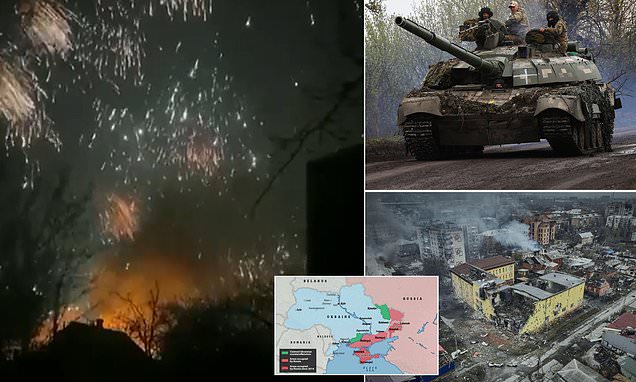 Ukraine denies its troops are surrounded in Bakhmut after Russia claimed it had cut off last supply route – as terrifying video shows thermite bombs raining down over city
Ukraine says it continues to hold out against Russian attempts to take Bakhmut
Video emerged today showing thermite bombs raining down over the city
Russia said Thursday it had cut off Ukrainian forces inside Bakhmut, while Kyiv insisted supply lines were still open into the besieged city, as video emerged showing incendiary munitions raining down from above.
Russian troops have been battling since last summer to capture the city, which had a pre-war population of 70,000, and whose fall would now mostly present a symbolic victory for Vladimir Putin. Analysts say its tactical benefits are limited.
MailOnline was unable to verify the status on the ground in the eastern city, which has turned into the longest and bloodiest fight since Russia invaded Ukraine – with casualties believed to be in their tens of thousands.
The Russian army said its airborne troops were 'blocking the transfer of Ukrainian army reserves to the city and the possibility of retreat for enemy units.'
It also said that Wagner mercenary units were advancing in Bakhmut.
The claims and counter-claims from Russia and Ukraine came as footage emerged from city showing incendiary munitions raining down over Bakhmut (pictured). The video showed the tell-tale firework-like weaponry streaking down as Russia continues its tactic of using indiscriminate bombing against Ukrainian positions
Russia said Thursday it had cut off Ukrainian forces inside Bakhmut, while Kyiv insisted supply lines were still open into the besieged city. Pictured: Ukrainian servicemen drive towards the frontline during heavy fighting at the frontline of Bakhmut and Chasiv Yar, Ukraine, April 12
But the Ukrainian army told AFP news agency it had communication with its troops inside Bakhmut and was able to send them munitions.
READ MORE: Putin is receiving chemo for cancer with his top general planning to 'THROW' the war while he undergoes treatment, according to wild rumour detailed in leaked US documents 
'This does not correspond to reality,' Sergiy Cherevaty, spokesman for Ukraine's eastern forces said, referring to Russia's claims.
'We are able to… deliver food products, ammunition, medicines, all that is necessary, and also to recover our wounded.' The Ukrainian general staff nevertheless acknowledged a 'difficult' situation in Bakhmut.
Ukrainian Deputy Defence Minister Hanna Malyar, writing on Telegram, said heavy fighting gripped all parts of the eastern front. 
She said pro-Kyiv forces repelled attacks in most areas.
'Most of the enemy's offensive efforts are occurring in the Bakhmut sector,' she wrote, adding that Russian commanders had redirected troops there from other areas.
'The enemy is using its most professional units there and resorting to a significant amount of artillery and aviation. Every day, the enemy carries out in Bakhmut from 40 to 50 storming operations and 500 shelling episodes.'
The claims and counter-claims came as footage emerged from the city showing incendiary munitions raining down over Bakhmut.
The video showed the tell-tale firework-like weaponry streaking down as Russia continues its tactic of using indiscriminate bombing against Ukrainian positions.
Earlier this week, the commander of Ukraine's ground forces said the Russians were destroying buildings in the city, in what he called 'scorched earth' tactics. 
With a burn temperature of over 2,000 degrees Celsius, the weapons can easily set flammable surfaces alight, and can burn human flesh down to the bone. The payload spreads the munitions over a wide area to inflict maximum damage.
The 9M22S (MZ-21) thermite shells fired from Grad multiple rocket launchers.
These ignite with a blistering combustion temperature of up to 2,700 degrees Celsius , causing appalling fires.
Russian state media has highlighted the use of the thermite – or magnesium – ammunition at Bakhmut and apparently elsewhere in Donetsk region.
The weapons were used against Ukrainian firing positions, it was reported.
The sinister light show typical of these thermite shells came as a report said Putin is reported to have threatened to fire his commanders if they fail to secure Bakhmut by the end of the month. 
While the use of incendiary weapons is permitted against military targets, the use of such weapons against civilian targets is a war crime under Protocol III of the Convention on Conventional Weapons (CCW).
Despite this, Russia has shown no hesitation when it comes to launching incendiary weapon attacks on civilian areas, with previous instances showing the munitions raining down on houses and the Azovstal Iron and Steel Works in Mariupol.
Pictured: A graphical representation of how Russia's 9M22S incendiary missiles are being used to wreak havoc against Ukrainian targets in Vladimir Putin's on-going invasion
Pictured: An aerial view shows the destruction of Bakhmut, the site of heavy battles with Russian troops in the Donetsk region, Ukraine, on March 26
Ukrainian soldiers of the 80th brigade firing artillery in the direction of Bakhmut, on April 13
A Ukrainian infantryman of the 57th Separate Motorized Infantry Brigade "Otaman Kost Khordienko" fires an assault rifle at enemy positions from a trench at an undisclosed location near the town of Bakhmut, Donetsk region, eastern Ukraine on April 13
The Kremlin is looking to present a triumph at home as the offensive drags on for a second year.
Adding confusion to the situation on the ground, Yevgeny Prigozhin, head of Russian paramilitary outfit Wagner, also cast doubt on Moscow's claims, saying it was 'too early' to talk about Russian forces encircling Bakhmut.
'The Ukrainian Armed Forces continue to deploy reserves and transfer them,' Prigozhin's press office said on social media.
'The hardest, bloodiest battles are going on, so it's too early to talk about the complete encirclement of Bakhmut'. Prigozhin said this week that his forces held 80% of Bakhmut – a figure that Ukraine said was exaggerated. 
The European Union on Thursday added Wagner to its sanctions list for 'actively participating in the Russian war of aggression against Ukraine'.
Wagner had already been placed on a separate EU sanctions list in February for violating human rights and 'destabilising' countries in Africa.
The EU also slapped sanctions on RIA FAN, a Russian media outlet that is part of the Patriot Media Group, whose board of trustees is headed by Prigozhin.
Tensions between the Kremlin-linked businessman and Russia's army have emerged during the battle for Bakhmut.
Both Russia and Ukraine have conceded big losses in Bakhmut, with neither giving numbers.
Recent days have suggested Russian forces are making some gains, after months of Kyiv and Moscow wearing each other down.
Kyiv has said the battle for the city is key to holding back Russian forces along the entire eastern front.
Experts say that the salt mining city's political importance has surpassed any military significance as the battle drags on, and that it has now become a battle of attrition – with Kyiv hoping to grind down Russian resources before launching a counterattack to regain captured territory.
President Volodymyr Zelensky visited Ukrainian positions near Bakhmut late last month, praising Kyiv's troops.
Several Russian war correspondents have made visits to Bakhmut this week, publishing images of a city of ruins, while the Russian-installed head of the eastern Ukrainian region of Donetsk, Denis Pushilin, also visited Bakhmut this week.
Ukrainian soldier talks on radio next to an armoured vehicle near the Bakhmut frontline as the military mobility continues amid Russia-Ukraine war in Donetsk Oblast, Ukraine on April 11
A Ukrainian serviceman flashes a victory sign as he drives towards the frontline during heavy fighting at the frontline of Bakhmut and Chasiv Yar, in Chasiv Yar, Ukraine, April 12
Even as Russian forces say they are getting closer to the city, some residents of nearby areas have no plans to leave.
'I've got nowhere to go. I can't afford to leave,' 71-year-old Vira Petrova told AFP reports in the village of Kalynivka, several kilometres west of Bakhmut. 'If my home is destroyed. I'll live in my basement,' she added, not flinching after each boom.
Petrova gestured to artillery damage to her home, explaining why she was no longer afraid of the war creeping nearer.
'We've already been shelled. Half the kitchen roof was destroyed. Our neighbour's roof was destroyed. We're used to it,' she said.
Her street, lined with cherry blossom trees and abandoned homes, has only around two dozen residents remaining – a fraction of those who once called it home.
Zelensky and other senior officials are pressing allies for more weapons that Kyiv hopes will enable it to launch a major counter-offensive later this year.
'We are readying our boys,' Zelenskiy said in a video address late on Thursday. 'We look forward to the delivery of weapons promised by our partners. We are bringing victory closer as much as possible.'
Officials said two people had died in Russian shelling of the southern city of Kherson.
Away from the battlefield, Ukrainian officials are focusing on the massive rebuilding effort that will be needed as well as pressure from allies to show progress in tackling corruption.
Prime Minister Denys Shmyhal, holding talks in Washington, promised to account for every dollar of U.S. aid and said reconstruction work should start this year.
He welcomed what he called the 'continuous, ironclad and unprecedented support' of the United States.
Ukrainian soldier shoots with his weapon while the Russia-Ukraine war continues near Bakhmut frontline in Chasiv Yar, Ukraine on April 10
Ukrainians soldiers are seen on a tank while the Russia-Ukraine war continues near Bakhmut frontline in Chasiv Yar, Ukraine on April 10
Smoke is seen during a shelling, amid Russia's attack on Ukraine, on the outskirts of the front line city of Bakhmut, Ukraine April 10
Shmyhal, speaking alongside U.S. Treasury Secretary Janet Yellen, said Kyiv had identified a priority funding gap of $14 billion needed this year.
He said Ukraine had implemented measures to account for all assistance received and undertaken more anti-corruption reforms in the past year than during many previous years combined.
Ukrainian officials are also pressing for membership in NATO – a move that Moscow has made clear it will not accept.
'There is no alternative to Ukraine's accession to NATO,' Ukrainian Defence Minister Oleksii Reznikov told a Black Sea security conference.
Source: Read Full Article