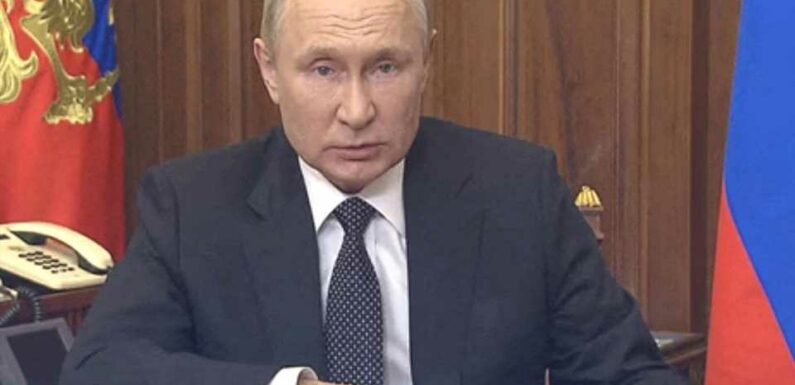 RUSSIAN anger over Putin's drive to conscript a further 300,000 troops to serve in Ukraine is growing as protest arrests climb.
A huge 1,300 arrests have been made across Russia in protests of Vladimir Putin's drive to conscript thousands more people to serve in the Ukraine war.
New images show demonstrators taking to the streets overnight in 38 cities- but were tackled with brute force by armoured riot police.
Putin yesterday ordered the mobilisation of Russian civilians and called up 300,000 reservists in a "chest-banging" speech on TV in which he also made a thinly veiled threat to nuke the West.
He warned: "Our country has various means of defence, and in some components more advanced than those of Nato countries. When the territorial integrity of our country is threatened, we will use all the means at our disposal to defend Russia and our people. This is not a bluff.
Read our Ukraine-Russia live blog below for the latest udpates…
Henry Moore




Over half of anti-war protesters in Russia are women, report claims

According to the independent monitoring group OVD-Info, over half of the protestors arrested in Russia yesterday were women.

Yesterday saw 1,300 Russian arrested for protesting Putin's draconian new mobilisation policy.

Among those arrested, nine were journalists and 33 were under 18, according to CNN.

Henry Moore




Breaking: British POW arrives home

Aiden Aslin, one of the British POWs released from Russian captivity, has arrived home.

Along with four other Brits, Mr Aslin's freedom was negotiated by the Turkish and Suadi leadership.

Speaking to media outside of his house, Aslin thanked President Zelenksky and the Saudi authorities for his release.

Today, President Zelensky has hailed the work of Turkey for aiding in the POWs' release.

In a telegram message, Zelensky said he appreciates "the contribution of everyone involved in rescuing the defenders."

Henry Moore




What did Joe Biden tell the UN?

Joe Biden has slammed Putin's "brutal" and "needless" war in Ukraine yesterday, as he addressed the UN general assembly.

"This war is about extinguishing Ukraine's right to exist as a state, plain and simple, and Ukraine's right to exist as a people," Mr Biden said.

"Wherever you are, wherever you live, whatever you believe… That should make your blood run cold.

"Ukraine has the same rights that belong to every sovereign nation. We will stand in solidarity with Ukraine which will stand in solidarity against Russia's aggression, period."

"Now we see attacks on schools, railway stations, hospitals… even more horrifying evidence of Russia's war crimes."
Louis Allwood




Sergey Markov accuses UK and US of 'moving toward' nuclear war

Speaking to Sky News, he accused the two ally nations of Ukraine of provoking President Putin.

The former Putin spokesperson believes "70 per cent" of Ukrainians "are Russian".

"Russia is not losing the war," but loosing the "battle" insisted Sergey Markov on Sky News when asked why Russia had invaded Ukraine.

Louis Allwood




UK MoD release latest intelligence map

Ukraine have recently launched a lightning counterattack that has seen Russian troops forced back in several areas.

The Ministry of Defence claim that Russia are likely to advance mainly within the Donbas region.

Louis Allwood




Russian are desperately trying to flee

Huge queues have built at the borders with Finland, Georgia and Mongolia as tens of thousands try to escape being sent into the tyrant's "meatgrinder".

Russians have chosen to flee rather than risk being catapulted to the frontline amid Putin's call up.

There were reports of people cowering behind doors and refusing to accept the military summonses.

Louis Allwood




Zelensky thanks President of Turkey for contribution in prisoner exchange

In a telegram message Zelensky says he appreciates "the contribution of everyone involved in rescuing the defenders". He specifically mentions "President of Turkey, Recep Tayyip Erdoğan, for leading this process".

Zelensky adds:"Also, as a sign of gratitude for the help to our country, Ukraine freed from Russian captivity five citizens of Great Britain, two citizens of the USA, citizens of Morocco, Sweden, and Croatia. Thank you for your support Saudi Arabia.

"We remember all those who are in Russian captivity, and we will do everything for their rescue."

Louis Allwood




Russian service men arrive back on home soil

55 Russian servicemen have arrived back in Russia after being released in a prisoner exchange last night.

"All servicemen have been delivered to the territory of the Russian Federation by military transport aircraft and are in medical institutions of Russia's defence ministry," the Kremlin department said in a statement.

Louis Allwood




What was announced in Putin's mobilisation speech?

Here is what you need to know:

Partial mobilisation: This will see around 300,000 reservists join the Russian army.
Referenda in captured regions: "Sham" referenda will take place in occupied Ukrainian territories, and Russia will then officially claim these lands.
Willingness to use nukes: In a chilling moment, Putin declared Russia's willingness to resort to nuclear war if Russia is threatened.

Joseph Gamp




Pictured: First British PoW pictured with family

One of the five British prisoners of war released from Russian detention in Ukraine has now been pictured with his family.

Shaun Pinner is believed to now be with his family in the UK after being released in a prisoner swap, reports Sky News.

Earlier today the foreign office confirmed the names of all five Britons who were released – Aiden Aslin, John Harding, Dylan Healy and Andrew Hill, as well as Mr Pinner, pictured below.

Joseph Gamp




Zelensky intel claims Russians have spies in Ukraine defence sector

Russia has planted spies within Ukraine's defence sector who pass information to Moscow, Ukrainian authorities have claimed.

President Volodymyr Zelenskiy's representative to the Ukrainian parliament said on Thursday that the espionage allows Russia to anticipate Ukrainian moves on the battlefield,

Fedir Venislavskyi told a briefing: "We cannot underestimate the enemy. Their main intelligence directorate unfortunately has many agents, including in our defence sector.

"I think that they partly understand the next steps of our armed forces that we will see in the near future."

Louis Allwood




The five Brits released by Russia named

The five Brits have now all been named by the UK Foreign Office.

Aiden Aslin, Shaun Pinner, John Harding, Dylan Healy and Andrew Hill were the five POW's released.

The men were being held as prisoners of war in Russian-occupied territories in Ukraine.

The Brits have now arrived back in the UK it has been confirmed.

Louis Allwood




Sham elections should not be recognised

Putin has ordered sham referendums in four occupied Ukraine regions which are certain to return results confirming their people want to be part of Russia.

He has proposed referendums in Donetsk, Luhansk, Zaporizhzhia and Kherson.

The UK's Foreign, Commonwealth & Development Office have said that the "sham referendums in Ukraine are a desperate Kremlin tactic to legitimise the illegitimate".

Louis Allwood




Pictured: Thousands arrested at protests

Demonstrators took to the streets in 38 cities chanting "no mobilisation" but were met with baton-wielding riot police.

In Ulan-Ude, several dozen people came out to protest with posters against mobilisation. 

Some carried posters saying "our husbands, fathers and brothers do not want to kill other husbands and fathers".

Louis Allwood




Liz Truss slams Putin

She blasted: "We have seen Putin desperately trying to justify his catastrophic failures.

"He is desperately trying to claim the mantle of democracy for a regime without human rights or freedoms.

"And he is making yet more bogus claims and sabre-rattling threats.

"This will not work. Ukraine is strong."

Ms Truss hailed the "brave, dignified" First Lady, Olena Zelenska, who she met last night in New York, and insisted: "We won't rest until Ukraine prevails.

Louis Allwood




Zelensky celebrates news of POW exchange

More than 200 Ukrainian soldiers were exchanged for 55 Russian troops and former Ukrainian MP Viktor Medvedchuk last night.

Zelensky celebrated the news by saying: "We were ready to exchange Medvedchuk for one of our heroes from the Azov regiment. But the fact that we have managed to exchange such a number for him is indeed, pardon me, a reason for the state to have a drink."

Viktor Medvedchuk was facing charges of treason after he led the pro-Russian Opposition Platform – For Life party in Ukraine

Louis Allwood




Mykolaiv face 'massive rocket fire'

The governor of Mykolaiv, has posted an update on Telegram after the city was subject to "massive rocket fire".

Vitaliy Kim said that shortly after midnight, Mykolaiv was "subjected to massive rocket fire, mainly by S-300 anti-aircraft missile systems".

Mr Kim added that "multi-story buildings were damaged, windows were broken, gas pipelines, water pipes, cinema and theatre courtyards, and administrative buildings were damaged".

Louis Allwood




UK's MoD release latest intelligence update

The UK's Ministry of Defence have claimed that Russia "is likely to struggle with the logistical and administrative challenges of even mustering the 300,000 personnel" after their mobilisation announcement.

The MoD said: "Even this limited mobilisation is likely to be highly unpopular with parts of the Russian population. Putin is accepting considerable political risk in the hope of generating much needed combat power.

"The move is effectively an admission that Russia has exhausted its supply of willing volunteers to fight in Ukraine."

Louis Allwood




Huge protests take place

Around 1,300 protestors have been arrested across Russia in protest of Putin's escalation of war as he moblised 300,000 troops.

Detentions of those protesting Putin's shock move to double down on the Ukraine war have been reported in at least 15 different cities, accroding to the independent monitoring groiup OVD-Info.

Russian human rights group OVD-Info put the total of arrests at more than 1,300.

On social media, people gathered and held protest signs after the despot confirmed Russia would trigger a "partial mobilisation" consisting of reserve troops – all of which will be conscripted to join the Ukraine war – after saying the West had "crossed the line".

Louis Allwood




Hundreds of Ukrainian POWs released

Hundreds of Ukrainian POW's have been released including Aiden Aslin and Shaun Pinner, who had been sentenced to death by a Kremlin-backed kangaroo court and held in captivity for five months.

The prisoners of war were freed in a deal negotiated between Saudi Crown Prince Mohammed bin Salman and Putin.

It's believed they may have been traded for high ranking Russian officers captured by Ukraine in its recent lightning victory.

Lauren Cole-Lomas




Former President of Ukraine: Putin's 'campaign is failing'

Petro Poroshenko said Ukraine is "definitely not" intimidated by Putin's threats of partial mobilisation.

He thanked the world for "international support" and "partners from United States and UK" for sending "new weapons" to help fight back.

Speaking to Sky News, he said: "Putin demonstrates he is fighting not only with Ukraine but with the whole Western world."

"We shouldn't hesitate to supply Ukraine, and not accept blackmailing from Putin for energy, food, or any other sector."

Lauren Cole-Lomas




Prisoner of war update: Five Brits released

The UK Prime Minister has confirmed that five Brits have been released from Russian prisons.

Liz Truss made the statement this evening.

Prisoners cannot be named under the Geneva Convention.

Lauren Cole-Lomas




Moldovan President praised families for welcoming Ukrainians

Ukrainian refugees have fled to Moldova, and were given a place to stay by Moldovan homes.

Maia Sandu thanked her people at the UN General Assembly yesterday.

She spoke of how "regardless of our ethnicity" we "want peace" and thanked the "unprecedented solidarity" of the Moldovan's for the refugees.

Lauren Cole-Lomas




What did Putin announce yesterday morning? RECAP

Putin announced a series of new war measures yesterday morning in a rare public address to the Russian nation.

Here is what you need to know:

Partial mobilisation: This will see around 300,000 reservists join the Russian army.
Referenda in captured regions: "Sham" referenda will take place in occupied Ukrainian territories, and Russia will then officially claim these lands.
Willingness to use nukes: In a chilling moment, Putin declared Russia's willingness to resort to nuclear war if Russia is threatened.

Joe Biden's UN speech RECAP

What did President Biden have to say about Putin's new plans of partial mobilisation yesterday?

He told the General Assembly: "A nuclear war cannot be won, and must never be fought," Biden told the UN General Assembly, as he took aim at Moscow for "making irresponsible nuclear threats."

"The United States is ready to pursue critical armed control measure."

"Let me be direct about the competition between the United States and China.

"As we manage shifting geopolitical trends, the United States will conduct itself as a reasonable leader. We do not seek conflict, we do not seek a Cold War."

Source: Read Full Article