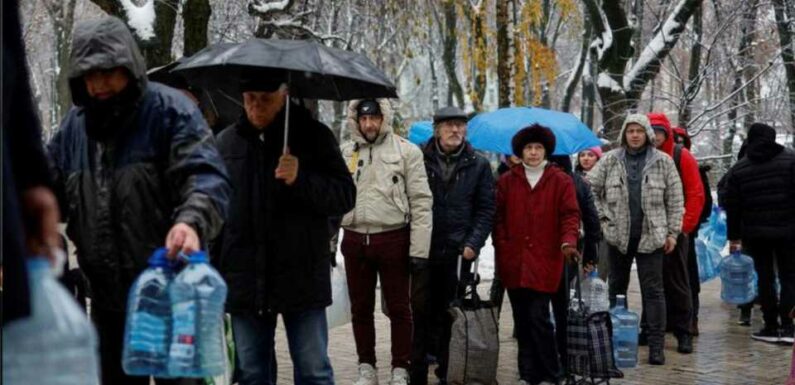 NATO allies will step in to help restore power & heat knocked out by Moscow's relentless missile strikes against Ukrainian infrastructure.
Vladimir Putin has ordered weekly attacks on Ukraine's electricity and heating infrastructure – with around six million still cut off following attacks designed to freeze the population over winter.
Announcing the much-needed help for those trapped by the Ukraine war, Nato chief Jens Stoltenberg vowed: "Nato will continue to stand for Ukraine as long as it takes. We will not back down. The main focus is supporting Ukraine and ensuring President (Vladimir Putin) doesn't win."
The forthcoming aid packages are said to include cash, electricity transmission equipment and weapons to stave off drones and replenish diminished ammunition stores, according to diplomats.
Meanwhile, Ukraine defence minister Oleksii Reznikov revealed that a sickening "97%" of Russian attacks have been aimed at civilians and civilian infrastructure.
Read our Ukraine-Russia live blog below for the latest updates…
Henry Moore




Russia's Battalion Tactical Groups have often proved insufficient

According to the Ministry of Defence, Russia's semi-permanent Battalion Tactical Groups (BTG) are now likely not being deployed after several intrinsic weaknesses of the BTG concept have been exposed.

The MoD said: "Over the last three months, Russian forces in Ukraine have likely largely stopped deploying as Battalion Tactical Groups (BTGs).

"The BTG concept has played a major part in Russian military doctrine for the last ten years, and saw battalions integrated with a full range of supporting sub-units, including armour, reconnaissance and (in a departure from usual Western practice) artillery.

"Several intrinsic weaknesses of the BTG concept have been exposed in the high intensity, large-scale combat of the Ukraine war so far. BTGs' relatively small allocation of combat infantry has often proved insufficient.

"Decentralised distribution of artillery has not allowed Russia to fully leverage its advantage in numbers of guns; and few BTG commanders have been empowered to flexibly exploit opportunities in the way the BTG model was designed to promote."

Henry Moore




Russia planning 'big air attacks', claims security expert

The Kremlin is reportedly planning another wave of missile strikes on Ukraine, Prof Michael Clarke, former Director General of the Royal United Services Institute, told Sky News.

"It looks as though Russians are preparing some big air attacks," he said.

"There's a lot of Twitter chat and satellite imagery at air bases … so there may be a lot of air activity."

Henry Moore




Olena Zelenska compares Russia's invasion to the Blitz as she calls on British support

Speaking in the House of Commons this afternoon, Ukraine's First Lady pleaded with MPs for support.

Comparing Ukraine's current plight to the Blitz, Ms Zelenska said: "We're hearing sirens every day. They are identical to those which were hurt by British generations.

"You did not surrender and we will not surrender. But victory is not the only thing we need. We need justice. I come to you for justice."
Henry Moore




Russia using 'winter as weapon', NATO chief claims

According to reports from Al Jazeera, NATO Secretary-General Jens Stoltenberg has accused Putin of using "winter as a weapon " in Ukraine.

"Doing that when we enter winter demonstrates that President [Vladimir] Putin is now trying to use … the winter as a weapon of war against Ukraine," he reportedly said.

This comes as Russia continues to bombard Ukrainian infrastructure in a bid to destroy the country's ability to produce energy.

Henry Moore




Zelensky discusses 'Ukrainian Peace Formula' with German leadership

President Zelensky revealed on Twitter this afternoon that he shared a conversation with German Chancellor Olaf Scholz.

The pair reportedly discussed ways "to protect Ukraine from Russian missile terror" as well as the implementation of a "Ukrainian Peace Formula."

Henry Moore




Limited power restored in Kherson as Ukraine resits Russian bombardments

Jerome Starkey, our Defence Editor, who is live on the ground in the recently liberated city of Kherson, has revealed the city has regained partial power.

He wrote: "Kherson has traffic lights! City power has returned (to a limited part of the city) for the first time in weeks."

Kherson has been subject to a massive Russian bombing campaign since the Kremlin withdrew its troops from the city.

The attacks, which mostly targeted civilian infrastructure, left many of the city's residents without power and water for prolonged periods of time.

Henry Moore




More on NATO's support for Ukraine

Further details have been shared on NATO's plans to expand its support for Ukraine.

Later today, NATO foreign ministers will address ways to step up support for Ukraine at their meeting in Bucharest, Romania.

Ahead of the meeting, Secretary General Jens Stoltenberg said: "NATO Allies are providing unprecedented support to Ukraine, and they will continue to provide unprecedented support to Ukraine, including by helping them to rebuild their gas and power infrastructure, [and] of course also continue to deliver air defence systems."

Henry Moore




NATO shares video of support for Ukraine

As Ukraine faces rolling blackouts and water shortages, NATO has reaffirmed its support for the country's fight against Putin's forces.

Sharing a video on Twitter, the western military alliance declared its support for Ukraine.

The Tweet said: "#NATO Allies are providing unprecedented support to Ukraine, and they will continue to stand with Ukraine for as long as it takes."

Henry Moore




Kindergarten on fire after 'Russian shelling' in eastern Ukraine

An image of a Kindergarten ablaze in eastern Ukraine has been shared on social media.

This tragic scene is reportedly a result of "Russian shelling" in the eastern city of Bakhmut.

Bakhmut was described as the "epicentre" of Russian aggression yesterday, as the Kremlin's forces circle the city.
Henry Moore




Russia has launched '16,000 missiles' at Ukraine since invasion began

According to Ukraine's Minister of Defence, Oleksii Reznikov, the Kremlin has launched over 16,000 missiles at the country since its invasion began.

The official declared that a staggering 97% of Russia's targets are civilian, with 12,300 of these shells hitting "suburban areas and villages."

"We are fighting against a terrorist state. Ukraine will prevail and will bring the war criminals to justice," Mr Reznikov said.

Shanine Bruder




Olena Zelenska slams Russia's use of 'sexual violence' in Ukraine

Speaking in London on Monday, the Ukrainian First Lady spoke out against Russia's use of sexual violence in Ukraine.

"Sexual violence is the most cruel, most animalistic way to prove mastership over someone," she said.

"And for victims of this kind of violence, it is difficult to testify in war times because nobody feels safe.

"This is another instrument that they're using as their weaponry. This is another weapon in their arsenal in this war and conflict.

"That's why it's extremely important to recognise this as a war crime and to hold all of the perpetrators accountable."

Shanine Bruder




James Cleverly says Putin is 'trying to freeze Ukraine into submission'

Ahead of a meeting of NATO foreign ministers in Bucharest today, UK foreign minister James Cleverly has said Russia is targeting Ukraine's energy infrastructure to "freeze" its people into submission.

Speaking to reporters, he said: "We have seen Vladimir Putin attempting to weaponize energy supplies right from the very start of this conflict.

"This targeting of civilian infrastructure of energy infrastructure is obviously designed to try and freeze the Ukrainians into submission.''

Shanine Bruder




Moldova braces for more blackouts

Moldovans have been warned of more power blackouts, as the neighbouring nation prepares for the impact of Russian missile strikes in Ukraine, the BBC reports.

Due to the way the power infrastructure was designed in Soviet times, Moldova is uniquely exposed to Russia's invasion, as nearly all its power lines flow through Ukraine.

That is why attacks on Ukraine's energy infrastructure have been leading to blackouts across Moldova.

Shanine Bruder




Slovakia hands over 30 infantry fighting vehicles to Ukraine

Minister of Defence of the Slovak Republic Jaro Nad has confirmed that 30 infantry fighting vehicles were donated to Ukraine.

The BMP-1 vehicles were donated in support of Ukraine in agreement with Germany.

Shanine Bruder




Air raid alerts heard all over Ukraine

Air raid alerts were issued across Ukraine this morning, after warnings by officials that Russia was preparing a new wave of missile attacks.

There were no immediate reports of any new strikes, and Kyiv sounded all clear after approximately 10 minutes.
Shanine Bruder




Putin trying to use winter as weapon of war, says NATO chief

Russian President Vladimir Putin is trying the cold conditions in Ukraine as a weapon of war, according to NATO secretary general Jens Stoltenberg.

Stoltenberg said the defence alliance's members have delivered generators and spare parts to assist the country in restoring its destroyed energy infrastructure.

Speaking to reporters in Bucharest, he also added: "NATO will continue to stand for Ukraine as long as it takes. We will not back down.''

NATO foreign ministers meeting in Bucharest are focusing on ramping up military assistance for Ukraine such as air defence systems and ammunition, even as diplomats acknowledge supply and capacity issues, but also discuss non-lethal aid, Reuters reported.

Shanine Bruder




Who controls what in Ukraine?

The Ministry of Defence has once again shared a look at the battlefield in Ukraine.

Take a look at the current situation below.

Shanine Bruder




Russian troops fire 4 missiles in Nikopol overnight

Dnipropetrovsk Oblast Governor Valentyn Reznichenko has reported that Russian forces struck Dnipro, Nikopol last night.

No casualties have been reported as of this morning, but the attack caused "serious destruction'' according to the Dnipropetrovsk Oblast Governor.

The attack caused a fire after a local enterprise in Dnipro was hit.

The fire has now reportedly been extinguished.

Shanine Bruder




Ukrainian solider sends a message to his mother as the war continues

The Ukraine Defence has shared a clip of a Ukrainian solider sending a message to his mother as the war continues.

In the clip, the solider can be seen speaking to the camera as he says: "Mom hello, I ate, dressed warmly, put on a hat, and I'm going for a walk.

"No need to worry. My friends are with me, we will behave well.

"In fact, this message is not only for my mother, but for all our mothers who love us, wait for us and worry about us.''

The solider then went on to say: "Wait for us, we will definitely all come back.''

As he blew a kiss to the camera, he added: "See you at home.''

Shanine Bruder




Ukraine faces continued electricity shortages

As of this morning, Ukraine faces a 30% electricity shortage, the Kyiv Independent reports.

Ukraine's grid operator Ukrenergo said that the country's energy system is working at a reduced capacity, due to the emergency shutdown of units at several power plants yesterday morning.

The energy operator also said that worsening weather conditions and sub-zero temperatures are leading to an increase in energy consumption – also contributing to the shortage.

Shanine Bruder




Russia's Battalion Tactical Groups have often proved insufficient

According to the Ministry of Defence, Russia's semi-permanent Battalion Tactical Groups (BTG) are now likely not being deployed after several intrinsic weaknesses of the BTG concept have been exposed.

The MoD said: "Over the last three months, Russian forces in Ukraine have likely largely stopped deploying as Battalion Tactical Groups (BTGs).

"The BTG concept has played a major part in Russian military doctrine for the last ten years, and saw battalions integrated with a full range of supporting sub-units, including armour, reconnaissance and (in a departure from usual Western practice) artillery.

"Several intrinsic weaknesses of the BTG concept have been exposed in the high intensity, large-scale combat of the Ukraine war so far. BTGs' relatively small allocation of combat infantry has often proved insufficient.

"Decentralised distribution of artillery has not allowed Russia to fully leverage its advantage in numbers of guns; and few BTG commanders have been empowered to flexibly exploit opportunities in the way the BTG model was designed to promote.''
Shanine Bruder




Russian losses continue to mount as fighting rages on

According to Ukrainian military sources, Russian losses have reached 88,380 as of November 29.

This makes a further 480 losses for Putin's forces in the last 24 hours.

Joseph Gamp




Ukraine's masterful artworks go on display at Madrid museum

Dozens of modern artworks removed from Kyiv to protect them from Russian strikes that have already done huge damage to Ukraine's cultural heritage will go on display at a Madrid museum on Tuesday.

The works on show at the Thyssen-Bornemisza National Museum of Art as part of the "In the Eye of the Storm: Modernism in Ukraine 1900-1930" exhibition include oil paintings, sketches and collages.

Francesca Thyssen-Bornemisza founded "Museums for Ukraine" which is seeking to showcase Ukrainian art, using the museum which houses her late father's collection for the exhibition.

The Madrid exhibition is one of a number of showings of Ukraine's cultural heritage across Europe, as well as an effort to raise awareness of the threat posed to the war-torn country's artistic legacy as fighting grinds on.

Curators say it is one of the most comprehensive surveys of Ukrainian modern art in the period between 1900 to 1930.

President Volodymyr Zelensky said in a video shown at a preview Monday that "this is a vision of what Russia is trying to destroy".

Joseph Gamp




Russia discussing 'gas union' with Kazakhstan and Uzbekistan 

 Russia is discussing a possible "gas union" with Kazakhstan and Uzbekistan to support shipments between the three countries and to other energy buyers, including China, the Interfax news agency quoted Russian Deputy Prime Minister Alexander Novak as saying.

Novak provided no further details of what the gas union would entail or what stage the discussions were at.

Joseph Gamp




Don't forget about Ukraine this Xmas, says country's first lady

People should not forget the war in Ukraine this Christmas, the country's First Lady has said ahead of a speech to MPs on Tuesday.

Olena Zelenska is expected to address MPs and peers on Tuesday as she visits London, days after Rishi Sunak made his first visit as Prime Minister to Kyiv to meet Ukraine's president Volodymyr Zelensky.

Speaking on BBC Radio 4's Today programme, Ms Zelenska will urge the British public not to forget the "tragedy" of the Russian invasion amid the festive season.

She also praised the UK's vocal support for the Ukrainian resistance efforts against Vladimir Putin's forces, as the country braces for winter.

She told the programme: "We feel that [strong support] by the aid for our forcefully displaced people, by the political and financial assistance and by humanitarian aid we are receiving from the British.

"Ukrainians are very tired of this war, but we have no choice in the matter. We are fighting for our very lives. The British public do have a choice. They can get used to our tragedy, concentrate on their own important things in life.

"My message for the British is as follows: It's not just a war for our freedom and our lives.

"This is the war of opposing world views, the war for the values. It's important that these are preserved. This is a fight for the truth and human values. We do hope that the approaching season of Christmas doesn't make you forget about our tragedy and get used to our suffering."

Credit: PA
Source: Read Full Article