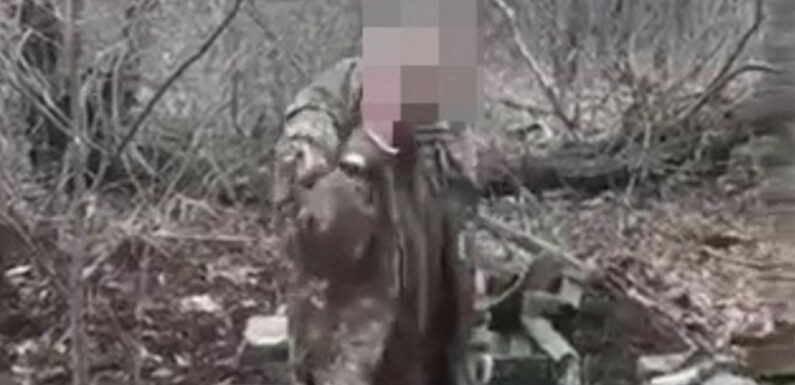 A Ukrainian prisoner of war was shot in cold blood after shouting "Glory to Ukraine" in a video that was circulated online on Monday. The video shows a man in a Ukrainian uniform finishing his last cigarette and saying "Glory to Ukraine", before being shot multiple times.
It is not clear where and when the video was made and independent sources are yet to confirm its authenticity.
The head of Ukrainian President Volodymyr Zelensky's office, Andriy Yermak, said that "war crimes are cultivated in Russia and whitewashed by propaganda and myths about 'Nazis'", as he commented on the video.
Pinning the crime on Russian soldiers, he wrote on Telegram: "The murder of a captured man is another example of it. It is also an example of their national insignificance and weakness. There will be retribution for every such war crime. No one will be able to hide from it."
Ukraine's Prosecutor General's office said an investigation has been opened into the war crime.
Ukraine's foreign minister Dmytro Kuleba also urged the International Criminal Court to investigate the video.
He tweeted: "Horrific video of an unarmed Ukrainian POW executed by Russian forces merely for saying "Glory to Ukraine".
"Another proof this war is genocidal.
"It is imperative that @KarimKhanQC launches an immediate ICC investigation into this heinous war crime.
"Perpetrators must face justice."
READ MORE: Matt Hancock discussed plan to block centre for disabled children
Don't miss…
Braverman plans to END migrant boat crisis with immediate deportations [INSIGHT]
Rayner left rattled after Labour's plot to poach Sue Gray exposed[VIDEO]
Brexiteer wants to take back control of roads with can the cones Bill [ANALYSIS]
The footage comes as President Zelensky vowed on Monday not to retreat from Bakhmut as Russian forces encroached on the devastated eastern city they have sought to capture for six months at the cost of thousands of lives.
Less than a week ago, an adviser to Zelensky said the defenders might give up on Bakhmut and fall back to nearby positions.
But Zelensky on Monday chaired a meeting in which top military brass "spoke in favour of continuing the defence operation and further strengthening our positions in Bakhmut." Later in his nightly video address, the president reported that his advisers unanimously agreed to press on with the fight, "not to retreat" and to bolster Ukrainian defences.
His top adviser, Mykhailo Podolyak, told The Associated Press that Ukrainian forces around Bakhmut have been grinding down enemy forces, reinforcing their positions and training tens of thousands of Ukrainian military personnel for a possible counteroffensive.
Source: Read Full Article