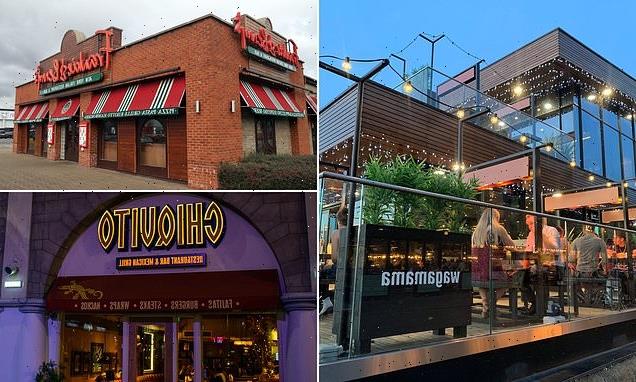 Wagamama plans to open five restaurants every year for the next three years – as its owner revealed 35 Frankie & Benny's and Chiquito sites will be closing
New Wagamama restaurants to be opened as the firm seeks to reduce its losses
One is set to open at Battersea Power Station and another in Hatfield this week 
Wagamama is planning to open at least five new restaurants for the next three years after its owner revealed 35 Frankie & Benny's and Chiquito sites will close yesterday.
The Restaurant Group (TRG), which owns the chains, said there were also plans to boost Wagamama's international presence.
One of the new sites opening in spring this year is at Battersea Power Station, which will be its flagship London restaurant.
Another opened at Hatfield's Galleria in Hertfordshire on March 6.
Wagamama, which serves popular Japanese and Asian cuisine, currently has 153 sites across the UK.
(File Photo) Branches of Wagamama will open in place of some of the closed restaurants as the business seeks to regain on its losses
Speaking yesterday to Sky News, TRG chief executive Andy Hornby said it had seen a 'really genuinely encouraging start to the trading year if you look at our Wagamama business'.
He continued: 'You will see strong double digit growth in like-for-like sales and the most positive part of that is there's real volume growth. 
'People are definitely coming to our restaurants more often now than they were a year ago.' 
(File Photo) The Restaurant Group, which owns chains including Frankie & Benny and Chiquito, will close up to 35 restaurants over the next two years
Branches of the company which have been making a loss will be shut down as the company looks to cut costs. Pictured: A Chiquito restaurant bar and Mexican grill in Manchester
But TRG, which also owns Frankie & Benny's and Chiquito, will close up to 35 of its sites over the next two years in an effort to regain lost earnings amid food price inflation and the cost-of-living crisis.
READ MORE: Map shows where Greggs is opening new stores including 24-hour drive-thru – is one coming near you?
Branches which have been making a loss will be shut down as the company looks to cut costs, following a run of other closures in the business. 
However at least three of the sites affected will be turned into Wagamama, which is faring more successfully in the group.
Around 30 per cent of the two restaurants' sites will be closed down.  
The company has roughly 400 outlets in the UK which employ around 18,000 staff.
Andy Hornby, TRG's chief executive, said the firm would try and mitigate job losses but was not specific about how many positions could be lost. 
He said: 'A significant number of these potential sites are in areas where we have other brands, so the job impact should be significantly less than you might think from the number of sites that we will not be renewing.
Wagamama, which serves popular Japanese and Asian cuisine, currently has 153 sites across the UK
'We've delivered a strong operating performance for the year in a market which has continued to pose a number of headwinds for casual dining operators.
READ MORE: TK Maxx to open 28 new stores
'Current trading has been very encouraging to the great credit of our teams who continue to ensure our customers receive the best experience possible.'
Shares in TRG previously fell to less than a third of their pre-pandemic value as the business was hit by the impact of Covid-19.
Its pre-tax losses also jumped from £35.2million in 2021 to £86.8million in 2022.
However, the firm's shares recovered to £883million in 2022, up from £636million the previous year. 
In 2019, TRG said it would close 90 of its Frankie & Benny sites by the end of the year. 
…As Wetherspoons shuts DOZENS of boozers across Britain – is your local Spoons at risk?
Wetherspoons has this week shut two pubs for good – while dozens more boozers remain in the firing line.
Hove's The Cliftonville, in East Sussex, Southport's The Willow Grove, in Merseyside, were the latest sites to be axed, closing on Sunday. The closures come ahead of the shutdown of The Sir John Stirling Maxwell in Glasgow, which is pour its final pint on March 26.
Meanwhile, dozens of other Wetherspoons sites remain at risked of being axed nationwide, in a fresh blow to Britain's pub trade. The sites are risk are currently on sale. But if no buyer is found, they will be permanently wrapped up.
Elsewhere, sausage roll giant Greggs will be opening new branches next to an historic castle and in airports across the UK, MailOnline can reveal.
The bakery firm has announced ambitious plans to build 150 new UK stores UK this year, as part of a major expansion effort – which includes trialing the first set of 24-hour drive-thrus.
Now, the company has revealed exactly where its seven newest spots will be based, with London, Glasgow, Edinburgh and Newcastle all set for new branches.
Wetherspoons pubs that are closing or being sold in 2023
Source: Read Full Article