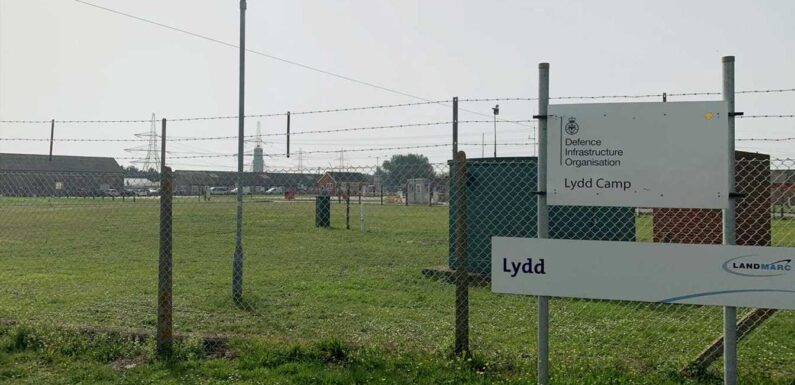 LOCAL living next to a military camp say they are so fed up of explosions because they can't open their windows.
Military training of Ukrainian troops at a British site has been slashed by a third after locals complained about the noise.
Top brass drilling Ukrainian troops in the war effort against Russia will now tone down the sound of weaponry after the complaint.
Lydd Town Council in Kent recently told the Ministry of Defence it received a "complaint made by residents" about war sounds coming from a nearby military training camp.
The unusual move prompted a response from the base's Lieutenant Colonel Mark Powell, who agreed to slash training by 30 per cent, among other noise reduction measures.
In a letter addressed to the "good people of Lydd," he wrote: "We are deeply appreciative of the support we receive from Lydd while we train the Armed Forces of Ukraine.
Read More on the Ukraine War
Ukraine kamikaze drone strike blasts Russian missile factory sparking blaze
Ukraine using Luton Airport's bendy buses to ferry soldiers from front line
"I understand this creates noise above and beyond what was typically produced by UK forces training at Lydd."
Read out during a meeting at the council chambers, the letter continues: "In response to a number of letters raised about the noise, I have directed my team to review our processes and can report we have reduced training activity by 30 per cent.
"We have rescinded the use of the most intense smoke effects and we will reduce the duration and intensity of the loudest sound effects.
"The people of Lydd have been unfailingly welcoming to my team and I am wholly committed to maintaining a strong relationship.
Most read in The Sun
SOAP WEDDING
Emmerdale's Amy Walsh marries EastEnders star fiance in front of co-stars
NOA HOFFMAN
I matched with Commons 'spy' on dating app, I re-read our texts and was shocked
WEDDING BASH
Inside Calvin Harris & Vick Hope's Glasto-themed wedding with showbiz pals
DEVIL DOG BAN
Home Sec vows to outlaw killer XL Bully dogs after horror attack on girl, 11
"Please do not hesitate to reach out if there are ever any concerns."
To date, the UK and its allies have trained more than 17,000 armed forces of Ukraine personnel in areas such as frontline combat and more specialised training.
CAMP USED TO TRAIN UKRAINIAN TROOPS
And the Lydd Ranges, which has been stationed on the town's border for about 150 years, is one of a number of sites the MoD uses to help enhance Ukrainian forces.
The town council revealed it received a number of complaints at a full council meeting held at the Guild Hall, according to meeting minutes.
"The town clerk advised that following noise complaint made by residents about the training at the army camp she had made contact with the MoD and had received the following letter which she read aloud," council papers say.
Local Alan Smart, 63, hates living next to the training barracks, but cannot move easily due to the rental market.
He said: "I say close it.
"The explosions are very noisy indeed. They make the windows rattle. It's murder – I hate living here but the trouble is we rent."
Another local couple, while understanding the need for the training, takes issue when the bangs continue into the evening.
The explosions are very noisy indeed. They make the windows rattle. It's murder – I hate living here
Vivian Ford, 69, and her husband Terry, 66, have lived opposite Lydd Military Training Camp for seven years.
She said: "It's not driving us mad, but one day it went on till 9.30 at night and I thought 'Really?'.
"When it's a hot day it gets really warm in here so we have the windows open.
"When you have a constant 'boom boom' noise you think 'Well I can't shut the windows because I need some air.
"When they let off the explosions they do vibrate the house.
"I was writing a letter one day and I dropped the pen because it really went 'kaboom'.
"It's not constant though and I've gotten used to it."
The couple notes that should the explosions get too unbearable, they will just go out for the day.
Mrs Ford said: "It's not making our life a misery."
But while some who live within earshot of the military activity air their grievances, others highlighted the importance of Ukraine's plight, adding: "If you don't like it, don't move here".
Last week, volleys of eight shots at a time rung out, interspersed with occasional and sustained moments of silence.
June Beaumont, who has lived metres away from the site for 35 years, said: "If you buy a house or move next to an army camp what do you expect it to be? Quiet?
"They are defending the country. It's no use sending people out who are not trained and can't deal with explosions or gunfire."
If you buy a house or move next to an army camp what do you expect it to be? Quiet?
The 80-year-old can hear the gunfire through her double glazing, but the noise does not bother her.
She added: "It's not constant, it's sporadic.
"They have to go somewhere to do their training, and they were here before the houses."
Ms Beaumont's daughter Maria Osbourne lives in London but spends a lot of time at her mother's house.
The 56-year-old has a similar view, saying: "I think it was busier years ago than it is now, so I don't really understand why people are complaining. It was here first.
"We don't find it a problem and we can literally look out the bedroom window and see it."
Many residents near the training facility in Tourney Road understand troops need to "go fight a real war" and see the necessity for somewhere to practice.
Ruth Seal has lived nearby for seven years and explained: "I think it serves a purpose and it's been here for ages.
"They are using it for practice fire for when they have to go fight a real war and we need to support them."
The 51-year-old explained some of the noise is quite loud but she has got used to it, adding: "Occasionally you get really loud bangs which do sort of shake the house slightly but that's to be expected.
"It's nothing that's out of control.
They are using it for practice fire for when they have to go fight a real war and we need to support them
"Late at night, they have fired and if you're not aware of it it can cause a problem but it's nothing I would worry about too much.
"Since Ukraine has been at war it has got more frequent but it's one of the very few live firing ranges. They have to train somewhere."
Documents show the town clerk made contact with the MoD after a "noise complaint made by residents".
Dominic Button, whose home has backed onto the site for 12 years, said the cutback in training due to complaints is "daft".
He stated: "I think it's daft that they have cut back the training because of complaints.
"I would get it if it disturbed sleep but they're not training all hours of the night."
The 38-year-old does however recognise there's been more activity at the base, adding: "There's certainly been an increase.
I think it's daft that they have cut back the training because of complaints
"There's gunfire and you do get a few bangs which sound like bombs going off.
"I've had a couple which did shake the house. It's nothing I'm worried about though."
Some people, such as Dave Shaw, barely notice the shooting.
The 77-year-old has lived in the same house for 32 years, and his garden backs out onto the training grounds.
He said: "In over 30 years I've never had any issues with the army camp.
"I've never had any trouble with them. Occasionally I go up the road to the pub and I've spoken to the troops and they are very nice people."
He shared that things were far worse during The Troubles, and the centre was used more regularly.
In over 30 years I've never had any issues with the army camp
"They used to have whole battalions training for six months and now they have far less," he recalled.
"They used to throw bottles and use foul language, which was a bit too much."
However, not everyone is content with the sound of gunshots so close to home.
Some equipment used in training Ukrainian forces is the same as some of the military support the UK has provided to the country, with more than 10,000 anti-tank weapons including thousands of NLAW systems already provided.
More than 20,000 recruits from the Armed Forces of Ukraine have already received training in the UK since the start of 2022, learning essential frontline skills including trench and urban warfare, leadership, and medical training.
At the start of 2023, the UK committed to train a further 20,000 Ukrainian recruits – approximately double the amount trained last year – under one of the largest training programmes of its kind in the world.
Read More on The Sun
Mum spends benefits on designer school shoes for kid only for them to be banned
Kate Garraway reveals heartbreaking reason she kept hospital dash secret
Speaking on Friday, an MoD spokesman said: "Lydd Ranges has conducted vital training since the early 1900s and there has been a recent reduction in training levels.
"We have robust monitoring procedures to ensure noise remains below agreed limits for the local community, though the amount the sound carries can be affected by wind direction and climate conditions."

Source: Read Full Article