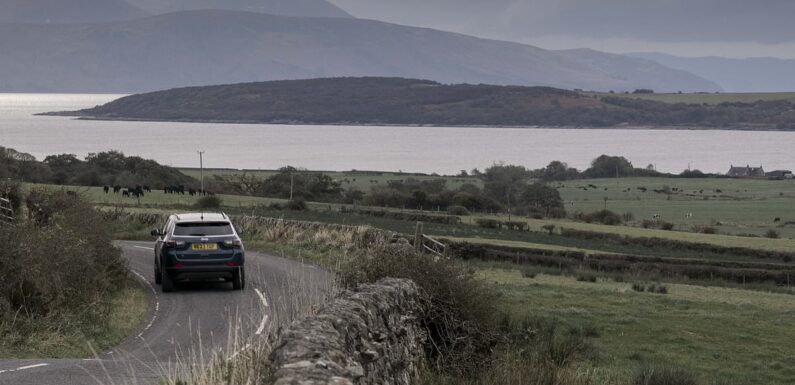 Sick of the busy daily commute and log-jammed motorways? Welcome to the quietest road in Britain, the A844 where just THREE cars an hour travel along an idyllic five miles of tarmac
Stunning views and pollution-free driving awaits motorists on the Isle of Bute's A844, the quietest route in Britain, where the seals outnumber the vehicles. 
With the proliferation of cars these days, the once peaceful Sunday drive is all but a thing of the past.
However, there is one Scottish road where you're far more likely to spot a seal than a Seat, Skoda or Subaru.
The restful route is the A844 on the Isle of Bute, which has been named Britain's quietest.
Department for Transport traffic figures show a five-mile stretch of the road that passes Scalpsie Bay has an average of 77 vehicles on either side daily – just over three per hour.
A quiet Sunday drive may be a thing of the past along most of Scotland's mainland, but this five-mile stretch on the Isle of Bute sees fewer than 100 cars a day on average
On Britain's least travelled highway get to enjoy some spectacular views, including the beautiful Scalspie Bay and its seal population
In contrast, Britain's busiest road, the M25 motorway, carries 2,600 times more traffic on any given day than the sedate A844
In fact, the small number of vehicles recorded is 2,600 times less than the traffic on the M25 motorway, Britain's busiest road.
The M25, which surrounds Greater London, has two-way traffic flows of over 200,000 vehicles per day on its busiest sections.
By contrast, the A844 even has a raised viewing platform where drivers can pause to watch the colony of 200 grey seals in Scalpsie Bay.
And the road has plenty of company when it comes to peaceful drives, with Britain's ten quietest A-roads all in remote parts of Scotland.
Coming a close second with 88 vehicles a day is a 34-mile stretch of the A838 near Lairg in the Highlands.
Despite being classed as an A-road, it is single track with dedicated passing places, offering stunning views of mountains and remote lochs.
Meanwhile, Bute itself has a population of little more than 6,000 people. The study was conducted by Jeep UK, with the firm's managing director Kris Cholmondeley saying: 'With more than 40million vehicles now on UK roads, most places are more congested than ever.
'But our research proves it's still possible to enjoy wonderfully peaceful stretches of road that showcase some of the nation's most picturesque locations.'
Source: Read Full Article