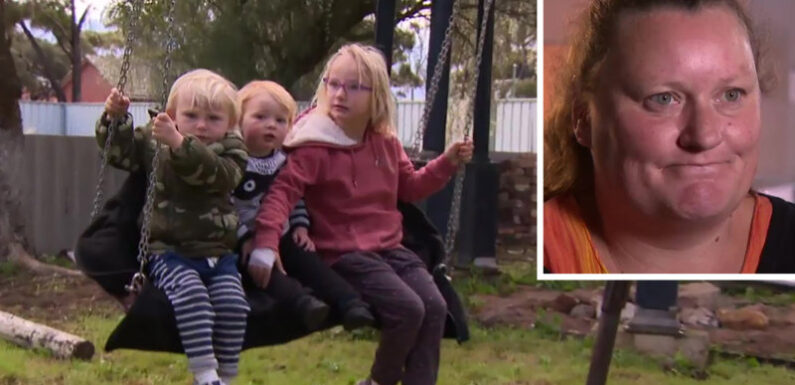 Save articles for later
Add articles to your saved list and come back to them any time.
It is an unbelievably horrific tale of survival.
On Christmas Day, Cindy Braddock, 25, and Jake Day, 28, died in a car accident in country Western Australia. Their three young children – in the back seat as the car rolled and came to a stop 10 metres off the road behind trees – survived in the wreck more than two days as the summer temperatures soared.
Jake Day and Cindy Braddock died after their vehicle crashed.Credit: WA Police
They were finally found by frantic family and friends who had been desperately searching the area knowing something must have gone wrong.
Five-year-old Synthia, later given a bravery award, unstrapped her one-year-old brother Bevan and the pair were found together near the road. But their infant brother Charlez, just two months old at the time, remained strapped into his car seat.
The children had spent more than 55 hours alone in 30-degree heat.
As a family member put it at the time: "Nobody knows what they went through."
Synthia Day, 5, was given a bravery award for taking care of her little brother after the crash.Credit: Nine News Perth
Now raising the children, their grandmother Annette Day believes Cindy and Jake would be looking down, happy with how the children have been embraced by the country WA town of Kondinin and many others who heard their story.
"Those three little babies, they're my sunshine," Annette said.
"We have our bad days, we've had quite a few bad days, but that's OK, you just keep on keeping on. Get them through it. We've had a few nightmare-y nights. Not too many. But they say it might come a bit later when they grow up."
The generosity of friends, family and strangers touched by the story of what happened has allowed Annette to buy a new car to replace one that often broke down, and to purchase a home to raise the children in near where they had lived with Cindy and Jake.
Much of the funds came via GoFundMe, adding up to more than $100,000. Annette tears up when thinking of the many people who offered the family help after the tragic accident.
"People are wonderful in this world," she said.
"Day by day, week by week, everything is going good. The kids are healthy. That's all we can ask for."
The newly purchased home still needs a lot of work to make it liveable, but the family does not like to ask for help. They're just grateful to not have to rely on renting in a market that's expensive and could put the kids at risk of having to move around, when consistency and closeness to friends and family is so important.
"They've got a roof over their heads, and they are settled," Annette said.
The children live with their nan, Annette. Credit: Nine News Perth
"We can be in one spot forever for them, no moving around anymore. This is their home town. Close to mum and dad. Where they should be."
Life is hectic now, with Annette also continuing to run her farm, feeding animals every day and all the other work that goes into it.
"I haven't had much time to deal with anything yet, it's been way too busy, I think that's coming," she said.
"What can you do? That's the way life is now."
with Nine News Perth
The Morning Edition newsletter is our guide to the day's most important and interesting stories, analysis and insights. Sign up here.
Most Viewed in National
From our partners
Source: Read Full Article