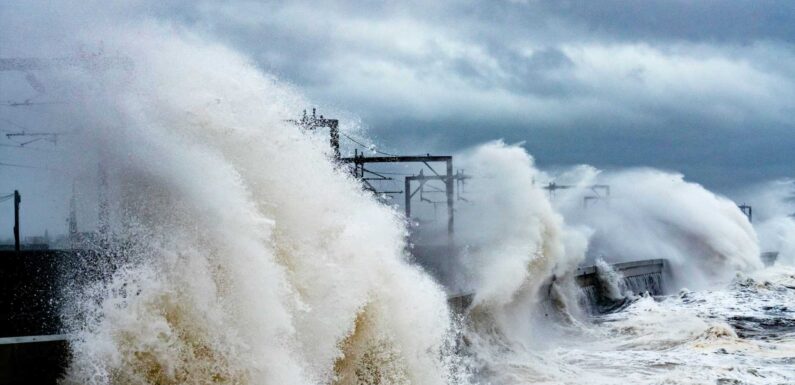 STORMS across the UK have been given names since 2015.
But who names them and how does the naming process work? Here's everything you need to know.
Who names storms?
When the criteria for naming a storm is met, either the Met Office, Met Éireann in Ireland or the Dutch weather service KNMI can name a storm.
Once a name has been chosen, the Met Office publish details via their website and social media channels.
If other mereological agencies name storms first, then the names are adopted by the Met Office, Met Éireann and KNMI.
The UK, Ireland and the Netherlands work together to name storms, however, elsewhere in Europe, Portugal, Spain, Luxembourg, France and Belgium collaborate.
Read More in News
BUS STABBING
Girl, 15, dies after being knifed on bus as cops arrest teen
AIR LINES
BA pilot snorts coke off topless woman… then tries to fly packed plane to UK
Why do we name storms?
Naming storms helps to communicate the risks of severe weather.
In the UK, a storm will be named when it has the potential to cause disruption or damage – which could ultimately result in an amber or red weather warning.
Not all storms will be big enough to be named.
According to the Met Office: ''The name of storms using a single authoritative system provides a consistent message and aids the communication of approaching severe weather through media partners and other government agencies.
Most read in The Sun
FINAL MOMENTS
Love note found as girl, 15, knifed to death 'after rejecting flowers'
sex slip up
This Morning's Holly Willoughby left red faced after accidental sex confession
BUS STABBING
Girl, 15, dies after being knifed on bus as cops arrest teen
RAINING FIRE
Horror moment wedding fireworks spark inferno that kills at least 100 in Iraq
''In this way the public will be better placed to keep themselves, their property and businesses safe.''
How does naming storms work?
As mentioned above, since 2015 the Met Office, the UK's national weather agency, has asked the public for suggestions for storm names.
Thousands of suggestions are sent in throughout the year before a list is complied, including suggestions from Met Éireann and KNMI.
The list runs from early September until late August and includes one name for every letter of the alphabet, except for Q, U, Y, X and Z.
The Met Office states that these letters are not included to ensure they are in line with the US National Hurricane Centre naming conventions.
Letters further down the alphabet are far less likely to be used.
One example from the 100,000 names chosen in 2021 is Storm Logan, a reference to a goalkeeper grandson who was as "quick as lightning".
More than 20 names were chosen for the last storm season, which had four storms – Otto, Noa, Antoni and Betty.
This year's list features "those who work to keep people safe in times of severe weather".
One example chosen in 2023 is Storm Agnes – the first named storm of the season.
Ciarán and Olga are also among a list of new names that will be given to storms that reach Ireland, the UK and the Netherlands.
READ MORE SUN STORIES
TO THE MAX
Pepsi brings out new 'best ever' flavour – but not everyone agrees
BACK TO BASICS
Will Best reveals HUGE change to new Big Brother as iconic feature scrapped
In the UK, the storm season starts on September 1,which also marks the beginning of the meteorological autumn.
The storm season then runs until the end of August the following year.
Source: Read Full Article