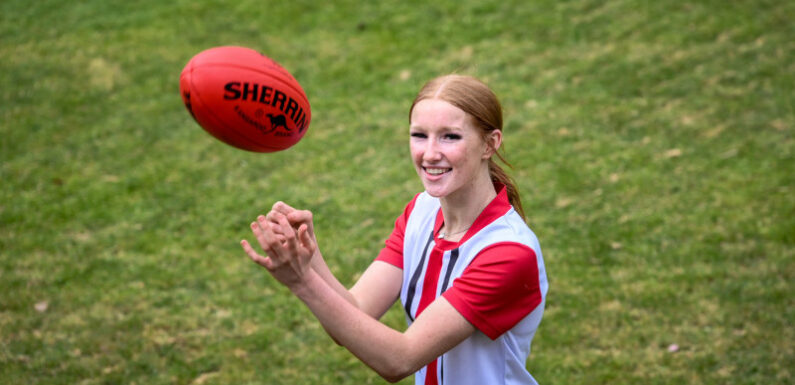 Save articles for later
Add articles to your saved list and come back to them any time.
Key points
Schoolgirls are playing football in record numbers, accounting for 29 per cent of primary school players and 32 per cent at secondary level. 
Cramped girls' schools are using parks or nearby schools for training, while co-ed schools and councils are upgrading their change rooms to accommodate female players. 
The AFL is dominated by graduates of non-government schools, raising questions about whether the AFLW will follow suit.
Schools are battling for space at local parks, borrowing ovals from nearby schools and spending millions upgrading change rooms as they struggle to cater for AFL's explosion in popularity among Victorian girls.
Rising participation has also prompted predictions more private schools will begin offering scholarships to pluck promising female footballers from state schools, following the trend in the men's league, which has become dominated by graduates of the most expensive schools.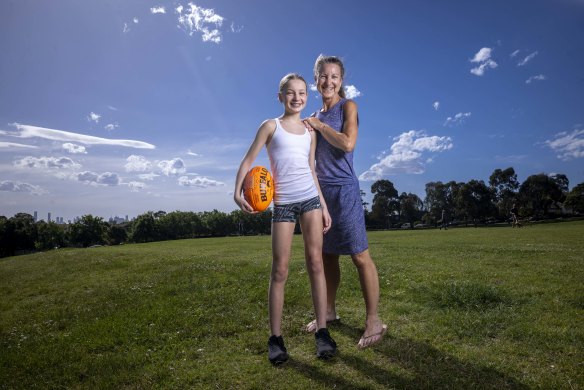 Loreto Mandeville Hall year 7 student Neave Slattery would play footy every day if she could, her mother Helen says.Credit: Wayne Taylor
The development of a professional women's league and cultural change have contributed to a record number of girls playing football. The AFL says schoolgirls now account for 29 per cent of primary school players and 32 per cent at secondary level. Some 13,775 girls play football in primary school, and 17,799 at secondary school.
Helen Slattery's 13-year-old daughter Neave plays with her school, Loreto Mandeville Hall, and a community club.
"I think that's what AFLW does, it encourages girls to have a go," said Slattery. "It's different to when I was at school. We never would have dreamt about playing it. But I guess a lot of the girls loved it at the time because of their brothers, but never had the chance [to play]."
The number of girls playing footy with a club at least once a year almost tripled from 2016 to 2022, to more than 105,000, the Australian Sports Commission's AusPlay data shows. As girls age, a larger proportion play football, peaking at an estimated 8.6 per cent of those aged 15 to 17.
Football was the ninth most popular sport-related activity among females aged 15 to 34 in the year to June 2023, the AusPlay figures show.
Education consultant Paul O'Shannassy said the traditional belief that girls don't need ovals had led to cramped girls' schools now scrambling for oval access. Presbyterian Ladies' College in Burwood and Genazzano in Kew are the only high-fee girls' schools with substantial green space.
"Girls' schools tend to be concrete jungles and have wellness centres, whereas [schools for] boys have all got the beautiful ovals," O'Shannassy said.
"But you can't use what you don't have. And given the way things are changing, how do you know if they had an oval and put goalposts up that girls wouldn't be charging through them?"
Girls' schools say that while they might not have ovals, they can hire them when required and use their gyms for skills such as tackling.
Year 12 student and AFLW aspirant Amy Trindade said school football was improving every year as more girls gained early experience at AusKick and local clubs. Trindade, the Calder Cannons captain who also plays for Melbourne Girls Grammar, believes girls' schools are starting to bridge the skills gap with co-educational schools.
'Girls' schools tend to be concrete jungles and have wellness centres, whereas [schools for] boys have all got the beautiful ovals.'
"I think as time goes on, and it gets more attention Australia-wide, it starts to even out a bit," she said.
THE 11 SCHOOLS THAT DOMINATED THE DRAFT
Luke Soulos is executive officer of APS Sport, which provides sporting competitions for 11 of Victoria's most expensive schools: Geelong Grammar, Carey Baptist Grammar, Caulfield Grammar, Geelong College, Haileybury, Wesley College, Melbourne Grammar, Scotch College, St Kevin's College, Brighton Grammar and Xavier College.
In last year's AFL men's draft, 30 per cent of players came from APS schools, Soulos said.
This is no accident. School sports programs – with their facilities, networks and help to become professional – are a marketing tool for schools. Alumni associations are often based around sport. There's a halo effect, too: if a school is doing well at sport, people might believe they are doing well overall.
Calder Cannons captain Amy Trindade says school football is improving every year.Credit: Chris Hopkins
The APS schools have compulsory sport, enviable facilities, the budget to hire former coaches and players, and an ability to offer scholarships to boost their footy teams. Ten per cent of AFL players in 2019 had received a scholarship, most commonly to go from a state school to an independent one.
Since joining an APS competition in 2018, the number of girls' football teams from Carey, Haileybury, Geelong Grammar, Geelong College, Wesley and Caulfield Grammar grew to 29 this year, with more expected next year.
Soulos believes girls from APS schools will dominate the AFLW draft eventually. "There's no reason why that can't happen," he said. "That's because schools are willing to invest in their girls' programs equal to the amount they are investing in the boys' program, which meets the wants and needs of parents."
SCHOLARSHIP FOR GIRLS
Several years ago, Melbourne football fan John Funder convinced the AFL to collect information on where its male players went to school. He expected the data to reflect school enrolments of the time: 55 per cent at state schools, 24 per cent Catholic schools and 21 per cent independent.
Instead, 30 per cent of players attended a state school, 31 per cent a Catholic school and 39 per cent an independent school. This meant a player from a Catholic school was 2.5 times more likely to play AFL than one from a state school; a player from an independent school almost four times higher.
It's unclear whether the AFLW is dominated by former students of Victoria's highest-fee schools. The AFL started collecting this information from draft picks this year.
But Funder doesn't believe it is.
'There's no question that schools that have scholarship programs will certainly be looking at girls who are good footy players to come to the school.'
"I think it would be mollified by the fact that they haven't got the facilities that Melbourne Grammar, Scotch, Xavier and so on have got, let alone some of the newer schools [such as Haileybury]," he said. "And you don't know how women's soccer, which has had an immense fillip, will affect participation."
Funder also expressed doubt that schools would offer scholarships to talented female players. "Possibly. There are wonderful examples [of women's players], but AFLW only started six years ago."
Mentone Girls' Grammar School, which trains at nearby boys' school St Bede's, already offers football scholarships.
Paul Jepson, head of sport and activities at Carey Baptist Grammar School, said more schools would follow suit. "The answer is yes," he said.
His large co-educational school has already offered general excellence scholarships to girls who went on to play in the AFLW. "There's no question that schools that have scholarship programs will certainly be looking at girls who are good footy players to come to the school," he said.
Genazzano director of sport Nick Wall said sport formed part of its general excellence scholarships.
"In the future we certainly imagine applicants coming with football talent," he said.
'PATHWAY FOR ME'
Andrea Meagher didn't choose Eltham College for her daughter Maddison because it was obsessed with sport. But she was thrilled when Maddison joined the independent co-ed school in time for its first girls' football program.
"We knew Maddy had found her place," said Meagher.
Eltham College year 9 student Maddison Meagher (centre) with teammates Ceejay Caddy and Keira Caddy.Credit: Justin McManus
Maddison is now one of the state's most promising female footballers, representing Victoria at this year's School Sport Australia 15 years and under australian football championships. "I made the all-Australian, so I really hope that [the AFLW] becomes a pathway for me," she said.
Maddison's Victorian teammates demonstrate the dominance of players from non-government schools at high levels of football. Of the 96 girls and boys who played for Team Vic, about 35 went to state schools.
WHAT ABOUT STATE SCHOOLS?
Funder's research found there was a "black hole in terms of AFL representation in Melbourne's inner-suburban state schools", with graduates of the state system predominantly coming from the sports-focused Maribyrnong College or regional schools.
"The future of Victorian AFL, in terms of state school representatives, is very much in the outer-metropolitan fringes and in regional Victoria," he wrote. "There seems to be little interest in and involvement of teams at an interschool level, in contrast with the two other sectors."
School Sport Victoria, which provides programs to primary and secondary state schools, said football was its third most popular sport in 2022. Girls accounted for 29 per cent of its 68,501 footy players.
However, it warned it faced "increasing financial pressures in delivering quality school sport to a growing population of Victorian schools and students", and difficulties accessing sports facilities.It said capacity was struggling to keep up with future demand and "rising costs in school sport are driven by growth in participation and growing event delivery costs".
FIELD OF ONE'S OWN
Michelle Barry, executive director of Girls Sport Victoria, said ground availability was a problem for its 24 girls' school members too.
"If schools have facilities, they play at their schools or sometimes at a brother school. If schools don't have facilities or [have] multiple teams, they have to source a venue from the local council," she said. "This can be problematic with availability, and if grounds get too wet they can kick off school groups to preserve grounds for weekend footy."
Bayside City Council, which covers the southern suburbs of Brighton and Sandringham, said school bookings for council sports grounds had grown by 54 per cent in the year to June, and it will spend $52 million upgrading 25 pavilions to include gender-neutral change rooms. Melbourne City Council has 11 female football teams playing at five parks, and is also upgrading change rooms.
Even high-fee co-ed schools with good facilities have had to make changes for female footballers. Jepson said Carey had doubled the number of change rooms at its main grandstand to accommodate female players, but had more to do.
Penleigh and Essendon Grammar has reworked its schedule to ensure girls' teams have good access to ovals, and upgraded change rooms to make them unisex.
"As the sport grows, schedule-wise for training we're getting close to that point of 'Oh gosh,' " said director of sport Ben Bailey.
"But we want to show that we're invested in their sport as much as anything else."
Start the day with a summary of the day's most important and interesting stories, analysis and insights. Sign up for our Morning Edition newsletter.
Most Viewed in National
From our partners
Source: Read Full Article