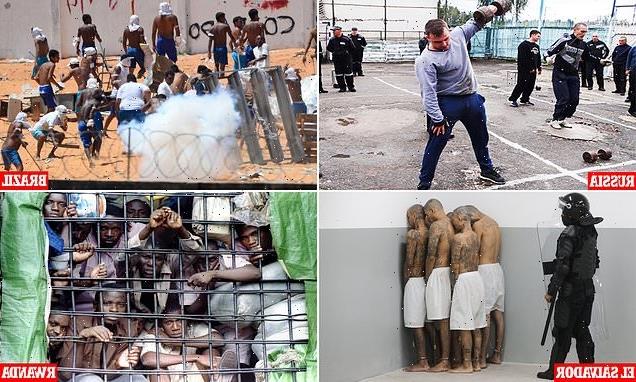 World's most BRUTAL prisons: From Syrian hell-hole where inmates are kept in total darkness to Russia's K-6 Black Dolphin that no one has ever left
'San Quentin, you've been livin' hell to me', sang Johnny Cash to the cheers and cries of hundreds of inmates during his 1958 concert at the notorious US prison.
Built in 1852, California's oldest – and only – death row prison has housed some of the nation's most infamous serial killers from the 'Night Stalker' Richard Ramirez to the 'Freeway Killer' William Bonin. It was also home to 1960s cult leader Charles Manson.
In his song, Cash calls for the prison's imposing walls to fall, concluding, 'San Quentin, I hate every inch of you'.
But as brutal as 1950s San Quentin most certainly was, it might almost seem luxurious in comparison to some of today's toughest jails.
In Mexico, Brazil and El Salvador, where governments fight street battles with heavily-armed gangland armies, the justice system is as swift as it is uncaring
Gangsters are rounded-up and thrown together creating never-ending gang warfare within the concrete compounds .
Meanwhile, under the cold, authoritarian regime of Vladimir Putin's Russia, saying the wrong thing while locked up in Melekhovo prison could see you spending the rest of your days staring at a wall in the dark or much, much worse.
Brace yourself…. these are the world's top 10 most BRUTAL prisons. 
Terrorist Internment Centre, El Salvador
The first 2,000 gang members were transferred from the Izalco prison to 'America's largest' mega-prison, equipped with high-tech surveillance
The prisoners were made to run while leaning forwards with their hands cuffed behind their backs as they moved into the prison
The inmates are members of more than a dozen gangs and were handcuffed and stripped down to their boxers
Last week, the world was shocked to see the conditions inside the new Terrorist Interment Centre in El Salvador – a sprawling purpose built jail filled with suspected gangsters as part of President Nayib Bukele's 'war' on crime.
Bukele announced that the first 2,000 members had been transferred to the Center for the Confinement of Terrorism (CECOT)' – which he claims is the largest mega-prison in the Americas – where 'they will live for decades, all mixed, unable to do any further harm to the population.'
It is designed to house 40,000 inmates in the most basic of conditions, with just 80 beds for every 100 men. 
The jail consists of eight buildings made of reinforced concrete.
Each one has 32 cells of about 100 square meters (1,075 square feet), designed to hold 'more than 100' inmates. 
Pictures emerging from the jail barefoot, tattooed men wearing only white boxers, bent over and with their hands behind their shaven heads.
They are stacked closely together, each sitting with his legs on either side of the man in front of them as armed guards in balaclavas look on.
In their cells they are left sitting on the floor before stacked metal beds with no mattresses visible.
The barbarity of the conditions has already been criticised by many, including former prisoner and host of Netflix's Inside the World's Toughest Prisons, Raphael Rowe. 
He wrote in the Mail: 'This is a deliberate policy to control the inmates and manage them. 
'I fear it will backfire badly — and result in violence even worse than the gang-driven chaos the government is desperately trying to stamp out.' 
The Black Dolphin, Russia
Prisoners at the Black Dolphin penal colony are kept bent over at the waist while a guard holds their handcuffed hands behind their back, higher than the hips
Pictured: Cannibal Vladimir Nikolayevich Nikolayev is one of the Black Dolphin's residents
Inmates are kept in isolated cells and are not permitted to rest or sit on their bunks during waking hours
The infamous K-6 Black Dolphin prison in Russia is one of the most feared jails in the world for one reason – nobody has ever left it. 
Used as Vladimir Putin's personal hole into hell, anyone deserving enough or unfortunate enough to be sent to the small compound near the border with Kazakhstan will soon crack.
Everyone sent to the Black Dolphin has been issued life sentence without parole and the 700 strong population contains murderers, rapists and even cannibals like Vladimir Nikolayevich Nikolayev. 
Prisoners are kept in solitary confinement for all but 90 minutes a day where they are escorted to a cage for exercise. 
In terms of nourishment, all there is too eat is four portions of soup.  
The prison officers of Black Dolphin, named after a sculpture of a black dolphin made by prisoners set in front of the main entrance, have a unique form of escorting inmates.
Prisoners are kept bent over at the waist while a guard holds their handcuffed hands behind their back, higher than the hips.
This position keeps the prisoner most helpless, unable to observe his surroundings nor attack anyone else.
When prison officers make a command to the inmates, they must respond with the words 'yes, sir.'
Every 15 minutes, a guard makes rounds to ensure Black Dolphin inmates are complying with the rules.
Tadmor Prison, Syria 
Prisoners were held in disturbingly small cells with cold stone walls with no lighting or bedding
The jail has tiny windowless jail cells where those accused of committing crimes were held in total darkness once the huge steel doors slammed shut
Tadmor Prison was the scene of a horrific massacre of thousands of prisoners on June 27, 1980 following an Islamist Muslim Brotherhood assassination attempt on the then president, Hafez al-Assad
Tadmor Prison is known as one of the bleakest places a human being can be held for the simple reason that it is designed to offer inmates no amenities at all. 
Whilst it was used to hold those opposed to Bashar Hafez al-Assad's Syrian regime it was famous for the torture and summary execution of those held there.
After being captured by ISIS militants in 2015, photos emerged of the horrendous conditions inside the jail complete with tiny windowless cells where those accused of committing crimes were held in total darkness once the huge steel doors slammed shut. 
Prisoners held in the cells could expect to have little to bide their time or even relax with as there was no bedding or lights.  
The only semblance of a toilet in the cells were small holes in the floor and precence of mould was everywhere. 
The jail is notorious for the guards' brutal treatment of prisoners and even a state-sponsored massacre of those held there in the early 1980s.
On June 27, 1980 following an Islamist Muslim Brotherhood assassination attempt on the then president, Hafez al-Assad.
The day after the attempted attack, the president's brother Rifaat al-Assad ordered the country's Defence Brigades to enter the jail and butcher the prisoners. 
It is estimated that more than one thousand people were killed in the cells, dormitories and corridors of the prison. 
Alcuaz, Brazil
Inmates stand on the prison roof during a rebellion in Alcacuz jail
Riot police were called into the prison to quell a gang uprising in 2017
Fighting and murder between rival gangs is a common occurrence in the prison
The rotting jail at Alcuaz in Brazil is renowned for its utter savagery and was once the centre of a sprawling prison riot in which numerous abominations were committed and 26 prisoners were murdered. 
Located in the crime ridden city of Natal, the prison has been closely fought over for years by rival drug cartels – the First Capital Command (PCC) from Sao Paulo and Rio de Janeiro's Red Command – who often order executions from inside the jail. 
Inside the iron cage, nobody is truly safe from the gang war with hostage situations involving guards common. 
The most violent episode that occurred at the facility took place in 2017 and is still remembered as the darkest period in Brazilian justice. 
After the facility was completely taken over by the gangs, armed riot police stormed the prison and fought them in a guerilla war. 
Grim footage from the aftermath of the riot showed severed heads of gang members strewn across the prison yard, their blood congealing with the dust underfoot.   
Other videos depicted gang members chopping the heads off their rivals, slicing their hearts out and disemboweling them. 
Bogota District Prison, Columbia 
Colombia's Bogota District prison is divided into six blocks 
Inmates are left to run the jail entirely by themselves 
Restricted to a central courtyard all day a strict hierarchy has emerged with fights common
Whilst the effects of solitary confinement can render even the most stoic of inmates nutty, there are some prisons around the world where criminals would beg for a bit of private space. 
Bogota District Prison in Columbia is one such institution – a cavernous block of a building where 11,000 prisoners are left to fend for themselves. 
Split into six wings inmates are confined to a central courtyard all day where a strict and violent hierarchy is enforced by the prisoners themselves. 
Populated by hitmen, drug lords and murderers, fights, stabbings and even murders are commonplace within the walls as the guards do not police inside the jail itself. 
When they do, things can turn pretty grisly fairly particular with a protest against the coronavirus measures in 2020 where residents set fire to their mattresses ending with the death of 23 inmates. 
In 2016, an investigation was launched after human remains of some 100 visitors and inmates were found festering in the prison drain pipes.  
It was famously featured on Netflix's Inside the World's Toughest Prisons where host Raphael Rowe was threatened at knife point on his first day in the prison if he would not give up his bed. 
ADX Florence, USA
The ADX Supermax Prison in Florence, Colorado is a state of the art isolation prison
 Nobody has ever escaped from the facility which is guarded by 12ft high razor wire fences, laser-beams, pressure pads and attack dogs
Prisoners are restricted to the small cells with only a small slit for a window
ADX Supermax Florence is thought to be the most secure prison in the world and houses the most dangerous inmates in the U.S. prison system including terrorists, gang leaders and neo-Nazis. 
Currently the prison houses 322 inmates – the majority of whom are kept in solitary confinement. 
Located in in Fremont Country, Colorado, the imposing fortress of solitude has been labelled the 'Alcatraz of the Rockies' and for good reason. 
Nobody has ever escaped from the 35-acre site which is guarded by 12ft high razor wire fences, laser-beams, pressure pads and attack dogs. 
As any thought of leaving the facility is futile, the nefarious inmates locked inside have little to do with their time in an environment where home comforts are non existent. 
Inmates are kept in cells measuring 7ft by 12ft for 23 hours a day. The bed, desk and stool are immovable and cast from poured concrete. 
Each cell has a slit window with a view onto an inner courtyard and a patch of sky.
They can play games of bingo alone in their cells. The winners get chocolate bars, or the right to have their picture taken and sent to their family.
Wardens have previously told the European Convention on Human Rights that daily exercise is taken in pens measuring 12ft by 20ft, containing pull-up bars and footballs. 
Indoor exercise is held alone in a windowless hall with a vaulted ceiling, likened to an empty swimming pool.
Better behaved prisoners are granted extra privileges, with the best behaved given five hours of phone calls a month and the right to eat together out of their cells. 
Melekhovo, Russia
Photos show the Melekhovo colony in Vladimir region of Russia which has been dogged by allegations of systematic torture and sexual violence
The facility is famous for torture and sexual violence
Former convict Ivan Fomin, then 29, claimed that the governor of the colony, Roman Sahakyan, had forced him to refuse a lawyer with threats. He witnessed another inmate being punched in the stomach and beaten with piping
Unfortunately for rule breaking Russians (or those on Putin's hit list), the seclusion of the Black Dolphin isn't the only terrifying prison in Russia. 
The maximum security penal colony at Melekhovo is known for brutal beatings and the rape of male inmates
Independent media outlet Mediazona last year revealed allegations of systematic torture and sexual violence at the facility known as correctional colony No. 6.
Former convict Ivan Fomin, then 29, claimed that the governor of the colony, Roman Sahakyan, had forced him to refuse a lawyer with threats.
He was told that if he did not cooperate 'they would rape me, and tie my legs and hands from behind.
'I would lie down, and they would beat my heels and ass. After that, if I did not confess, they would [rape] me with a [spade] handle, and then put this in my mouth.'
He witnessed another inmate being punched in the stomach and beaten with piping on his heels and bottom.
The prisoner was then sodomised with the piping, which was later forced into his mouth, he said.
Prominent critic of Putin Alexei Navalny is rumoured to have been moved to the facility last year after being sentenced to nine years in prison on charges of fraud and contempt of court – charges he says were designed to silence his opposition.
Prior to him being moved there, Navalny's press secretary Kira Yarmysh said that while torture is used on prisoners in many Russian colonies, this jail is 'a monstrous place even by such insane standards.'
There had been numerous testimonies about the facility, she said.
Gitarama Prison, Rwanda
Prisoners within the Gitarama Prison look out from behind the bars of a dormitory
The prison has developed a reputation as one of the most overcrowded facilities on earth 
Originally built for 500 men on a red dirt rectangle about half the size of a football field, Gitarama prison in Rwanda grew into the most hellish place on earth – a place so vile it forces inmates to 'eat each other to survive.'
Now housing between 5000-7000 people with only capacity for 3000, the prison suffers from fatal overcrowding. 
Daily Mail Australia's Candace Owen visited the site in 1994 whilst covering the Rwandan genocide and documented what she saw. 
She said: 'The shocking overcrowding resulted in frequent fatal fights. The victors ate the bodies of the dead in an effort to stay alive. 
'The squalor and the standing caused prisoners to suffer from gangrene of their lower limbs, forcing amateur amputations and often death.
'If they lived long enough to be tried for their alleged crimes in one of the community justice courts known as the gacaca, it would be a miracle of survival.'
Sadly it remains unclear if conditions have improved in the intervening 30 years but Rwanda has labelled reports of obscenities there – a 'fabrication'. 
Speaking last year, a spokesman said: 'The detention facilities at the time were crowded because of the sheer numbers of suspects and limited available infrastructure, but there was none of the extreme and sensational conditions reported, like cannibalism – this is a pure fabrication.
'Rwanda Correctional Service (RCS) is mandated to protect the society from offenders incarcerated by due process of the law.' 
Bang Kwang, Thailand 
The Bang Kwang prison in Thailand is one tourist spot to avoid 
Also known as the 'Bangkok Hilton', the jail houses 7,000 inmates, of which around 700 have been sentenced to death
The execution building at Bang Kwang Central Prison
It's well known that Thailand has some of the strictest laws on the planet – particularly when it comes to drug offences which are still punishable by death in the country. 
Over the years, many tourists have fallen foul of these laws and some of the most unlucky have been sent to Bangkok's Bang Kwang prison – known in some circles as the 'Bangkok Hilton' – as the actual Millennium Bangkok Hilton Hotel stands on the banks of the same river
The hellhole jail holds many violent inmates who have been sentenced to death and their time on death row is anything but pleasant. 
Most foreign prisoners are kept here in chains among 7,000 other inmates – 10 per cent of whom are facing death.
Up to 50 people can be kept in cells measuring 26ft by 16ft.
Sanitary conditions are shocking and the meager diet consists of one bowl of rice per day – which is often rotting.
Prisoners are made to wear leg irons for the first three months, after which they are unshackled.
The jail runs a system whereby inmates can buy more food if they have the money to do so. Poorer prisoners can do chores for guards or wealthier convicts to earn cash.
The prison is called the 'Big Tiger' by Thais because 'it eats those on the inside'.
It also houses the country's death row and execution chamber – which for a selection of the population is their only escape from the squalid conditions.
Ciudad Juarez, Mexico
Members of the Mexican Army secure an area outside the prison of Ciudad Juarez
The army has repeatedly been called in to deal with riots in the prison
Gangland executions are commonly performed inside the jail walls (Pictured: Inmates face a wall just hours after a prison riot)
There could have been few places more dangerous to be imprisoned in the world in the last ten years then Mexico's infamous Ciudad Juarez – a prison rumoured to be entirely run by cartels. 
The lawless hellhole is penned in on all sides by high walls topped with razor wire where guards armed with machine guns patrol with the mandate of shoot to kill. 
On the inside, the jail is said to be ruled by feuding gangs and guards who are too afraid to challenge them.
In 2011, the prison gained international attention after CCTV footage emerged of two frightened guards opening a locked door for the Azteca gang who ruled the jail to open fire on a cell containing a gang from a rival cartel Los Mexicles, executing all 13 members inside.
The video gave a glimpse of the violence that gripped the jail in a burst of bloodshed where 17 prisoners were murdered and 20 more wounded in 48 bullet-ridden hours.
During those violent two days, even by Ciudad Juarez's standards, thugs ran amok as they drank alcohol, took drugs and attempted rape and sexually assault children being held inside the jail with impunity thanks to the impotent guards.
In another burst of violence, Azteca thugs armed with knives and makeshift weapons forced guards to free 150 of its members and sparked a bloody riot which ended in the deaths of 20 prisoners.
Many more were seriously injured as the Aztecas fought pitched knife battles and set fire to cell blocks in the 2009 siege known as the 'Ciudad Juarez massacre'.
It took guards, police and soldiers three hours to contain the riot.  
Unfortunately the violence in the prison has not cooled with police having to quell an armed uprising at the facility as recently as January this year – at the cost of ten prison guards. 
Source: Read Full Article