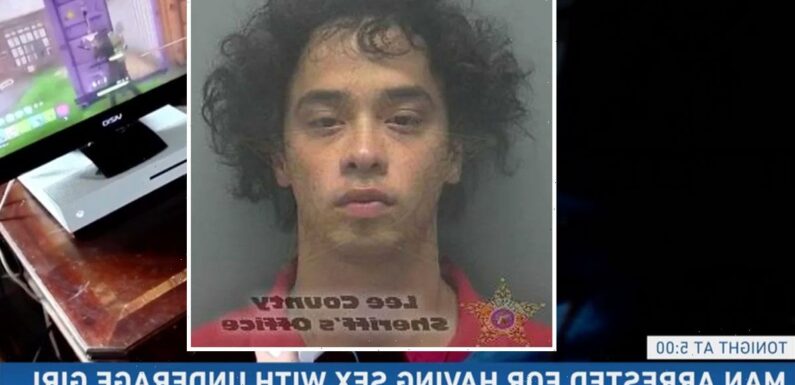 According to authorities, a 26-year-old Florida man has been arrested after admitting to sexual relations with a 15-year-old girl. 
Dillon Atkinson was taken into custody last Thursday after allegations emerged that he had sex with an underage victim he met while playing Fortnite. Local police arrived at the young girl's home after her parents discovered concerning chat logs on Discord, an instant messaging app, with user . According to Law & Crime, when confronted, the 15-year-old admitted to "​​a sexual relationship with a 26-year-old male," whom she confirmed to have met on Fortnite last July. At the time, she further admitted to having "sexual intercourse multiple times, with the most recent incident occurring approximately two days ago."
One of the messages allegedly "indicated was at" the residence, prompting one of the parents to go "outside with his firearm," but nobody was there.
Because of the victim's young age, and the nature of the allegations, the Lee County Sheriff's Office Special Victim Unit took over the investigation. Later, at the Children's Advocacy Center, the minor confirmed to a case worker that she and Atkinson were both aware of one another's ages. According to an affidavit of probable cause, their first sexual encounter took place two weeks prior in Atkinson's work truck, in which he allegedly "penetrated her vagina, her anus, and her mouth with his penis."
Absolutely HORRID.
The second incident took place a week later at Atkinson's Fort Meyers home, involving similar sexual acts, during which the condom broke. The affidavit states:
"Afterward, took the victim to a nearby Walgreens where he purchased Plan B, and gave it to the victim as a precaution because the condom broke."
The third and final instance took place three days before the victim's interview with the children's advocate, on the side of her house.
Detectives later detained Atkinson and brought him to the LCSO headquarters for questioning. He apparently agreed to speak with detectives without a lawyer being present, despite being read his Miranda rights. The affidavit states:
"During his post-Miranda statement, confirmed he and the victim met each other approximately five months prior on the video game Fortnite, The two began a friendship that later turned romantic in nature. They began communicating through Discord, a phone application where people text, chat and make video calls. admitted to knowing the victim was underage because she told him she was sixteen years old. However, he advised the victim told him the age did not matter to her. also stated he was unaware of the legal age of consent."
The legal age of consent in Florida is 18.
Atkinson was charged with one count of lewd or lascivious behavior on a victim between the ages of 12 and 16, Florida's equivalent to statutory rape. He's currently being held on a $100,000 bond, and is scheduled to appear in court on January 30.
We hope the young girl is able to work through the trauma, and justice is served. Thoughts? Let us know in the comments down below.
Source: Read Full Article