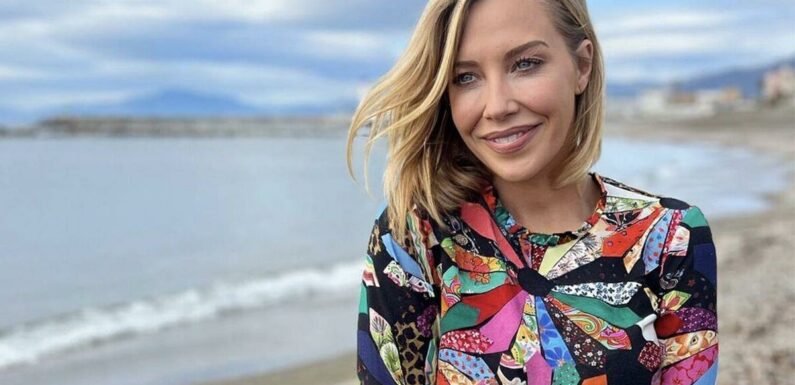 Laura Hamilton tries the Emface facial treatment
We use your sign-up to provide content in ways you've consented to and to improve our understanding of you. This may include adverts from us and 3rd parties based on our understanding. You can unsubscribe at any time. More info
A Place in the Sun favourite Laura Hamilton, 40, divided her 177,000 Instagram followers by sharing she had opted to have cosmetic work on her face "after a crazy week". Laura's video explaining the treatment featuring her friend, who owns the clinic she visited in Birmingham, prompted many of her fans to insist she "didn't need" to have the non-invasive facelift due to her natural beauty.
The Channel 4 presenter revealed in her post's caption: "After a crazy week I decided to pop in to see my lovely friend Amy @daleswoodaesthetics to try the latest non-invasive, needle free facelift that's has taken Hollywood and it's stars by storm.
"Daleswood Aesthetics are one of only a handful of clinics outside of London offering this treatment @emface.
"I'm always inspired by fellow women in business and am proud to support my friend Amy and her partner Alison."
Laura also informed fans Hollywood megastars including Jessica Simpson and actress Rebel Wilson have also chosen the procedure, known as EmFace.
The star explained the treatment is needle and toxin free, and therefore doesn't require recovery time.
The cosmetic method utilises electrical pulses that encourage the muscles to contract and tone, while boosting collagen production, according to The Sun.
The procedure consists of four 20-minute sessions, during which pads are applied to the client's face.
Describing how the treatment felt on her skin during the procedure, Laura, who was filming the process said: "It's quite an unusual feeling, it's quite warm and I can feel the pulses on my forehead and cheeks."
The mum-of-two's post, however, sparked a debate amongst her fans.
eddiebo57 commented: "Well,in my opinion you don't need it gorgeus."(sic)
donna.lomax.589583 claimed: "Your eyebrows don't move now so it affects expression. Be a natural beauty x."
A third fan, darlosmurf, replied: "You do you. I'm sure you'd age beautifully naturally though."
Don't miss…
Iconic astrologer Mystic Meg has died following a short illness [LATEST]
Florence Pugh braves snow as she goes braless amid Zach Braff reunion [PICS]
Richard Madeley branded a 'massive control freak' by daughter Chloe [COMMENT]
"You do not need anything dear Laura," suewatkin1953 agreed.
Others defended Laura's decision to undergo the treatment, with officialnivag saying: "You don't need it but feeling good in your self is that important so go girl x."
the_dogdogne gushed: "What ever you have been doing is working."
maggielangham added: "We also go to same clinic for other treatments such lovely staff."
Laura went on to tell her followers that ageing is something she "cares about".
The star explained that she tries to "look after her skin" due to spending lots of time in warm countries while filming for A Place in the Sun.
Laura has recently been filming A Place in the Sun in La Duquesa, Spain.
However, the presenter was left a bit disappointed, as the weather was not as sunny as she had hoped before travelling to the holiday destination.
Source: Read Full Article