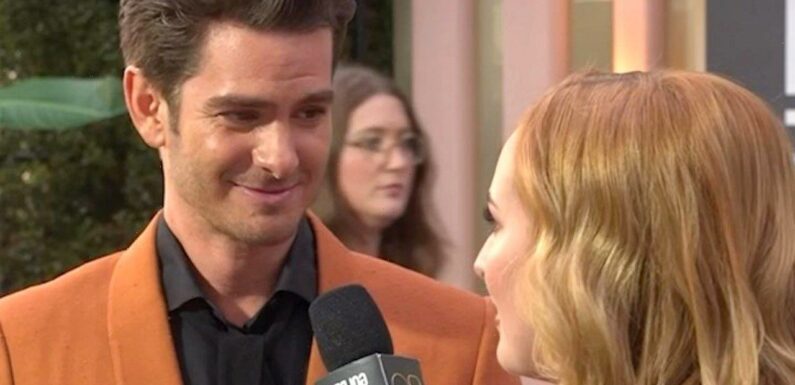 The clip, which has garnered more than 30 million views on Twitter, sees the 'Under the Banner of Heaven' actor getting flirty with Amelia Dimoldenberg during a red-carpet interview.
AceShowbiz -A video of Andrew Garfield's interview at the 2023 Golden Globe Awards went viral on social media. The clip saw the "Under the Banner of Heaven" actor chatting with Amelia Dimoldenberg in Beverly Hills as he appeared to get flirty with the interviewer.
After he compared Amelia Dimoldenberg to a "capybara in the wild," the "Chicken Shop Date" host jokingly warned him, "Be normal!" The 39-year-old actor then told her while giggling, "I only ever want to see you."
Surprised by the remark, Amelia asked, "What?!" The "Tick, Tick… Boom!" star then grabbed the microphone and responded, "I only ever want to see you in these kind of sort of situations." He seemingly referred to their first interview at the British GQ Men of the Year ceremony last November.
Amelia was seemingly disappointed before she told him that she was planning to invite him to her birthday party later this month. Andrew later coyly changed the subject by asking her about her astrological sign, which she revealed to be Aquarius.
"If you have the sun sign that's the same as the moon sign of someone else … that's good," the Oscar nominee, who is a Leo, explained. He went on to say, "I don't think we should explore this. … I'm scared of what it could turn into, and I'm not ready for that kind of thing."
Later in the interview, "The Amazing Spider-Man" star signed an autograph for Amelia who called it a "best friend certificate." The video, which was shared by Amelia herself, has garnered more than 30 million views on Twitter.
After watching the clip, fans were quickly shipping the two. "these two either need to only continue their love story on red carpets or end up together forever. no in between," one person tweeted.
"If Andrew Garfield ever said 'I only ever want to see you' anywhere near my direction I would honestly just fall to the floor and not get back up," someone else added. "I usually don't ship people, but i ship this with all the might in my soul," a fan wrote.
One user, meanwhile, likened their flirty interaction to a romcom, saying, "Already found my favorite british romcom of 2023." Another person joked, "When you know your crush's Moon sign but have to play it off like you haven't looked up their chart when it accidentally slips out."
You can share this post!
Source: Read Full Article