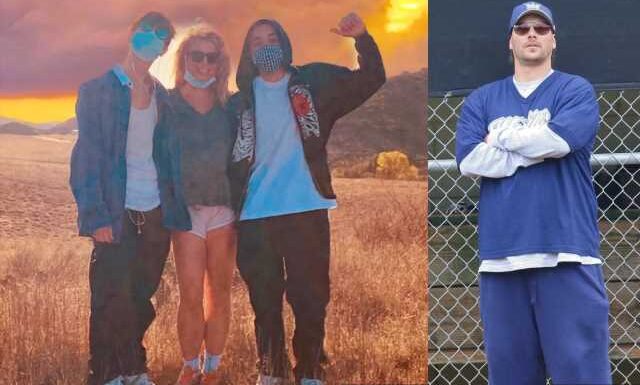 Despite their father's encouragement, Jayden James and Sean Preston are said to be opting against reuniting with their 'Hold It Against Me' singer mother ahead of their August move.
AceShowbiz –Britney Spears' sons won't be seeing her before they relocate to Hawaii. Just days before they leave California with their father Kevin Federline and his wife Victoria Prince, Jayden James and Sean Preston are reported to have no plan to meet their "Hold It Against Me" singer mother.
Sources who claimed to have direct knowledge of the situation told TMZ that 16-year-old Jayden and 17-year-old Sean have made up their mind against seeing their 41-year-old mother before moving to the Aloha State on Tuesday, August 1. They were said to have made the decision although they have not seen their mother for more than a year.
On where the family of four will stay in Hawaii, the sources revealed that Kevin and Victoria are renting a place as they search for a permanent house. The 45-year-old disc jockey was also reported to be glad that Britney made the right choice to let her sons move to Hawaii and not fight their relocation in court.
While Jayden and Sean allegedly decided against meeting Britney prior to the relocation, they reportedly were encouraged by their father Kevin to do so. Earlier in July, sources told TMZ that Kevin would not force his two sons to visit their mom, yet he let them make their own decision.
Jayden and Sean would be joining Kevin and Victoria in Hawaii since it was claimed that Victoria was offered a job in a local university there. However, there were plenty of speculations from Britney's fans that Kevin made the move in an attempt to extend child support.
"He's doing this because the courts can force her to pay child support up to the age of 23 in Hawaii," one devotee proposed their thoughts in the replies section of a tweet about Britney allowing her sons to move. "Kevin Federline gets sued for not paying for the education of his kids and then decides to move to Hawaii where he can apply to get child support until Britney's boys are 23," another fan suggested.
Kevin himself has denied the accusations. In an interview with a paparazzo outside of a McDonald's on June 26, the former dancer stated, "A lot of people say a lot of stupid things."
You can share this post!
Source: Read Full Article