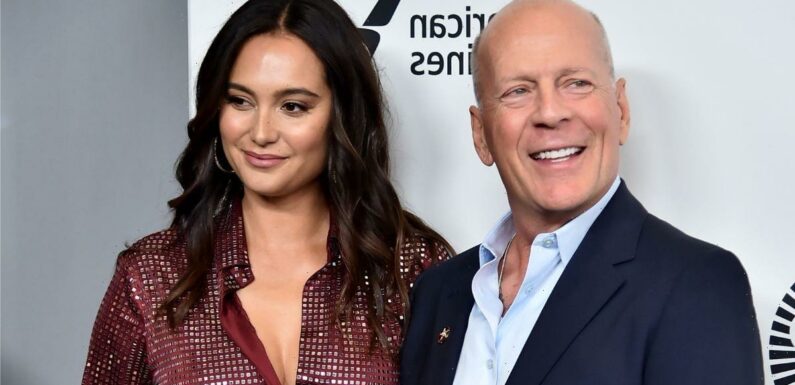 Bruce Willis: Dr Amir discusses frontotemporal dementia
We use your sign-up to provide content in ways you've consented to and to improve our understanding of you. This may include adverts from us and 3rd parties based on our understanding. You can unsubscribe at any time. More info
Emma, 44, recently revealed that her husband of over 10 years, Bruce Willis, 67, had been diagnosed with frontotemporal dementia following an original diagnosis of aphasia. As the star's condition worsens, his beloved wife has made a public plea to paparazzi begging them to stop talking and yelling at the Die Hard star when he's outside.
On Instagram, Emma made a candid appearance sharing a short clip from the family home she shares with her adoring husband Bruce and their two daughters, Mabel, 10, and Evelyn, eight.
Emma pleaded with others who know or take care of someone who has dementia saying: "If you are someone that is looking after someone with dementia, you know how difficult and stressful it can be to get someone out into the world and to navigate them safely.
"Even just to get a cup of coffee."
The former model became emotional as she recalled the most recent instance of her husband just trying to get coffee with friends and being bombarded by photographers and videographers.
View this post on Instagram

A post shared by Emma Heming Willis (@emmahemingwillis)
In the spirit of raising awareness around her husband's form of dementia, Emma begged: "This one is going out to the photographers and the video people that are trying to get those exclusives of my husband out and about, just keep your space.
"I know this is your job, but please don't be yelling at my husband and asking him how he's doing or whatever just don't do it, OK?
"Give him his space, allow for our family, or whoever's with him that day, to be able to get him from point A to point B safely."
Early last year it was announced that the actor would be retiring from Hollywood after being diagnosed with aphasia but in February, the "ladies of Willis/Moore" revealed that Bruce's condition had progressed.
View this post on Instagram

A post shared by Emma Heming Willis (@emmahemingwillis)
The "Ladies of Willis/Moore", namely Emma, Bruce's ex-wife Demi Moore and their three daughters Scout, Tallulah and Rumer, all shared the same announcement on their social media with a bittersweet snap of Bruce smiling on a sunset beach.
Published shortly after Valentine's day, the statement showed some appreciation for the "incredible outpouring" the family received after announcing Bruce's initial diagnosis.
However, it added some sombre news: "In the spirit of that, we wanted to give you an update about our beloved husband, father and friend since we now have a deeper understanding of what he is experiencing.
"Since we announced Bruce's diagnosis of aphasia in spring 2022, Bruce's condition has progressed and we now have a more specific diagnosis: frontotemporal dementia (known as FTD).
"Unfortunately, challenges with communication are just one symptom of the disease Bruce faces.
"While this is painful, it is a relief to finally have a clear diagnosis."
The family's statement continued on the Association for Frontotemporal Degeneration's website, noting that they hoped Bruce's celebrity status could shed some light on the rare form of dementia.
They heartbreakingly added: "Bruce always believed in using his voice in the world to help others, and to raise awareness about important issues both publicly and privately.
"We know in our hearts that – if he could today – he would want to respond by bringing global attention and a connectedness with those who are also dealing with this debilitating disease and how it impacts so many individuals and their families."
The family also shared a moment of thanks to Bruce's fans adding: "Bruce has always found joy in life – and has helped everyone he knows to do the same. It has meant the world to see that sense of care echoed back to him and to all of us.
"We have been so moved by the love you have all shared for our dear husband, father, and friend during this difficult time.
"Your continued compassion, understanding, and respect will enable us to help Bruce live as full a life as possible."
Source: Read Full Article