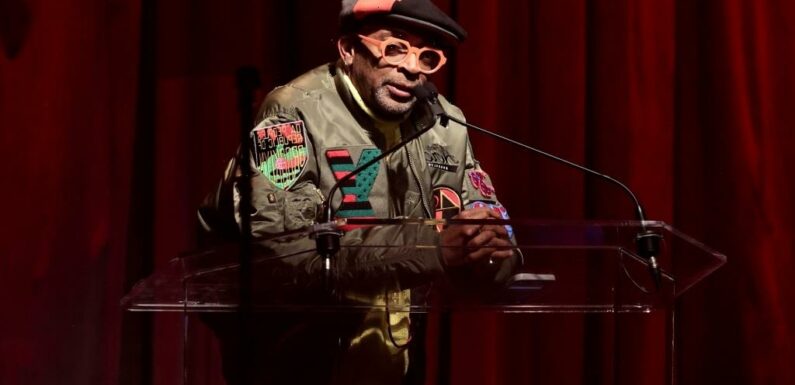 As Spike Lee took the stage to accept the Ian McLellan Hunter Award for Career Achievement at the WGA Awards in New York, his beloved Knicks had just gone into overtime against their hated rival, the Boston Celtics.
Lee offered a number of heartfelt comments about the craft of writing, paying tribute to his late mother and NYU and his wife. But after about a minute at the podium, speaking in a low and measured tone, the temptation of the moment grew too strong.
Related Story
WGA Awards: 'Everything Everywhere All At Once' & 'Women Talking' Take Top Film Prizes – Full Winners List
"If you can make a living doing what you love, that's a W, not an L," he said, and the sports metaphor seemed to prompt him to pull out his phone.
"Hold on, the Knicks are … let me get the score first. They're in Boston," he said, starting to scroll as the crowd laughed nervously and applause rippled through the Edison Ballroom. "Overtime!" someone in the crowd cried. "It's overtime?!" Lee replied. "Oh, we gotta go!" He faked dashing off the stage.
Given where his team was playing, Lee couldn't help himself, name-checking all of Boston's other pro teams before declaring, "Boston sucks," earning a loud ovation.
The filmmaker would wrap his speech before the score went final — Knicks 131, Celtics 129 in double overtime, New York's ninth win in a row — but even with that left turn midway through, his speech held the audience rapt.
John Turturro, who has acted in a number of Lee's films, had been scheduled to present the award in person, but had been called away at the last minute. In a video message, Turturro said he had known Lee for 35 years and said he was "proud to call him a friend," saying his "front-row seat to his journey has been a privilege." He called the filmmaker a "true visionary" as well as a "powerful storyteller and a truly collaborative creator."
Lee closed his remarks with congratulations for others who had won awards earlier in the night. "Writing is no joke, as you know," he said. This sh*t ain't easy. So … let's hope the Knicks win in overtime, thank you."
Must Read Stories
Top TV Writers, Stiehm, More Talk WGA Negotiations; Guild "Good Sheriff In A Bad Town"
$58M U.S. Bow Sets Record For 'Rocky' Spinoff Pics & Amazon; $100M+ Global: Analysis
'Top Gun', 'Everything Everywhere', 'The Bear', 'Andor' Win At ACE Eddie Awards
Chris Rock TKOs Will Smith's Oscar Slap & "Selective Outrage" In Netflix Live Special
Read More About:
Source: Read Full Article