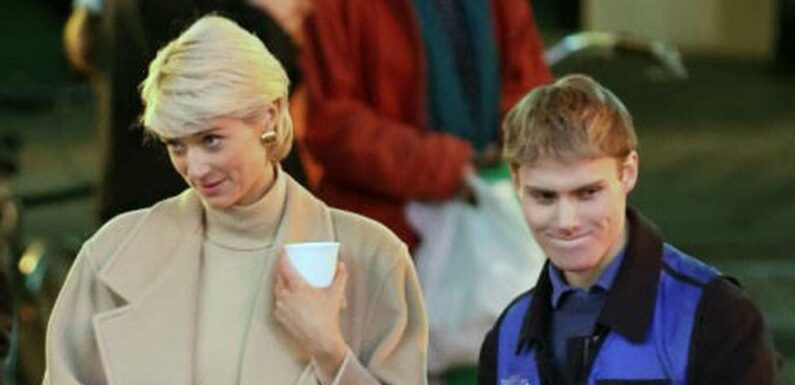 His late mother's drive to help those in need helped mould Prince William into the man he is today.
Raising her children amid a life of luxury, Princess Diana was determined to teach them about the world outside their royal bubble – starting with the issue of homelessness. Working with a series of charities she took William and younger brother Harry to meet rough sleepers throughout the early 1990s.
Now those formative visits have been recreated on camera, in new scenes from Netflix drama The Crown.
Actress Elizabeth Debicki was seen in character as Diana as she joined Ed McVey, who plays Prince William, in Canary Wharf, London this weekend. The actors were depicting a memorable moment in William's youth – when he and Diana visited the homeless.
In the images William can be seen standing outside a tube station, as his mother smiles tenderly at him. The young William wears a Big Issue vest, as he speaks to an actor playing a homeless Big Issue seller.
In an article in the Big Issue last June, William, who is now the patron of homelessness charities Centrepoint and The Passage, recalled visiting shelters as a child.
He wrote: "I was 11 when I first visited a homeless shelter with my mother, who in her own inimitable style was determined to shine a light on an overlooked, misunderstood problem."
The day had a last impact, he recalled.
"Ever since I came here with my mother, homelessness has stuck with me as an issue I want to fight for. I've done everything I can to raise the profile of the homeless, and I want to do a lot more," he wrote.
"While I may seem like one of the most unlikely advocates for this cause, I have always believed in using my platform to help tell those stories and to bring attention and action to those who are struggling."
William, 40, wrote that it was a good time to "highlight something that matters to me" and pledged to bring his own children to visit.
"So, for my part, I commit to continue doing what I can to shine a spotlight on this solvable issue not just today, but in the months and years to come.
And in the years ahead, I hope to bring George, Charlotte and Louis to see the fantastic organisations doing inspiring work to support those most in need – just as my mother did for me."
READ MORE:
The Crown films moment Kate and William first locked eyes as university students
Confessions of an Oscars seat-filler: Harry Styles snap to rubbing shoulders with Adele
Click here for today's top showbiz news
Made In Chelsea star Ashley James welcomes second child: 'We're so in love'
Gary Lineker 'won't ever back down' in BBC row as 'proud' family support him
'The kids still don't know Paddy and I have split', admits Christine McGuinness
Source: Read Full Article