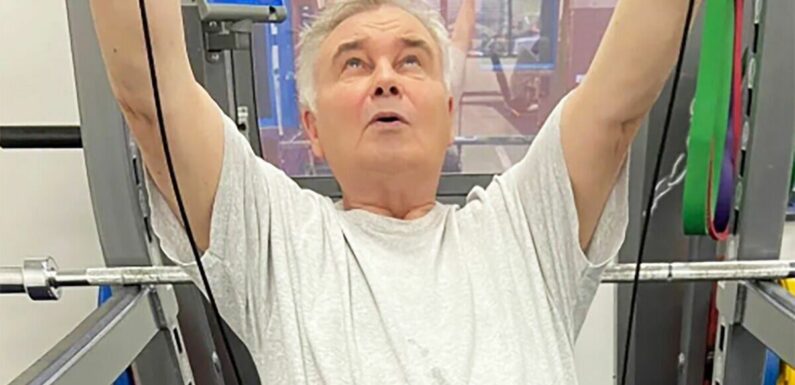 Ruth Langsford takes cheeky swipe at Eamonn Holmes' BBQ skillset
Last year Eamonn Holmes, 63, shared that he had gone under the knife in order to ease his chronic back pain.
However, while recovering from his operation, it was revealed that the TV presenter had fallen down the stairs at his home in Weybridge, Surrey, and fractured his shoulder.
After undergoing another round of surgery, Holmes seems to be on the mend and last night shared a picture of himself working out.
He took to Instagram to post a photograph of him hitting the gym in a bid to get his strength back and put "his legs right".
The photo was posted to his 780,000 followers with the caption: "Just hanging around tonight trying to put my legs right. Stretch Armstrong."
In the photograph, the GB News anchor is wearing a weighted belt and is stretching his arms over his head, lifting a bar.
The photograph has prompted his followers to flood the post with support, with many sharing their own inspirational recovery tales.
One of Holmes' followers wrote: "Good for you… It will be worth it in the end, I was ill and fought it, I was so weak, just keep being consistent even if you don't feel like it. You always feel better after. You're doing great."
Another said: "Keep doing this Eamonn! It will all pay off. Don't give up. It will be worth it in the end."
Don't miss…
Zoe Ball addresses lengthy absence from BBC Radio 2 as she announces replacement[LATEST]
Listen to Stephen Tompkinson 999 call as actor reports 'two drunks' outside home[LATEST]
'Mommy blogging Queen' Heather Armstrong found dead aged 47[LATEST]
A third wrote: "Keep going Eamonn I feel your pain, me it's hard and unless you have been in pain no one understands. You are doing so well and should be proud of yourself."(sic)
Elsewhere, fans have likened Holmes to Arnold Schwarzenegger's Terminator as well as joking that soon he'll be "ready for Strictly Come Dancing".
Following his accident last year, Holmes took months off screen but eventually returned to TV in January.
At the time of his TV return, he recalled how the horrific ordeal took place.
He said: "Suddenly it was as if someone has shot my left knee from behind.
"It literally collapsed without any warning. I was on a curve of the stairs, and I just went back down the stairs, boom, boom, boom down the whole staircase until I hit the stone floor in the hallway.
"Blood was pouring out my mouth, and a bone was sticking out my shoulder," he added.
As well as being busy in the gym, Holmes takes boxing classes to "build balance and core strength" and is simply "desperate for results".
Source: Read Full Article