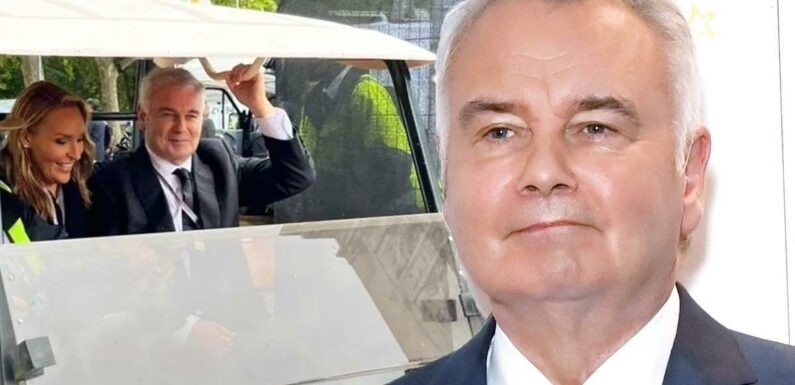 Eamonn Holmes compares the Queen to Meghan Markle
We use your sign-up to provide content in ways you've consented to and to improve our understanding of you. This may include adverts from us and 3rd parties based on our understanding. You can unsubscribe at any time. More info
Eamonn Holmes, 62, gave fans an insight earlier today of his hectic week of work covering Queen Elizabeth II's death. The broadcaster took to Instagram to upload a picture showing how he got around the media area at Buckingham Palace due to his "mobility issues".
The GB News star shared a picture of himself and co-star Isabel Webster driving around in a golf cart.
He captioned the shot: "Getting around and organising the Media area at Buckingham Palace is a massive operation. especially if like me u r having mobility issues.
"So really appreciated the ride. #TheQueen #thequeensfuneral" (sic)
Fans of the TV star rushed to the post's comments section to praise him on his role covering the days following the Queen's tragic death.
Funkystylist said: "You take care Eamonn. Great programme this morning with Isabel and yourself.
"Really enjoyed the paper reviews with your 2 guests."
Oku.bea added: "You are incredible, you take everything in your stride, i have mobility problems too, & walking around gets tiring.
"But Buckingham palace is anither issue, glad you got help, Even the crowds need help leaning on railings with children in tow." (sic)
Jane.wright.3720 penned: "Eamonn, your presenting style is an absolute breath of fresh air!
"You say it how it is and your programme with Isabel is great!"
Eamonn has previously been open about his health woes, recently describing the pain he suffers constantly due to a trapped sciatic nerve.
He has admitted the pain is sometimes so severe it has left him struggling to walk.
Speaking on his GB News Breakfast Show earlier this year, Eamonn said he had considered buying a mobility scooter.
However, he revealed the idea was soon shot down by his wife, fellow broadcaster Ruth Langsford.
Recounting his conversation with Ruth, Eamonn said: "I happened to suggest this to my wife, that I think 'Would this be an idea?'
"This was dismissed very quickly," Eamonn confessed.
Jon Smith seemed to side with Ruth, as he responded: "I want to see you on two wheels not on four Eamonn.
"You're too young for four wheels," he highlighted.
"A sort of quad bike for OAPs, that sort of thing," Martin Daubney quipped.
"I could be the poster boy for mobility scooters," Eamonn suggested.
Source: Read Full Article