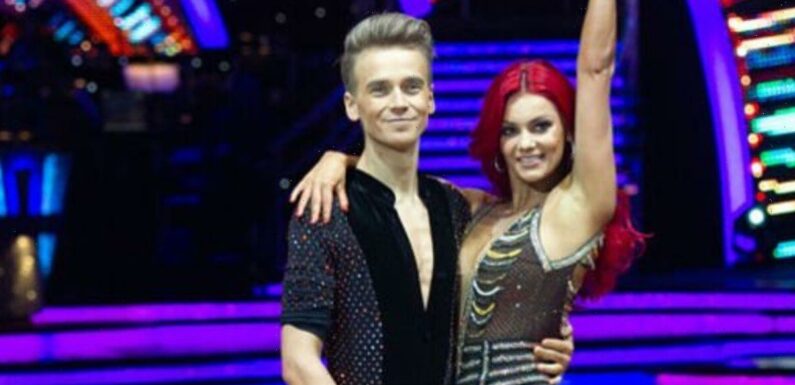 Dianne Buswell shares her first impressions of Joe in throwback
We use your sign-up to provide content in ways you've consented to and to improve our understanding of you. This may include adverts from us and 3rd parties based on our understanding. You can unsubscribe at any time. More info
Joe Sugg has said Strictly Come Dancing makes you see "the best and the worst in someone" due to the "intense" time you spend with your dance partner on the show, as he admitted clashing with partner Dianne Buswell "plenty of times". The 31-year-old Youtube star danced with the professional on the show back in 2018.
The dancing duo made it to the final where they missed out on winning the Glitterball trophy to Stacey Dooley and Kevin Clifton.
Reflecting on his experience, Joe admitted that despite being all smiles on camera, he and Dianne regularly clashed behind-the-scenes.
He revealed: "On that show, I think you see the best in someone and the worst in someone, especially if you get to those later stages, you're spending like 12 hour days.(sic)
"It is very intense and you fall out, we fell out plenty of times, I'm sure.
"Every week we were like, 'Oh, I'm going home'.
"I always felt like I needed to make her proud, and I'm not a natural dancer, I can't dance, so I had to purely rely on Dianne to teach me."
Joe went on to say that the more you stay in the BBC competition, the stressful it gets.
"I'm sure she saw the worst in me and I saw the worst in her in some of those weeks," he added to Kate Thornton on her White Wine podcast.
Despite their clashes, Joe went on to say the positive times outweighed the negatives on the show.
His hard work and dedication made him the most successful male contestant of the series competing in an intense final with Stacey and Kevin, Ashley Roberts and Pasha Kovalev and Faye Tozer and Giovanni Pernice.
Throughout the series, he and Dianne were at the centre of dating rumours which they brushed aside at the time.
After the final, Joe confirmed they were in fact dating as he told fans she was better than winning the Glitterball trophy.
DON'T MISS…
Kirstie Allsopp slams 'Meghan and Harry's treatment of Queen' [REACTION]
Drew Barrymore thanks ex's new partner after emotional reunion [REVEALED]
Victoria Beckham 'doesn't think Nicola is charming girl we once knew'[REPORTS]
Speaking to Kate, he gushed over his girlfriend and admitted she was his first proper love.
He added that it wasn't until after the series was over that they expressed their feelings for each other "properly".
The pair have since moved in together and regularly share snaps on social media with their fans.
Speaking to Express.co.uk in 2020, Joe said they had been getting on well during lockdown.
"We've got that good balance of knowing when to work and when to turn the cameras off, and have a nice relaxing evening," he spilled.
When asked if he could potentially propose to Dianne soon, he added: "Who knows? I've not really had the time to think about it just yet.
"Who knows what the future will hold, I'd probably tell my family and friends first."
Dianne will be returning to the Strictly Come Dancing floor next weekend for a brand new series.
Her dance partner will be unveiled on the launch show which kicks off on September 23 at 7pm on BBC One.
Source: Read Full Article