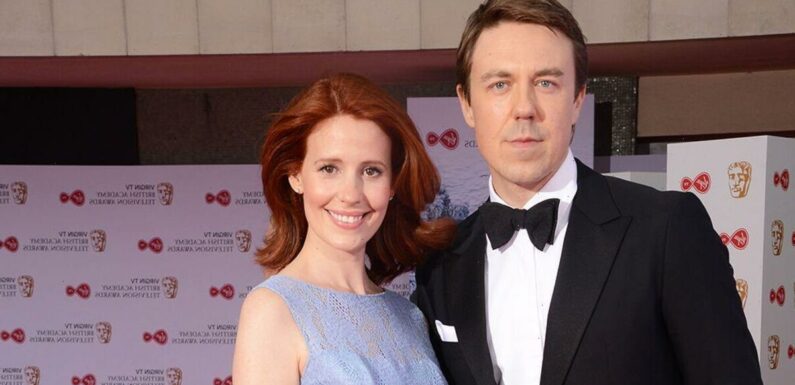 Andrew Buchan, 44, has been reportedly living with his Better co-star Leila Farzad after "walking out" the family home. His wife, Downton Abbey and Emmerdale star Amy Nuttall, 40, is said to be "heartbroken" by the situation, but is "doing her best" to keep a brave face through it all.
Andrew, who played Mark Latimer in Broadchurch, has fallen for his BBC co-star Leila Farzad while filming the crime thriller Better, according to The Sun.
It has been claimed Andrew told his wife shortly before Christmas that their marriage was over.
A source said: "For Andrew to walk away from his family was a huge shock to us all – and Amy is heartbroken.
"Everyone who knows them thought they were going to be together forever.
"But he's packed his bags and left.
"Whatever has gone on, it seems to have been enough for him to re-evaluate his whole life and rip up their marriage.
Express.co.uk has contacted Andrew Buchan, Amy Nuttall and Leila Farzard's representatives for comment.
Leila got her first big TV role in Billie Piper's Sky Atlantic Comedy Drama, I Hate Suzie.
In Better, which launched last month on the BBC, Leila plays a corrupt police detective working secretly for a powerful criminal, played by Andrew.
Andrew married his long-term girlfriend Amy in 2012, with the former couple having been together since 2007.
They also announced in 2015 that they had welcomed a son.
The couple spoke publicly about their relationship and Amy shared her excitement prior to their wedding, while also calling her estranged husband "the one".
Amy told The Mirror: "Andrew is great – I've known for ages he's The One.
"He'll kill me if I say anything about the wedding."
Andrew also touched on how well their relationship worked previously due to Amy also nbeing an actor.
He said to Express.co.uk: "It definitely helps that Amy's an actor. Who else would be OK with the absences or with you doing theatre on Christmas Eve? It helps so much if someone gets it."
Amy shot to fame in Emmerdale playing Chloe Atkinson, having joined the ITV soap when she was just 18-years-old in 2000.
During her time on Emmerdale, she embarked on a relationship with her co-star Ben Freeman for four years.
Amy's roles since include playing Ethel Parks in Downton Abbey, while also playing nurse Winnie Peterson in Liar.
Her character in Downton Abbey loses her job at the sprawling Downton estate after having a torrid affair with a serving officer.
Andrew, meanwhile, landed his first big acting role as lobbyist Scott Foster in BBC2's Party Animals.
He later played Andrew Parker Bowels in the Netflix drama Crown, and also portrayed Matt Hancock in This Is England.
However, he is most known for playing the father of murdered Danny Latimer in ITV's crime drama Broadchurch.
Amy took to Instagram on February 15 to post an inspirational quote reading: "I am not impressed by money, social status or job title.
"I'm impressed by the way someone treats other human beings."
Source: Read Full Article