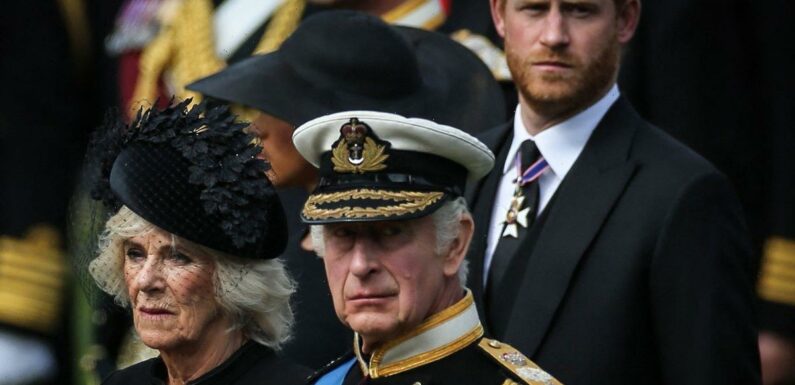 King Charles III went against his sons's wishes by tying the knot with second wife Camilla, Queen Consort back in 2005, Prince Harry's new book allegedly claims.
The red-haired royal, 38, who now resides in California with his family, reportedly makes the claim in his tell-all memoir Spare – set to be released on Tuesday 10 January – alongside numerous other revelations.
While the book's publishers are believed to have gone to huge lengths to stop leaks, numerous outlets have obtained Spanish copies of the memoir after it was mistakenly placed on sale early.
MailOnline reports that in the wake of Princess Diana's tragic passing, Harry and William "begged" their dad, 74, not to marry Camilla, 75, for fear that she'd turn into their "wicked stepmother".
In the book, the Duke of Sussex reportedly claims that meeting Camilla for the very first time was similar to an "injection", writing: "Close your eyes and you won't even feel it."
"I remember wondering… if she would be cruel to me; if she would be like all the evil stepmothers in the stories," Harry allegedly shares.
"Willy had been suspicious of the Other Woman for a long time, which confused and tormented him. When those suspicions were confirmed, he felt agonising remorse for not having done or said anything before."
Elsewhere, Harry alleges that his older brother, 40, once attacked him at Nottingham Cottage a number of years ago.
According to an English extract obtained by The Guardian, William (labelled Harry's 'arch-nemesis') called Meghan Markle "difficult, "rude" and "abrasive" in a heated row there, while also accusing Harry of behaving like the heir to the throne.
After an exchanging of insults, William reportedly pointed out that he was only trying to help, to which Harry replied: "Are you serious? Help me? Sorry – is that what you call this? Helping me?"
The pair then moved into the kitchen where Harry handed William a glass of water, but the pleasantries quickly exploded into another round of name-calling before the latter rushed towards his host.
"It all happened so fast," Harry recalls, according to the Guardian. "So very fast. He grabbed me by the collar, ripping my necklace, and he knocked me to the floor. I landed on the dog's bowl, which cracked under my back, the pieces cutting into me.
"I lay there for a moment, dazed, then got to my feet and told him to get out."
The younger royal refused to retaliate and William apologised, adding: "You don't need to tell Meg about this."
"You mean that you attacked me?" Harry came back with, which was then met with a firm denial that anything had happened from William.
READ MORE:
Click here for today's top showbiz news
Corrie's Mollie Gallagher debuts new bleach blonde hairdo in Dancing On Ice first look
EastEnders' pregnant Lily, 12, finally reveals baby's dad but fans 'work out truth'
Loose Women hit with Ofcom complaints over Katie Piper's 'goth baby' remarks
Get exclusive celebrity stories and fabulous photoshoots straight to your inbox with OK!'s daily newsletter
Source: Read Full Article